Richard Spencer: White supremacist leader says Israelis should 'respect someone like me'
'Professional racist' who rose to prominence during US President Donald Trump's election campaign tells Israeli news channel Jews should understand he is a 'white Zionist'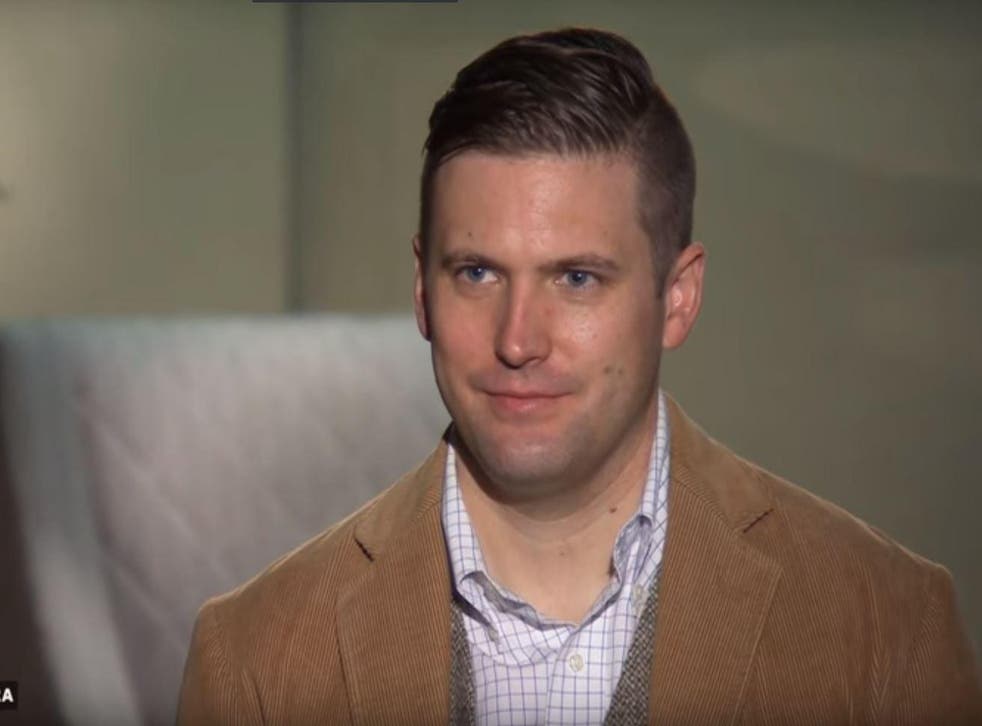 Notorious American white supremacist Richard Spencer has told an Israeli television station that he is a "white Zionist" and consequently Israelis and Jewish people should "respect someone like me".
In an interview with Channel 2 News broadcast on Wednesday night Mr Spencer discussed the violence that broke out following the biggest white supremacist gathering on US soil in decades in the town of Charlottesville, Virginia over the weekend.
Mr Spencer, whom the Southern Poverty Law Center describes as "a suit-and-tie version of the white supremacists of old, a kind of professional racist in khakis", was a leading figure in the march organised to protest the removal of a statue of Confederate General Robert E Lee.
During the evening, assorted white supremacist sympathisers carried torches reminiscent of Ku Klux Klan rallies and shouted "Jews will not replace us!"
One anti-fascist protester died and 19 more were injured after a suspected neo-Nazi rammed his car into people gathered for a counter-demonstration.
When asked by anchor Dany Cushmaro how Jews should feel about the anti-Semitic nature of the protest, Spencer justified the racism, saying: "Let's be honest… Jews are vastly overrepresented in what you could call 'the establishment,' that is, Ivy League educated people who really determine policy, and white people are being dispossessed from this country."
Jeff Sessions: The Charlottesville car attack could be a "hate crime"
Asked how he thought Jewish people would respond to that statement, Spencer replied: "...an Israeli citizen, someone who understands your identity, who has a sense of nationhood and peoplehood, and the history and experience of the Jewish people, you should respect someone like me, who has analogue feelings about whites.
"You could say that I am a white Zionist – in the sense that I care about my people, I want us to have a secure homeland for us and ourselves. Just like you want a secure homeland in Israel."
Despite the seeming equivalence Spencer tried to draw between his own movement and the establishment of a Jewish state, the white nationalist has been criticised for anti-Semitic remarks in the past.
Alt-right leader Richard Spencer punched in the face during inauguration protest
On Holocaust Remembrance Day last year, Spencer praised then US-President elect Donald Trump's statement, which neglected to mention the particular persecution of the Jewish people, as a successful "de-Judification" of the event.
According to Haaretz, he has also previously said that Jewish people insist on making Holocaust remembrance "all about their meta-narrative of suffering."
Mr Trump, of whom Spencer is a supporter, has caused international outrage for doubling-down on his position that "both sides" were to blame for the violence in Charlottesville, rather than the white supremacists.
On Monday, he told the Times of Israel that he was pleased with the president's refusal to condemn the so-called "alt-right" outright.
"I think in his gut he knows that we are not the ones aggressing," he said.
Register for free to continue reading
Registration is a free and easy way to support our truly independent journalism
By registering, you will also enjoy limited access to Premium articles, exclusive newsletters, commenting, and virtual events with our leading journalists
Already have an account? sign in
Register for free to continue reading
Registration is a free and easy way to support our truly independent journalism
By registering, you will also enjoy limited access to Premium articles, exclusive newsletters, commenting, and virtual events with our leading journalists
Already have an account? sign in
Join our new commenting forum
Join thought-provoking conversations, follow other Independent readers and see their replies