'Haunted by the cuts and bleeding': the 'magic' forcing girls to avoid pre-marriage sex
In Tunisia, magical practice is being performed by making young girls bleed to shield their virginity, but sexual freedom has recently been growing, and resistance too
Houda Trabelsi
Tuesday 20 April 2021 18:03 Comments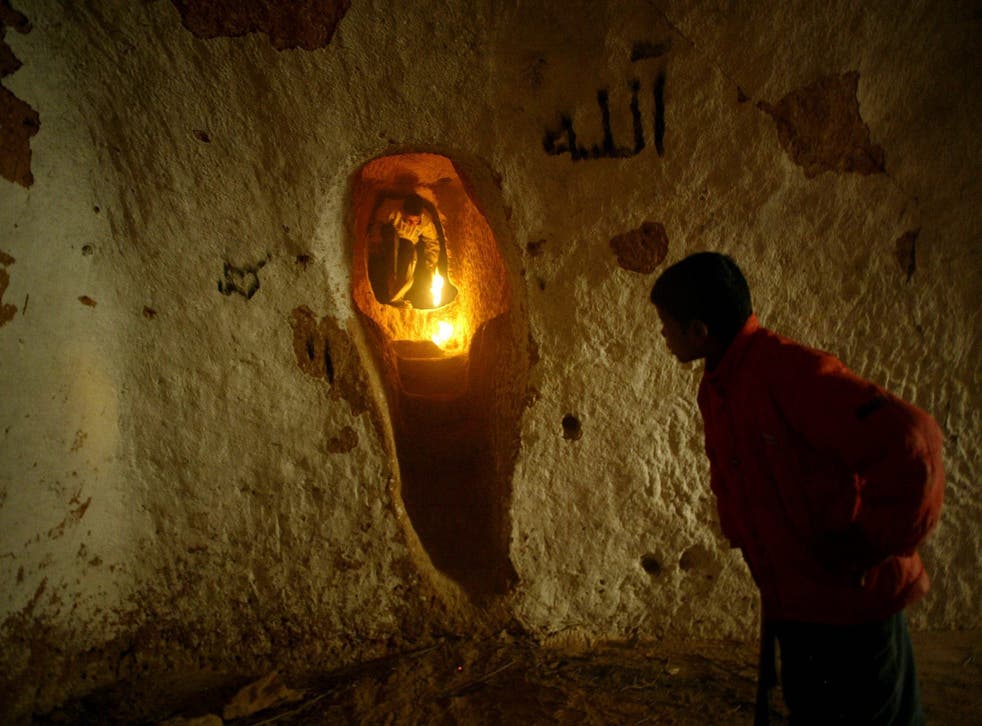 This article first appeared on our partner site, Independent Arabia
On her wedding day, Fatima entered her mother's room accompanied by an old woman carrying a rusty key.
The key was meant to break the magic spell cast on her sixteen years ago. This act of "sealing", which is known in Tunisia as 'tasfih', was delivered on a female's body and meant to shield her virginity until her wedding day by ensuring she will avoid sexual intercourse outside of marriage. The spell gets only lifted when a girl's wedding is impending.  
The bride appears to submit to her fate, but the memory of what she went through is never easy to forget. At the age of ten, her mother and the same old woman made cuts on her left thigh and forced her to eat a raisin dipped in her own blood, hoping for this eccentric rite to stand between Fatima and any future pre-marriage sexual relationship. This event left a great psychological impact on the young girl.
'Tasfih' is performed by making seven cuts on a girl's left knee or left thigh before she is 13 years old, usually by the girl's mother, grandmother or any other woman esteemed by the family. The woman then dips seven grains of raisins or wheat in the girl's blood and recites certain phrases seven times.
Fatima told Independent Arabia about her feelings when recounting how "the taste of blood mixed with the sweetness of raisins still remains in my mouth to this day".
Despite opposing this practice, she failed to escape the deeply entrenched social belief in 'Tasfih' in many Tunisian women's consciousness. "Despite spurning these outdated habits, I was relieved when my aunt removed the magic spell by muttering some code-like phrases, without which my husband couldn't untie my virginity," she said.
Since Tunisian society is gradually doing away with magic and superstition, 'tasfih' has become a rare practice. However, it still remains popular amongst some families as a form of protection against growing sexual freedom in Tunisia.
Honour above all
Inas, 27, remembers well the day she was cut in the thigh and forced to eat biscuits soaked in her own blood when she was nine years old. She told Independent Arabia: "I never believed in these superstitions, but in my first romantic relationship I had mixed feelings as I was haunted by the memories of cuts and bleeding. In successive relationships, I wasn't even able to reach the euphoria during sexual intimacy."
The obsession with a girl's sexual life in many Muslim societies appear in old traditions, most prominent among them is genital mutilation. They not only echoe conservative religious beliefs but, in Arab countries like Tunisia, are also directly linked to the family's honour.
Most Tunisian religious clerics see 'tasfih' as a forbidden practice in Islam because it is steeped in the rituals of sorcery, black magic and witchcraft.
Locals in Inas' city in the far south of Tunisia "consider honour more important than religion", as she said. "They know very well that practising magic and sorcery is forbidden in Islam but they turn a blind eye to this fact when it comes to the honour of their daughters."
Traumatised for years, Inas is now looking forward to her marriage in the summer, and the prospect of breaking what she believes to be a spell has started to reduce the several anxieties which throughout the years hindered the rapture experienced by many of her counterparts.
"The tasfih process creates an illusion in the girl's mind that she is armoured and no one can take her virginity," according to social psychologist Fathia al-Saeedi. "And as she comes to believe in this fiction, she develops a psychological barrier against men."
But she also noted that this is not an inevitable outcome for all girls who undergo 'tasfih', as many of them "shatter fear over time and move on to lead a free sexual life without any social or psychological barrier".
"A rare habit"
Ms al-Saeedi said this practice of 'tasfih' is now rare in Tunisia, and "it exists in Algeria and Morocco as well. And just like genital mutilation in other countries, it is aimed at suppressing female sexual desires. Circumcision was performed in some African societies in the south, while tasfih was practised in some North African countries, including Tunisia".
The ritual is said to have disappeared in most urban cities, while lingers in rural and conservative areas.
Lilia says she had a different experience. She recounts, "I remember well that around the age of 10, my grandmother performed tasfih on me, and tried to convince me that no one could touch me except my future husband on my wedding day. At the time, I was not aware of what was happening around me.
"I moved to the capital to continue my university studies and like many girls of my generation, I had many love stories the last of which is with my current husband. I became pregnant before marriage and that made us rush our wedding," said Lilia, who is 44 and comes from the North of Tunisia.
"I am well aware that what my family did was out of concern for me and to protect me, but these are mere rituals and witchcraft and have no meaning these days, and the proof is in the gradual disappearance of these practices", she added.
And like Lilia, Um Mayar abhors the practice. She told Independent Arabia: "I got through it all of my own free will. Today I am married to the man I love and I have two daughters with him. I will never perform tasfih on my daughters in order to control their lives as my mother and grandmother did with me."
Reviewed and proofread by Tooba Ali & Celine Assaf
Register for free to continue reading
Registration is a free and easy way to support our truly independent journalism
By registering, you will also enjoy limited access to Premium articles, exclusive newsletters, commenting, and virtual events with our leading journalists
Already have an account? sign in
Join our new commenting forum
Join thought-provoking conversations, follow other Independent readers and see their replies