Rocket attacks force Israelis to spend nights in bomb shelters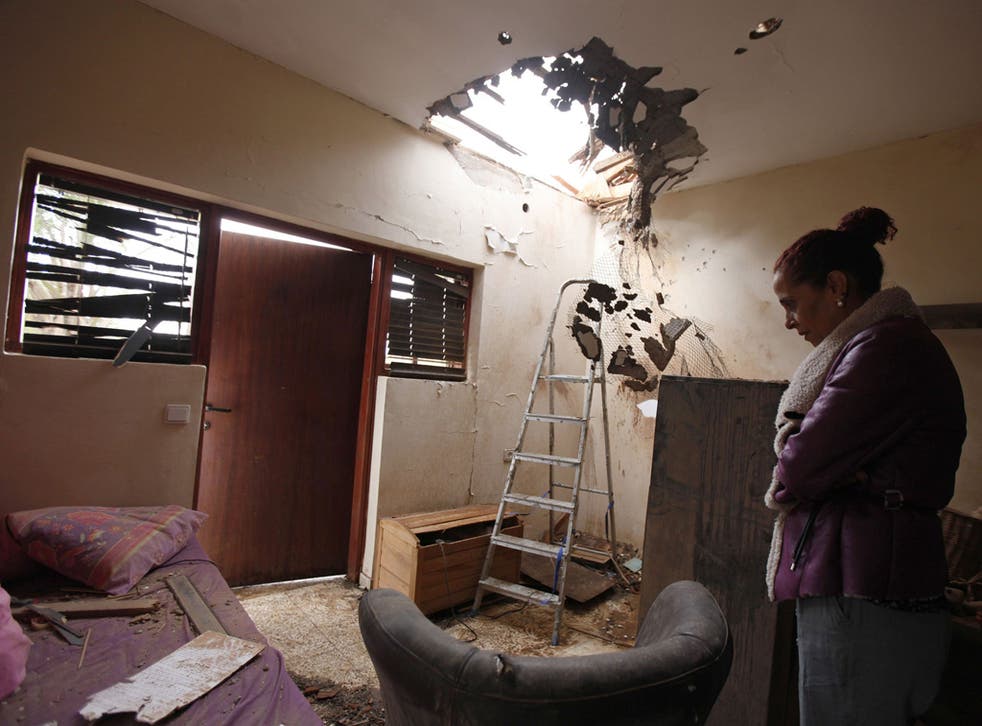 Israeli leaders have begun preparing domestic and international opinion for a renewed onslaught against Palestinian militants after more than a million Israeli citizens spent a third night in bomb shelters as more than 100 rockets rained across the Gaza border in less than 48 hours.
Politicians and former generals lined up to urge Israeli Prime Minister Benjamin Netanyahu to take decisive action to stop the most intensive rocket barrage since Israel's ill-starred invasion of the Hamas-controlled enclave ended in January 2009. Mr Netanyahu is under increasing pressure from both politicians and residents to end Israel's policy of pinpoint attacks against weapons smuggling, storage or production facilities and "ticking bombs" – militants identified with specific attacks.
"The situation is very complex," Israel's Public Security Minister, Yitzhak Aharanovich, told The Independent. "My personal opinion is that we should respond in the harshest manner by striking at the heads of Hamas. Hamas is the controlling power and they must put a stop to this. A million Israeli civilians are confined to bomb shelters under intolerable conditions. The government must reach a decision about the range of options open to them and my understanding is that a decision is not far off."
Ministers were divided on whether Israel should launch another ground invasion or opt for assassinating Hamas leaders. Israel said it holds Hamas, as the controlling power in Gaza, responsible for the rockets.
US Ambassador Dan Shapiro posted on Facebook and Twitter: "Our thoughts are with the residents of southern Israel, who continue to be bombarded with missile attacks from terrorist organisations in Gaza. The United States supports Israel's right to defend itself and its citizens."
Mr Netanyahu summoned the foreign diplomatic corps to Ashkelon, within range of the rockets, to give them a taste of life under fire. "If an alarm is sounded, all of us have exactly 30 seconds to find shelter. A million Israelis... are targeted on a daily basis," he told about 100 foreign ambassadors. "I don't know of any of your governments who could accept such a thing. We're going to fight for the rights of our people to defend themselves. We'll take whatever action is necessary to put a stop to this."
On the Golan Heights, meanwhile, Israeli forces said they scored a "direct hit" on a Syrian mortar position that fired across the ceasefire line between Israel and Syria for the second time yesterday. Israel fired a "warning shot" after a mortar shell landed in Israeli-occupied territory on Sunday, the first Israeli fire into Syria since the end of the 1973 Yom Kippur War. There were no casualties.
Six Palestinians, including four civilians, have been killed by Israeli shells fired on Gaza since Saturday, and 40 wounded. Six Israelis have been injured, including two soldiers badly wounded in a bomb attack.
Hamas called an urgent meeting of Palestinian militant groups yesterday. A Hamas spokesman said Egyptian mediators working to calm the escalating situation would not allow another major Israeli attack on Gaza.
Join our new commenting forum
Join thought-provoking conversations, follow other Independent readers and see their replies