Israeli ambassador to US says there is 'no daylight' between the countries for first time in years
Ron Dermer 'confident that our alliance will get considerably stronger in the years ahead'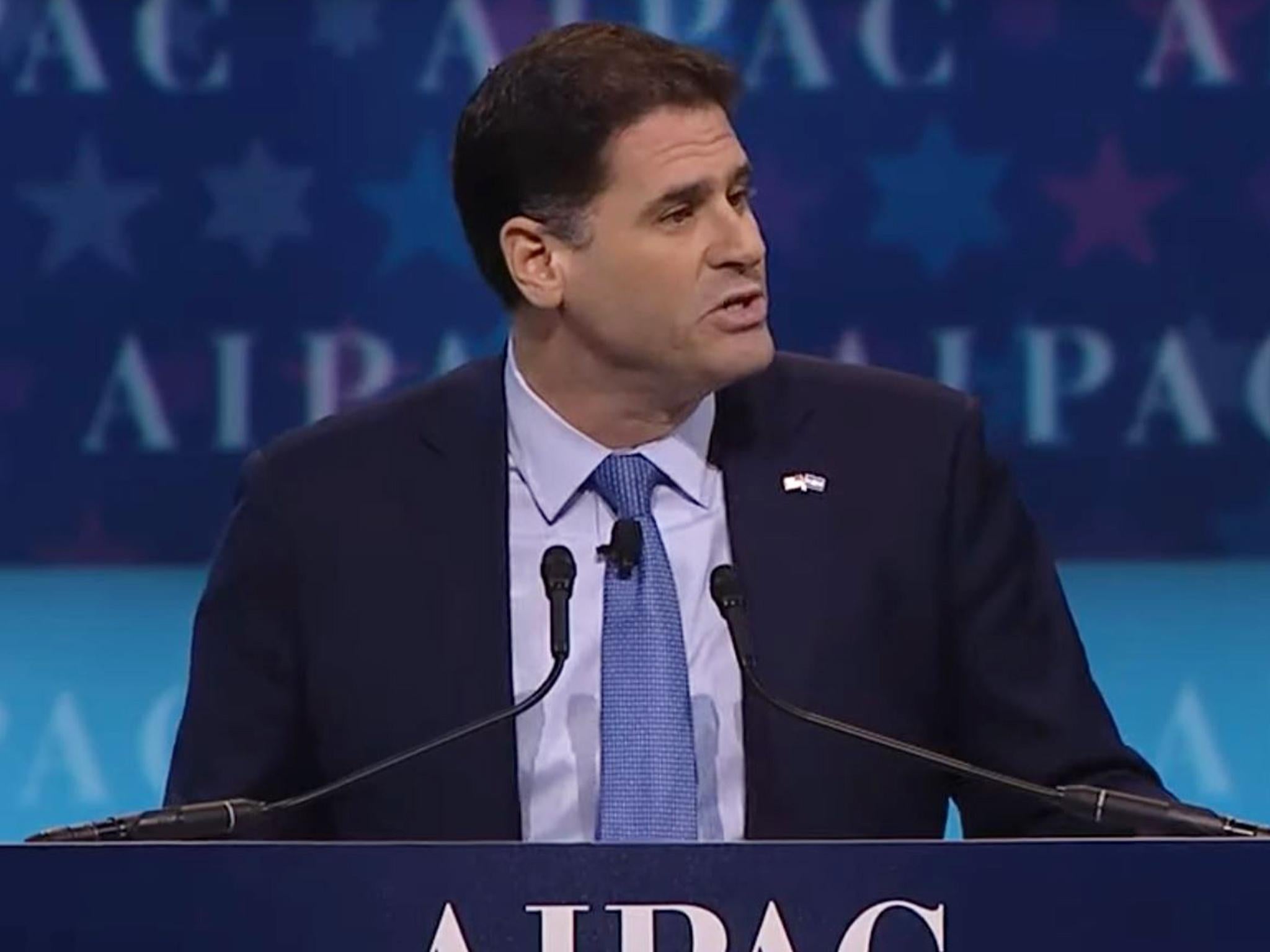 Israel's ambassador to the United States has said there is "no daylight between our two governments" for the first time in years when it comes to Middle East policy.
Ron Dermer was speaking at a conference of the American Israel Public Affairs Committee (AIPAC) lobby group, which advocates pro-Israel policies in Congress. Other speakers included former UK Prime Minister and Middle East peace envoy Tony Blair.
Mr Dermer said there was "a meeting of the minds" when Israeli Prime Minister Benjamin Netanyahu visited Washington DC in February.
President Donald Trump made headlines during the visit for his seemingly indifferent stance on the widely-supported two-state solution, saying: "I'm looking at two-state and one-state and I like the one that both parties like."
In a later interview he again stopped short of reasserting the US' traditional commitment to eventual Palestinian statehood, saying: "I like this two-state solution, but I am satisfied with whatever both parties agree with."
Speaking on Sunday, Mr Dermer said: "When it comes to the great challenges facing Israel and the United States, for the first time in many years, perhaps even many decades, there is no daylight between our two governments.
"Both our governments recognise that foremost among those challenges remains Iran. We both recognise that the nuclear deal does not block Iran's path to a bomb, and that Iran's appetite for aggression and terror has only grown since that deal was signed and since sanctions were removed.
"We also both recognise that the worst outcome that could emerge from the horrific carnage in Syria would be to effectively cede parts of Syria to Iran and Hezbollah.
"And we both appreciate that the rising tide of militant Islam which has engulfed the Middle East has also enabled a rare moment of opportunity to bring Israel and many in the Arab world closer together.
"In working together to thwart common dangers there is a real prospect—a real prospect—of building a genuine path towards reconciliation in the region.
"A path not based on empty hopes and dangerous illusions, but a path based on a clear-eyed understanding of shared threats as well as a common desire for a safer, more prosperous and more peaceful future.
"During the visit of Prime Minister Netanyahu to Washington last month it was clear that there was a meeting of the minds between our two governments on the great strategic challenges facing us, and that has made me even more confident that our alliance will get considerably stronger in the years ahead.
"You see the strength of that alliance every day. You see it when military assistance to Israel is fully funded at a time of great budget cuts. And you see it when America finally finds its moral voice, in defending Israel at the UN."
World news in pictures
Show all 50
On Friday the UK said it had put the UN's Human Rights Council "on notice" over what it called its "disproportionate focus on Israel".
While it made clear its "serious concerns about the growth in illegal demolitions and settlement activity" and said the UK stood "shoulder to shoulder with the international community" in support of a two-state solution, it added the council's "unacceptable pattern of bias" would only make the goal harder to achieve.
According to UN documents, the United States was also "disappointed that the council continually singled out Israel for criticism without fully acknowledging the violent attacks directed against its people, nor the obligations and difficult steps required of both sides".
Briefing notes showed US representatives saw Israel's agenda item status as "among the largest threats to the credibility of this body".
Mr Trump has appointed as his ambassador to Israel the strident opponent of Palestinian statehood David Freidman, who also supports Jewish settlement building in disputed land. Mr Freidman was confirmed earlier this week.
He used his confirmation hearing to back down on some of his controversial past statements. Mr Friedman had called one liberal group, J Street, "worse than kapos"—a reference to Jews who helped the Nazis imprison other Jews during the Holocaust. He also accused Barack Obama of "anti-Semitism."