Russia and France will co-operate against Isis but Vladimir Putin and Francois Hollande at odds over Assad
The French President has been pushing for increased international co-operation following the Paris attacks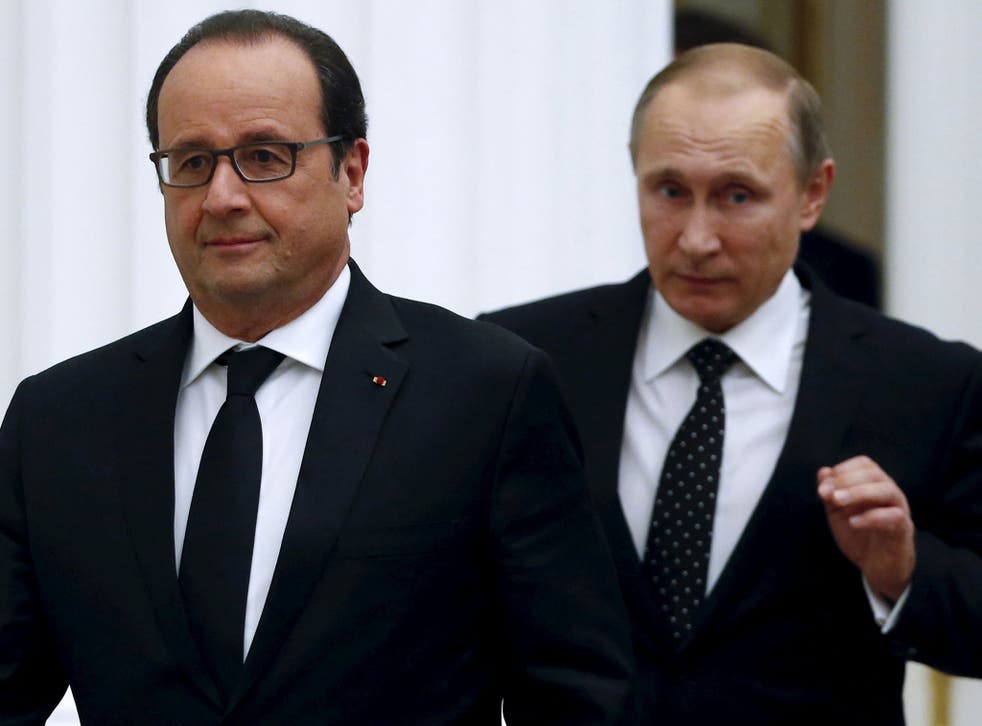 Vladimir Putin and Francois Hollande have agreed to co-ordinate their air strikes in Syria and enhance intelligence sharing but remain deeply divided over the country's future.
Meeting in Moscow today, the French President repeated his conviction that President Bashar al-Assad "does not have his place in Syria's future", while his Russian counterpart described the leader as the West's "natural ally" in the fight against Isis.
Mr Putin's steadfast support for the Syrian regime, despite its record of war crimes and human rights abuses, has been a key barrier to Russia being welcomed into the US-led coalition against Isis.
So has the country's bombing of non-jihadi rebels, labelled "terrorists" by the Syrian regime but regarded by America and Europe as a legitimate ground force against both Isis and Assad.
Mr Hollande claimed today's talks had resolved the dispute, saying: "We agreed on a very important issue: To strike the terrorists only, Daesh (Isis) and the jihadi groups only, and not to strike the forces and the groups that are fighting against the terrorists.
"And we are going to exchange some information about that: what can be struck, and what must not be struck."
Turkey-Russia tensions build
A UK-based monitoring group, the Syrian Observatory for Human Rights, claims the Russian air force has killed at least 400 civilians, including 166 women and children since it launched its intervention in September.
The estimate is a fraction of the thousands allegedly killed by regime forces, while the US has also admitted civilian casualties, with several coalition investigations still underway.
France is planning to increase its support to rebel groups fighting Isis on the ground as Mr Hollande continues to push for greater international support to defeat the group following the Paris attacks.
The massacres that killed 130 people prompted the President to intensify his country's campaign in Syria, as Mr Putin did after Isis - their "mutual enemy - downed a Russian plane carrying 224 on 31 October.
Hopes for increased co-operation between Russia and the US-led coalition faltered after Nato-member Turkey shot down a Russian plane this week and tensions between the two countries remain high.
Russian plane shot down by Turkish jets

Show all 5
Mr Putin used his joint news conference with his French counterpart to repeat allegations of Turkey turning a "blind eye" to Isis oil smuggling and the flow of extremists across the border.
Mr Hollande instead used the downing of the Russian jet to emphasise need for countries to co-ordinate their military activities more closely to avoid a possible repetition of the "regrettable incident".
He again called for a "de-escalation" of the tensions between Moscow and Ankara.
While insisting Russia would keep co-operating with the US, he warned that "incidents like the destruction of our aircraft and the deaths of our servicemen...are absolutely unacceptable."
Additional reporting by agencies
Join our new commenting forum
Join thought-provoking conversations, follow other Independent readers and see their replies