Russia deploys advanced S-400 air-defence missile system in Syria after Turkey downed one of its jets
With a range of up to 250 miles, the S-400 could easily strike Turkish targets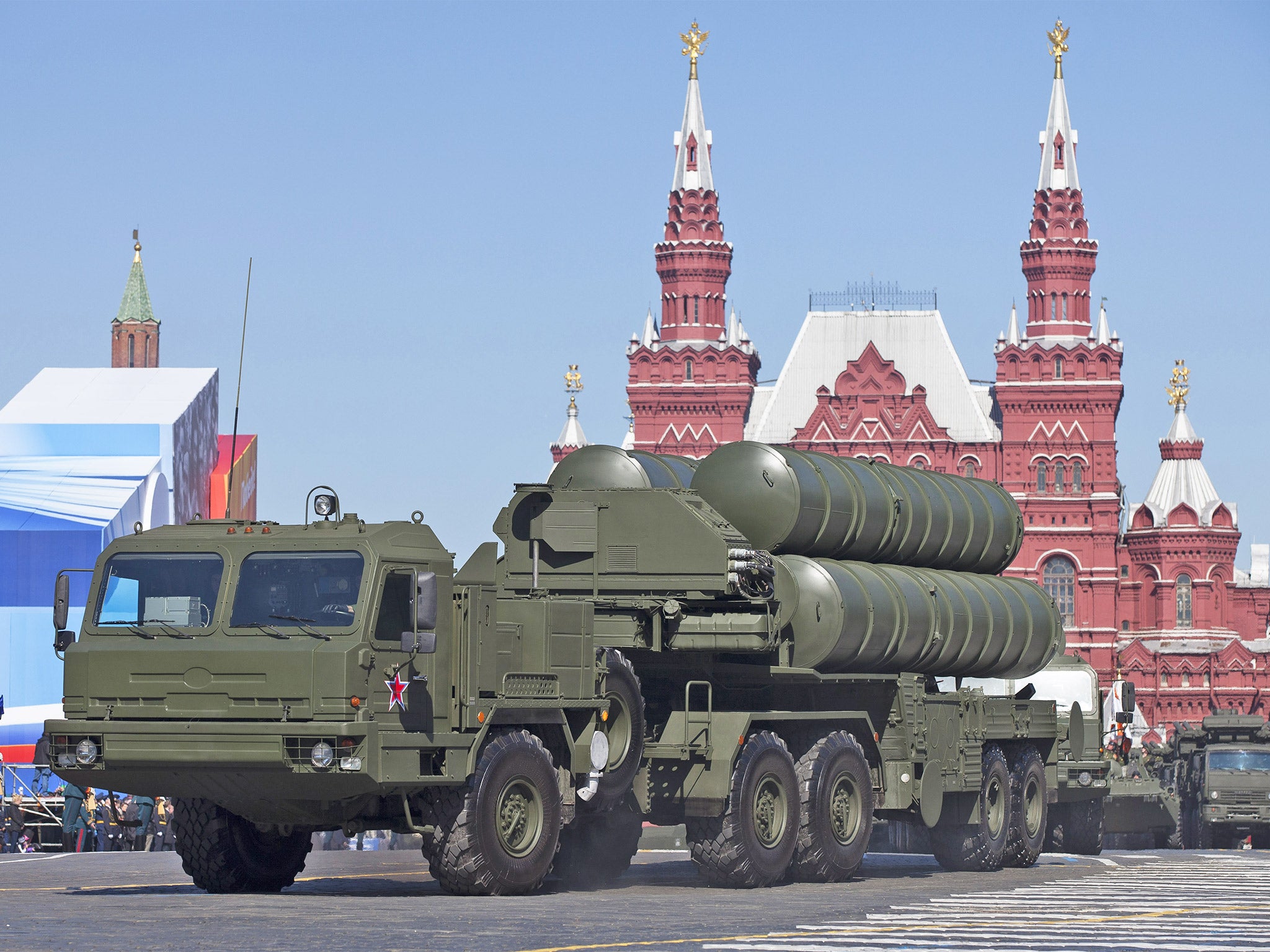 The surviving pilot from the Russian jet shot down by Turkey while conducting a mission in northern Syria has insisted his aircraft had received no warnings and had not violated Turkish airspace.
Konstantin Murakhtin, who parachuted from the plane and was rescued by Syrian special forces working with the Lebanese militia Hezbollah, said he knew exactly the plane's location when it came under fire. "Our entire flight, to the moment we were attacked, was under my command," he told Russian state television.
"I had my eye on the map and on the terrain below, and I could see where the border was and where we were. In actual fact, there was no warning – neither a radio warning nor a visual one. There was no contact at all. So we kept on our combat course as usual."
His comments contradicted Turkey's account of events leading to the first downing of a Russian military plane by a Nato member for more than 50 years. They came as Russian forces unleashed a fresh wave of bombing against Turkey's allies in Syria, according to rebel groups.
Turkish media claimed that Russian jets had also struck a convoy of trucks on the Syrian side of a rebel-held border crossing with Turkey, killing seven people. The nationality of those hit was unclear. Syrian jets have struck the area before but, if confirmed as Russian, the attack would be one of the closest strikes by Moscow to Turkish soil and would further aggravate tension.
Turkey and Russia have backed opposing sides since the start of the Syrian conflict in 2011, but Moscow's decision to launch air strikes in September deepened tensions between the two countries. The downing of the Russian warplane has plunged the relationship to a new low and the fallout threatens to jeopardise talks to end the war in Syria.
On 25 November Vladimir Putin, the Russian President, ordered a powerful air-defence system to be sent to northern Syria and warned tourists against travelling to Turkey as he sought pay-back for the attack. The Russian Foreign Minister, Sergei Lavrov, said his nation had "no intention to go to war with Turkey" but described the attack as a "planned provocation".
One of the Russian pilots was killed by Syrian rebels after parachuting from the plane. His surviving colleague told the television station Rossiya 1 that the Turkish missile struck so suddenly that they were unable to perform counter manoeuvres to avoid it.
Turkey, backed by the United States and Nato, insisted that it issued 10 warnings within the space of five minutes before shooting down the plane.
An audio recording aired by the Turkish media, though not independently verified, purported to show the Turks saying: "This is Turkish air force speaking – on guard. You're approaching Turkish airspace."
Recep Tayyip Erdogan, the Turkish President, defended Turkey's actions but sought to ease tensions by stating that he wanted "peace, dialogue and diplomacy". The Prime Minister Ahmet Davutoglu said that Turkey had not known the nationality of the plane brought down until Moscow announced it was Russian.
However, Turkey dismissed Russia's claim that its plane was on an anti-terror mission when it was struck. "No one should ever fool themselves," Mr Erdogan said, adding that there were no Isis fighters in the area under attack.
Though Russia is officially targeting Isis, both Turkey and the United States complain that it has mostly hit rebel groups fighting forces loyal to the Syrian President Bashar al-Assad.
Before the incident on 24 November, Russian planes had been operating in Syria's north-western province of Latakia, the scene of recent heavy fighting. Syrian government forces backed by Russia and Iran and rebel groups have clashed with rebel groups, including Turkmen fighters with ethnic links to Turkey who have received backing from Ankara.
The monitoring group the Syrian Observatory for Human Rights said that Russia had launched heavy bombardment in the area as Turkmen forces and members of al-Qaeda's Nusra Front battled against the Syrian army. It said that at least 12 air strikes hit Latakia province. Jahed Ahmad, a spokesman for a rebel brigade in the region affiliated with the Free Syrian Army, told the Associated Press the Kremlin appeared to be taking "revenge" for the downing of the plane by providing cover for advancing pro-government forces.
Russia put on a further show of military strength by deploying a missile cruiser near to the coast off Latakia and sending its most modern air-defence missile system to a Syrian air base 30 miles from the Turkish border. With a range of up to 250 miles, the S-400 could easily strike Turkish targets.
Nick de Larrinaga, Europe editor of the defence magazine IHS Jane's Defence Weekly, said it would be "a significant increase" in the reach of Russian air-defence capacities. "The message that the Russians are trying to send is that they're capable of defending themselves in Syria, should the situation escalate," he said.
Moscow also made clear that it would seek to punish Turkey in other ways, raising the prospect of terminating joint contracts with Turkish companies. Mr Putin urged Russians not to visit Turkey on holiday, while Russia's food safety watchdog announced it was suspending imports of poultry from a Turkish company.
In Moscow, protesters gathered outside the Turkish embassy throwing eggs and stones at the building, and holding signs reading "Stab in the back", and "We won't forget or forgive".
Join our commenting forum
Join thought-provoking conversations, follow other Independent readers and see their replies