Russia in Syria: Assad loyalists paraded in cages through Damascus by rebels trying to stop air strikes
Video footage has emerged of members of Bashar al-Assad's Alawite sect being paraded around Damacus in pick-up trucks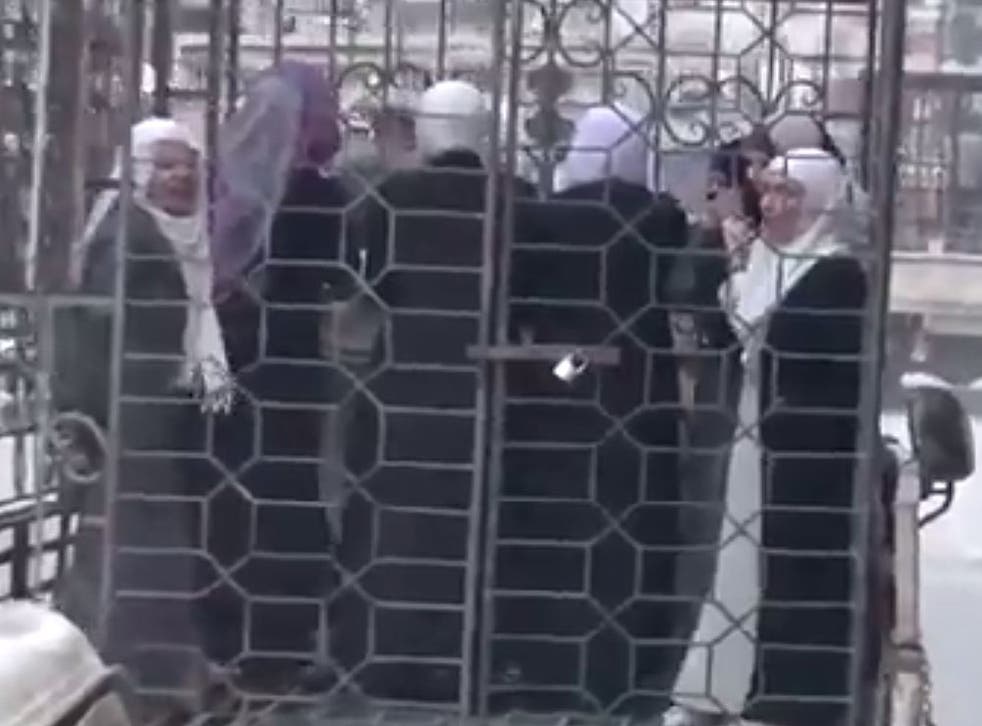 Syrian rebels have put hundreds of Assad loyalists in cages in a besieged Damascus suburb and are believed to be using them as propaganda to end the air strikes.
Local activists have said that as many as 400 men and women from President Bashar al-Assad's Alawite kin have been put in cages by members of the Army of Islam rebel group.
The militants, one of the most powerful rebel factions operating in the Douma suburb of Damascus, have been videoed driving at least 100 cages around residential areas on pick-up trucks to pressure the government to call off Russian airstrikes, according to the anti-government Shaam news agency.
Air strikes have routinely targeted Douma and other neighbourhoods in the Eastern Ghouta region of the country while rebel groups have retaliated by sending rockets in government controlled areas of the city.
One man speaking in the video identified himself as Alawite colonel Riyad Nawwaf Hadad and said he had been imprisoned for three years.
A woman said had been imprisoned for two years and wanted airstrikes to end: "We wish that the Russian warplanes never shell civilians again.
"We are experiencing fear here with the people."
In pictures: Russian air strikes in Syria

Show all 19
Doctors Without Borders (MSF), which runs clinics in the area, reported that at least 70 people died and 550 others were injured in an air strike last week.
Russia first launched airstrikes against Syrian targets at the end of September.
Initially Russian officials claimed the bombardment was aimed at routing out Isis but later admitted they were also targeting non-Isis rebels in a bid to aid their ally, President Assad.
Last month, UK defence minister Michael Fallon said the Russian campaign may have killed "several hundred" civilians already.
Mr Fallon told the BBC's Andrew Marr programme: "What [Russia] is doing is propping up the Assad regime, making the resolution of all this more difficult. They are prolonging the conflict and civilians are being killed."
Register for free to continue reading
Registration is a free and easy way to support our truly independent journalism
By registering, you will also enjoy limited access to Premium articles, exclusive newsletters, commenting, and virtual events with our leading journalists
Already have an account? sign in
Register for free to continue reading
Registration is a free and easy way to support our truly independent journalism
By registering, you will also enjoy limited access to Premium articles, exclusive newsletters, commenting, and virtual events with our leading journalists
Already have an account? sign in
Join our new commenting forum
Join thought-provoking conversations, follow other Independent readers and see their replies