Russia accuses US of 'pretending' to fight Isis
Pentagon dismisses as 'ridiculous' claims coalition deliberately allowing militants to flee across Iraq into Syria to 'complicate' Russian-backed Syrian army operation
Tuesday 10 October 2017 18:00 Comments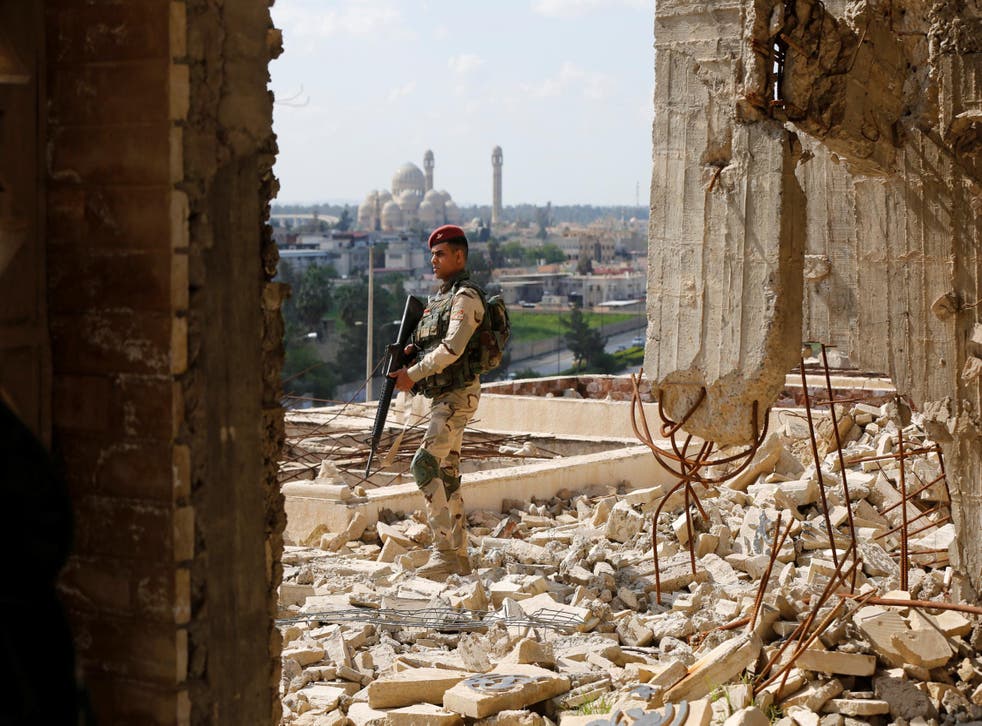 The Pentagon has dismissed Russian allegations that the US is only "pretending" to fight Isis in Iraq as a "ridiculous" Russian propaganda campaign.
A statement from the Russian Defence Ministry on Tuesday claimed that the US has deliberately slowed the pace of its assault on Isis in Iraq in order to divert militants to the front line in the Russian-backed Syrian army fight for Deir Ezzor over the border.
The US-led international coalition had sharply reduced its air strikes on Isis in Iraq in September, the same time as Russian air power began to help Syrian government forces retake Deir Ezzor province, a spokesperson said.
The respite in bombing had allowed militants to cross the border and reinforce Isis' front line against the advance of the Syrian army.
Isis militants thrown to their deaths in graphic video
Isis' ranks in al-Mayadin, southeast of Deir Ezzor city, were daily flooded with "foreign mercenaries" coming from Iraq, Moscow said.
"Everyone sees that the US-led coalition is pretending to fight Islamic State, above all in Iraq, but continuing to allegedly fight Islamic State in Syria actively for some reason," Major-General Igor Konashenkov, a spokesperson for the Russian Defence Ministry, told reporters.
"The actions of the Pentagon and the coalition demand an explanation. Is their change of tack a desire to complicate as much as they can the Syrian army's operation?," Mr Konashenkov asked.
In pictures: Isis' weapons factories

Show all 11
"Or is it an artful move to drive Islamic State terrorists out of Iraq by forcing them into Syria and into the path of the Russian air force's pinpoint bombing?"
"The United States in the past week alone conducted dozens of air strikes against Isis terrorists, supported Iraqi forces as they liberated the long-term Isis stronghold of Hawija, and set in place the final phase for the liberation of Isis' capital in Raqqa," Pentagon spokesperson Eric Pahon told The Independent.
"The Russian propaganda campaign should not be allowed to tarnish our partner forces' unrelenting commitment to see these terrorists defeated."
The Russian claims come a day after the Department of Defence slammed allegations made by a Syrian army official that the US was indirectly helping to arm Isis militants.
Syrian army general Ali al-Ali said the day before that trucks carrying weapons, vehicles and other supplies for the US-backed Kurdish-Arab Syrian Democratic Forces (SDF) coalition fighting Isis in the north of the country had actually ended up in the extremists' hands over the last few months.
Mr Pahon dismissed the claims as a "Russian and [Syrian] regime campaign to discredit the US and and our successful coalition fight against ISIS in Syria in an emailed statement to The Defence Post.
Russia also claimed this week that displaced civilians in Rukban camp in the southern At Tanf deconfliction zone were "human shields" against Isis for the US military base there. A coalition spokesperson dismissed the allegations as false.
Register for free to continue reading
Registration is a free and easy way to support our truly independent journalism
By registering, you will also enjoy limited access to Premium articles, exclusive newsletters, commenting, and virtual events with our leading journalists
Already have an account? sign in
Join our new commenting forum
Join thought-provoking conversations, follow other Independent readers and see their replies