Russia should be thrown off UN Human Rights Council over its role in Syria, global coalition demands
More than 80 human rights and humanitarian groups sign statement ahead of UNHRC elections later this month over alleged war crimes in bombing rebel-held areas of the war-torn country 
Tuesday 25 October 2016 08:12 BST
Comments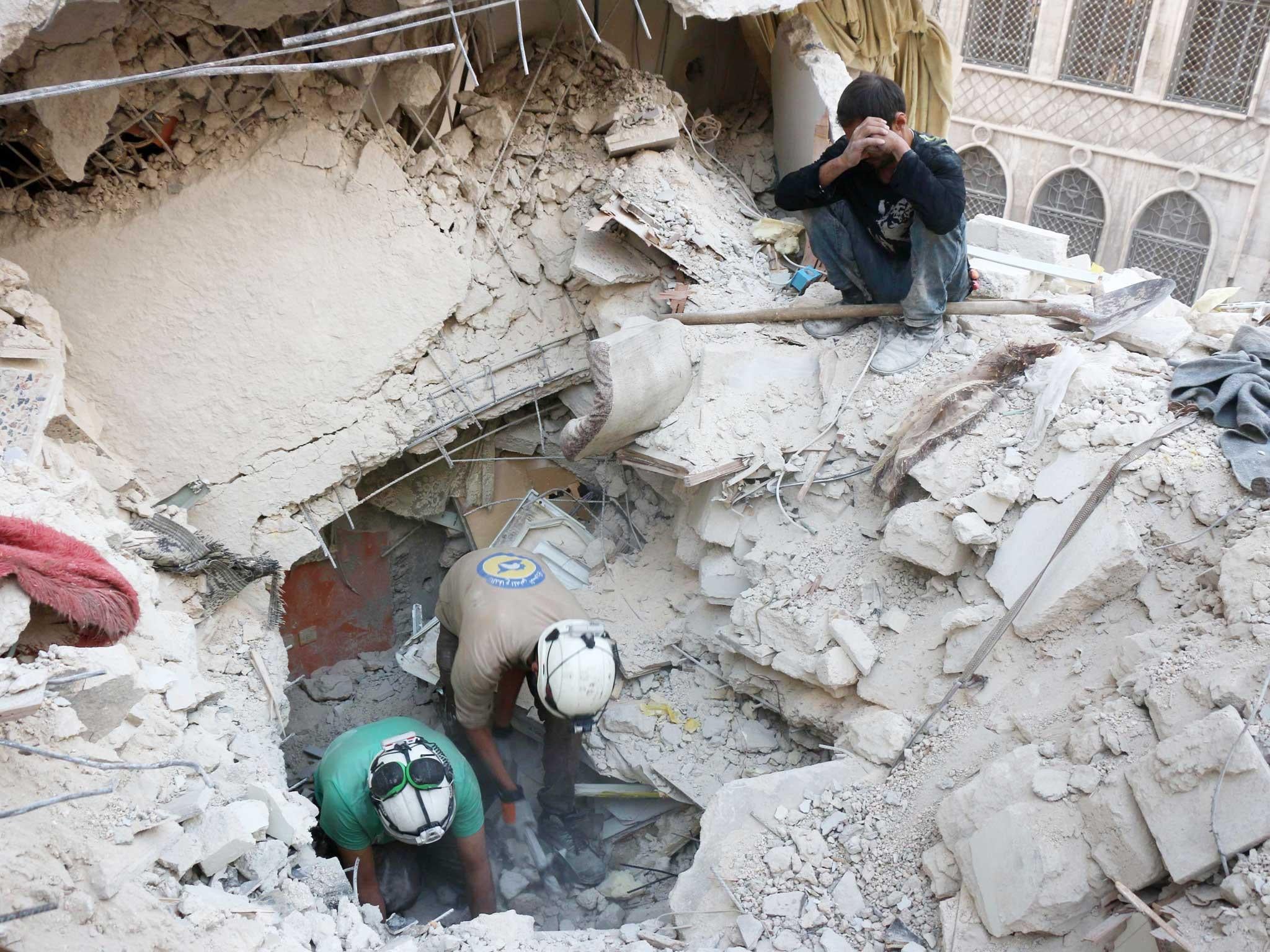 An international coalition of aid and human rights organisations has called on UN member states to question whether Russia is fit to keep its position on the international body's Human Rights Council in elections this week because of its actions in the Syrian civil war.
The UN's General Assembly is selecting new members for the rights body in elections in New York this Friday. Russia, Hungary and Croatia are vying for the chance to represent Eastern Europe – but a statement from more than 80 humanitarian groups released on Monday has asked voting delegations to consider that "Russia's actions in Syria stand in clear contrast to its rhetorical commitment to human rights".
UN Resolution 60/251 asks those voting for members of the Human Rights Council "take into account the contribution of candidates to the promotion and protection of human rights", the statement from signatories including Human Rights Watch, Care International, and several Syrian non-governmental organisations said.
Russia's use of its veto as a permanent member of the UN's Security Council to block ceasefire action in Aleppo and its continued support for air strikes show that the country's "abuses are [not] compatible with the principles and aims of the Human Rights Council", they said.
Russia has provided financial and logistic support to ally Syrian President Bashar al-Assad throughout the almost six-year-long conflict, including military assistance from September 2015 onwards. It has come under renewed criticism for air strikes in Syria since the regime's new campaign to retake rebel-held east Aleppo began in earnest last month.
Residents on the ground and international monitors report that Russian-manufactured cluster munitions – banned under international law because of the indiscriminate damage they cause – as well as napalm, white phosphorous and ground-penetrating 'bunker-buster' bombs have been dropped on besieged east Aleppo's 250,000 residents in the past four weeks.
Family buries children killed in Aleppo airstrike
Up to 500 people have died in the unprecedented attacks, the Syrian Observatory for Human Rights says, and 2,000 have been injured.
Many governments, including the UK, France and US, have accused Russia of war crimes for targeting built-up areas and civilian infrastructure, including hospitals, a water-treatment plant, bakeries and emergency response centres, as well as for allegedly bombing a UN aid convoy outside aleppo during a ceasefire on 19 September. Russia denies that its planes hit the humanitarian convoy, and says that strikes in east Aleppo target terrorists who use civilians as human shields.
Russia pledged that if reelected to the Human Rights Council it will "promote states' compliance with their international human rights obligations", but the undersigned signatories said Moscow's continued cooperation with Damascus undermines this stance.
"The credibility and legitimacy of the Human Rights Council rest upon its members demonstrating a genuine commitment to human rights," the aid group's statement said.
Join our commenting forum
Join thought-provoking conversations, follow other Independent readers and see their replies