Russian, Turkish and US commanders meet to calm worsening Syrian 'proxy war'
Talks held in Turkey after clashes between rival groups of anti-Isis rebels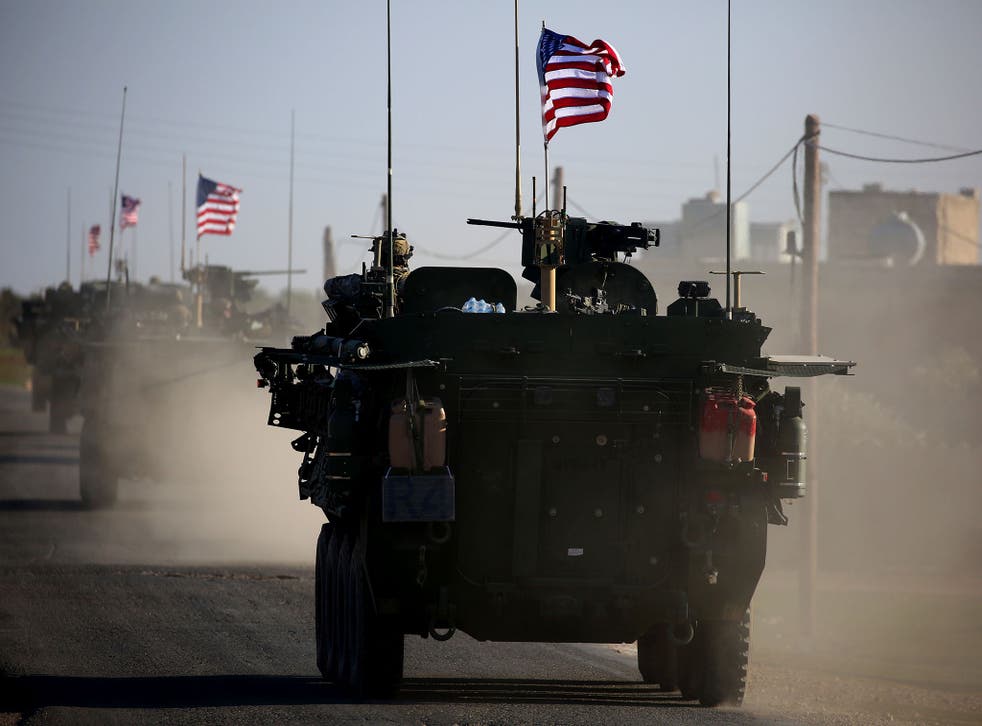 American, Russian and Turkish military commanders are attempting to deescalate a worsening "proxy war" in Syria but there are concerns orders to stop the violence may not be heeded by rival groups.
Senior generals held a surprise meeting in Antalya after weeks of battles between regime, rebel and Kurdish factions supported by their international backers to fight Isis.
There was little sign of progress after talks between General Hulusi Akar, General Joseph Dunford, chairman of the US Joint Chiefs of Staff, and his Russian counterpart Valery Gerasimov.
Donald Trump 'open to working with Moscow' to fight Isis in Syria
The Turkish Prime Minister, Binali Yildirim, said the meetings would continue on Wednesday.
"There is a need for an effective coordination in the efforts to clear Syria of all terror groups because so many countries are involved there," he told reporters. "If we cannot establish coordination, the risk of a conflict that we would not desire can emerge."
A spokesperson for General Dunford said "the current situation of the fight against all terrorist organisations in Syria with an effort to wage a more effective fight against [them]" was discussed.
The Russian defence ministry said commanders talked about "the current situation in the fight against terrorist organisations in Syria in the context of raising the efficiency of confronting all terrorist organisations in the future" and "underlined the importance of taking additional steps to prevent incidents during operations".
The definition of "terrorist" has become a contentious one during the six-year Syrian civil war, with Bashar al-Assad's government and its supporters using the term to describe all opposition groups, including those supported by Turkey and the US-led coalition.
The Syrian government has used the label to justify operations including the offensive to retake eastern Aleppo, which provoked global condemnation over indiscriminate bombing in civilian areas.
Washington is mainly supporting an alliance led by Kurdish groups, who are considered terrorists by Nato ally Turkey because of their links to the Kurdistan Workers' Party (PKK), while groups backed by Ankara include Islamist factions accused of war crimes.
Success in driving Isis out of former strongholds including Manbij, al-Bab and Jarablus in northern Syria has brought the warring groups face-to-face with deadly consequences.
Free Syrian Army rebels supported by Turkey have attacked the predominantly Kurdish Syrian Democratic Forces (SDF) alliance, which has the US' backing as its most effective ally on the ground.
Both groups oppose the Assad regime, which has launched an offensive on enemy-controlled territory with allies including Russia, Iran and Lebanon's Hezbollah militant group.
The fight against Isis has made the groups uncomfortable allies but the so-called Islamic State's impending defeat in northern Syria is letting former divisions escalate into open conflict along new frontlines.
Haid Haid, an associate fellow in the Middle East and North Africa Programme at Chatham House, said that while the talks were a positive sign of cooperation between international players, the impact on the ground could be limited.
"The three main parties are willing to sit and talk, which means at least there is some kind of common ground and the possibility of an agreement in future," he told The Independent.
In pictures: Civilians freed from Isis in Manbij

Show all 11
"But clashes continue to happen because of the tensions that are already there.
"It's difficult to control groups on the ground…if something happens, people will start shooting immediately."
In efforts to calm the situation, the SDF has pledged to hand some territory around Manbij to regime forces that intend to act as a buffer between Turkish and Kurdish forces.
Recep Tayyip Erdogan, the Turkish President, has made his aim to drive the Kurdish People's Protection Units (YPG) out of territory along the border clear and threatened an advance on the SDF-held city of Manbij.
"We can clear Manbij together, then we can clear Raqqa together," he said.
But the US has been pushing the SDF to fight towards Raqqa, Isis' de-facto capital, which would prevent a hugely symbolic victory for the side that manages to retake the city.
Several hundred members of American special forces have been embedded with the SDF ahead of the expected assault, but there is concern that the alliance's success in isolating Raqqa would falter in a full offensive on the heavily reinforced stronghold.
The Turkish Prime Minister voiced his opposition to the US choosing to cooperate with the YPG over Turkey, saying: "If this operation is carried out in this manner there will be a cost for Turkey-US relations, because the YPG is a terrorist organisation."
American defence officials said decisions over the Raqqa offensive had not been discussed with Turkish commanders in Antalya.
More than 130,000 civilians have been displaced by the fighting or fled Isis territory in recent weeks, the Manbij civil affairs council said, calling for urgent aid efforts.
Mr Haid said that while competition for territory continues between Isis, the Syrian government and rebel groups backed by Turkey and the US, clashes are unlikely to stop.
"The offensive on Raqqa will happen, but what will happen after that?" he asked. "Who will control those areas?
"All those open questions are still pending and the answers will indicate whether this proxy war will be over or escalate in the future."
Register for free to continue reading
Registration is a free and easy way to support our truly independent journalism
By registering, you will also enjoy limited access to Premium articles, exclusive newsletters, commenting, and virtual events with our leading journalists
Already have an account? sign in
Register for free to continue reading
Registration is a free and easy way to support our truly independent journalism
By registering, you will also enjoy limited access to Premium articles, exclusive newsletters, commenting, and virtual events with our leading journalists
Already have an account? sign in
Join our new commenting forum
Join thought-provoking conversations, follow other Independent readers and see their replies