Turkey releases graphic showing 'flight path' of Russian jet it downed over Syria
The Russian defence ministry claims its plane was inside Syrian air space for the duration of its flight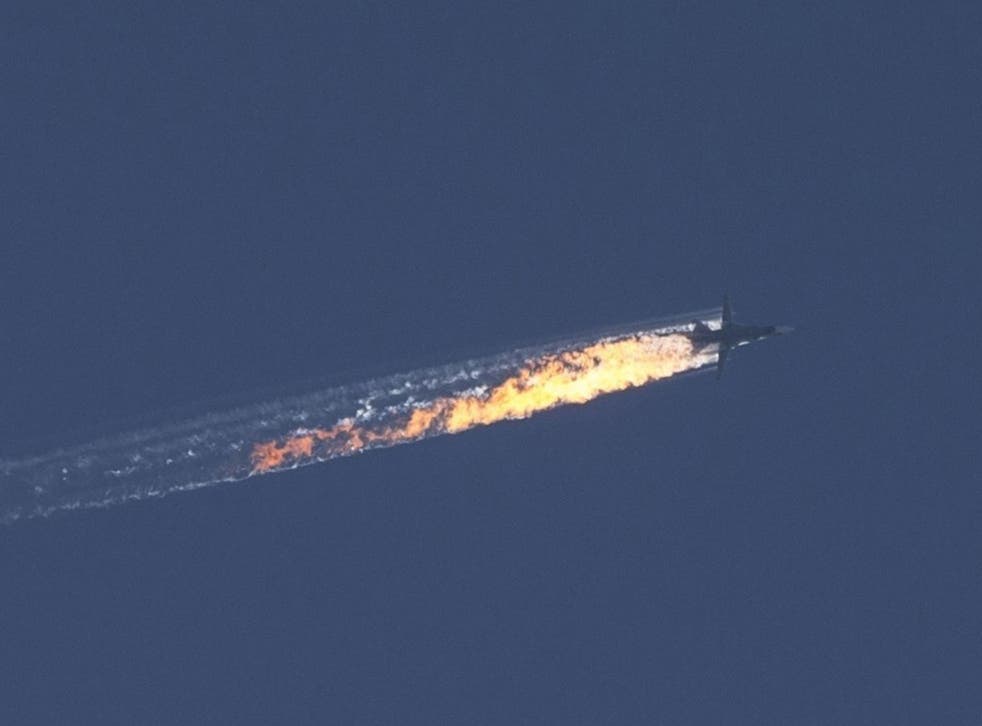 The Turkish army has released a graphic purporting to show a Russian jet entered its air space before it was shot down over Syria.
Turkey says it downed the Su-24 bomber using two F16 fighters after warning it 10 times in five minutes to leave its territory.
The Russian defence ministry confirmed one of its jets was shot down over Syria, but denies claims it violated Turkish air space.
In a statement, the Turkish military said a foreign warplane was shot down in line with its rules of engagement. An official said it was an action to defend Turkey's sovereign territory and "not against any specific country".
An official told Reuters that two jets approached the border before one was shot down, and its data showed Turkish air space (in blue, above) was repeatedly violated.
But quoted across various state-run media outlets, Russian defence officials said the plane was over Syria at the time - and that it appeared to have been shot down by artillery fire from the ground.
Video emerges of Turkey F16s shooting down fighter jet
They said they could prove the plane was within Syrian territory "at all times".
"We are looking into the circumstances of the crash of the Russian jet," Russia's Defense Ministry said. "The Ministry of Defense would like to stress that the plane was over the Syrian territory throughout the flight."
Turkish media posted images and video showing the two pilots from the plane parachuting to the ground, while separate footage showed the jet itself crashing.
Russian plane shot down by Turkish jets

Show all 5
But the fate of the pilots remains unknown, and there were unconfirmed reports that they had been captured by either Turkmen or Nusra Front fighters.
Moscow said the pilots had parachuted away from the jet, but there had been no further contact with them since then.
The Syrian Observatory for Human Rights monitoring group said the warplane crashed in a mountainous area in the northern countryside of Latakia province.
President Tayyip Erdogan has been briefed by the head of the military and will talk to Prime Minister Ahmet Davutoglu, Turkish sources said.
Join our new commenting forum
Join thought-provoking conversations, follow other Independent readers and see their replies