Syrian chemical attack on Khan Sheikhoun approved by 'highest levels' of Assad regime, Israel's Mossad finds
Israeli intel stands in stark contrast to comments from Syria's foreign ministry that army 'has not and will not use chemical weapons against our people or terrorists'
Thursday 06 April 2017 14:03 Comments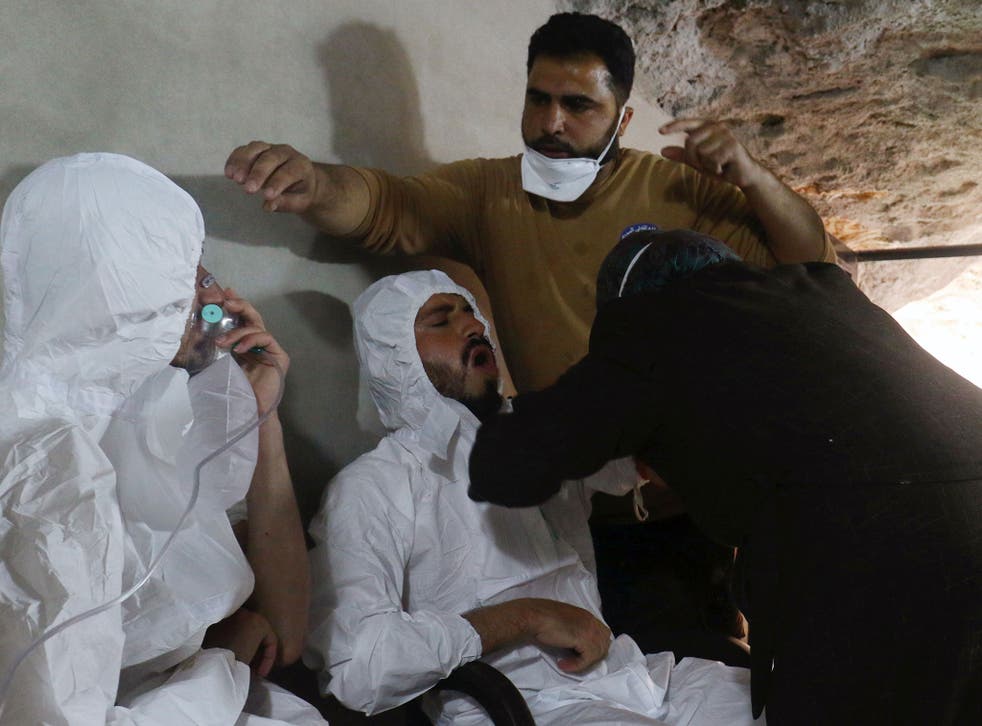 The suspected chemical weapons attack that killed at least 70 people in Khan Sheikhoun in Syria was carried out by Syrian President Bashar al-Assad's government, leaked Israeli intelligence information says.
Dozens of people were rushed to hospital in rebel-held Khan Sheikhoun after an air raid in the early hours of Tuesday morning with symptoms such as convulsions, suffocation, coughing blood and foaming at the mouth, consistent with either sarin gas - a nerve agent - or chlorine, Medecins Sans Frontieres said their staff found.
Local hospitals in Idlib province were so overwhelmed by the flow of casualties around 30 people were also taken over the border to Turkey for treatment, where three died. The Turkish justice minister said on Thursday that post mortems carried out on the victims' bodies showed evidence of exposure to chemical weapons.
Syria: Man loses 25 family members in suspected chemical attack
It is "highly probable" the attack was carried out by the Syrian regime, Israeli intelligence officials told Haaretz on condition of anonymity on Wednesday, although the Syrian Foreign Ministry has repeatedly denied any involvement. The army "has not and will not use chemical weapons against our people or terrorists," it said on Thursday.
The attack was intended to punish Syrian opposition groups, who in the last three weeks have staged several unexpected advances on regime territory, the Israeli sources added, and the use of chemical weapons must have been approved by either Mr Assad or senior officials.
Both moderate rebels and regime forces have continually broken the nominal ceasefire which has been in place across the country since the end of last year, although the tide of the war has turned in the government's favour since the city of Aleppo fell back under regime control in December.
While Mr Assad gave up Syria's chemical weapons stocks to the Organisation for Prevention of Chemical Weapons (OPCW) after international outrage over a sarin gas attack in rebel-held Ghouta in 2013 which killed hundreds of civilians, rebel officials have long maintained that the regime did not destroy its entire arsenal.
The Syrian Observatory for Human Rights, a war monitor based in the UK, believes dozens of gas attacks have been carried out across the country even after Syria signed up to the Chemical Weapons Convention and the international watchdog's intervention.
The Khan Sheikhoun attack has been condemned worldwide as an "affront to humanity" which proves that "war crimes are taking place in Syria," UN Secretary General Antonio Gutteres said.
Emergency talks on the situation in Syria at the United Nations are not likely to break the current impasse on a resolution which would impose sanctions on "those responsible" for the attacks.
Russia, Syria's ally, used its position as a permanent member of the Security Council to veto similar action in February.
Register for free to continue reading
Registration is a free and easy way to support our truly independent journalism
By registering, you will also enjoy limited access to Premium articles, exclusive newsletters, commenting, and virtual events with our leading journalists
Already have an account? sign in
Join our new commenting forum
Join thought-provoking conversations, follow other Independent readers and see their replies