Sara Netanyahu takes lie detector test ahead of 'imminent' graft indictment
Israeli Prime Minister's wife volunteers for private polygraph to shore up her case ahead of expected indictment for alleged misuse of public money
Monday 04 September 2017 14:34 Comments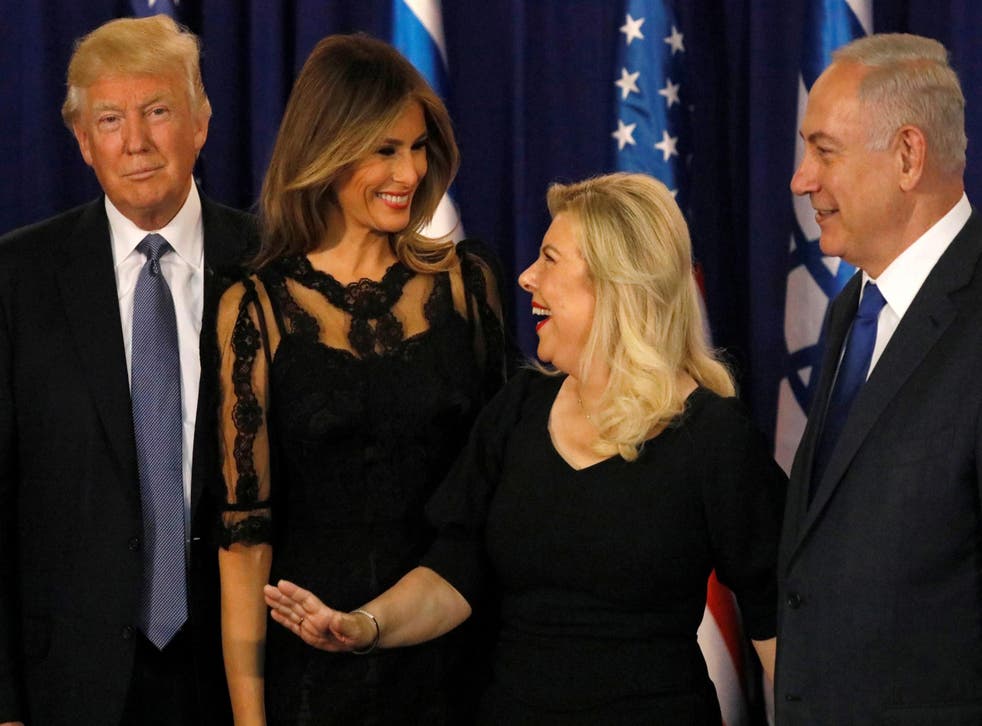 Israeli Prime Minister Benjamin Netanyahu's wife, Sara Netanyahu, has undertaken a polygraph test ahead of her expected indictment in a graft investigation, local media reports.
Ms Netanyahu took the private test at a medical centre near Tel Aviv at her "own initiative", Israeli news broadcaster Channel 2 reported on Saturday, in order to "prove her version of events" before the Attorney General announces his decision on whether to indict her.
Ms Netanyahu has been variously accused of allegedly using money set aside for the Prime Minister's official residence for furniture and improvements to the pair's private home, hiring Likud Party central committee member Avi Fahima as an electrician against official advice, paying for her elderly father's care, inflating dinner party numbers to hire private chefs, and pocketing 23,000 shekels (£4,800) in recycling refunds.
Israeli minister attempts selfie with Trump to Netanyahu's dismay
Channel 2 journalist Yoav Yitzchak was given the polygraph results by the Netanyahus, which found she answered truthfully questions related to the alleged misuse of funds – including replying "no" to the question "Were you aware in real time of the breaking of rules regarding the ordering of food and other items for the Prime Minister's residence?"
The Times of Israel reports that polygraph test results are not admissible as evidence under Israeli law, but can be used as an "indication of events".
After two years of investigations, it is expected that the Attorney General, Avichai Mandelbilt, will accept the police's recommendation that Ms Netanyahu be formally accused of committing crime.
The announcement is widely believed to come in the next 10 days. Ms Netanayhu denies any wrongdoing.
Israel: From independence to intifada

Show all 7
Her husband is also dealing with legal woes; the Prime Minister is currently under investigation in four different cases related to bribery, fraud and breach of trust.
It is alleged that he received lavish and "inappropriate" gifts from wealthy supporters, such as cigars and champagne, and offered commercial favours to Yedioth Ahronoth newspaper owner Arnon Mozes in return for positive coverage.
He has also been asked to testify in the corruption case against his personal lawyer, David Shimron, over defence contract deals with German shipmaker ThyssenKrupp to buy submarines for the Israeli navy, and has been accused of failing to disclose his ties to key actors in a merger deal involving state telecommunications company Bezeq.
Mr Netanyahu's former chief of staff, Ari Harow, agreed to testify against his former employer last month, despite the fact he is a long time friend and loyal supporter of both Mr Netanyahu and his Likud party.
The move has widely been seen as a turning point in the investigations against the Prime Minister.
Like his wife, Mr Netanyahu denies all allegations of wrongdoing.
The couple's lawyer has said that there is a sustained media campaign to "persecute the Netanyahu family".
"How far will the persecution of the Netanyahu family go? To the cup of tea the housekeeper served Ms Netanyahu's 97-year-old father, who lived in her home while on his deathbed?", Yossi Cohen asked.
Register for free to continue reading
Registration is a free and easy way to support our truly independent journalism
By registering, you will also enjoy limited access to Premium articles, exclusive newsletters, commenting, and virtual events with our leading journalists
Already have an account? sign in
Join our new commenting forum
Join thought-provoking conversations, follow other Independent readers and see their replies