Saudi government's 'wife-tracking' app linked to domestic violence and abusive working conditions, says rights group
'Saudi authorities allow male guardians and employers to trap women and migrants in the country,' says Human Rights Watch researcher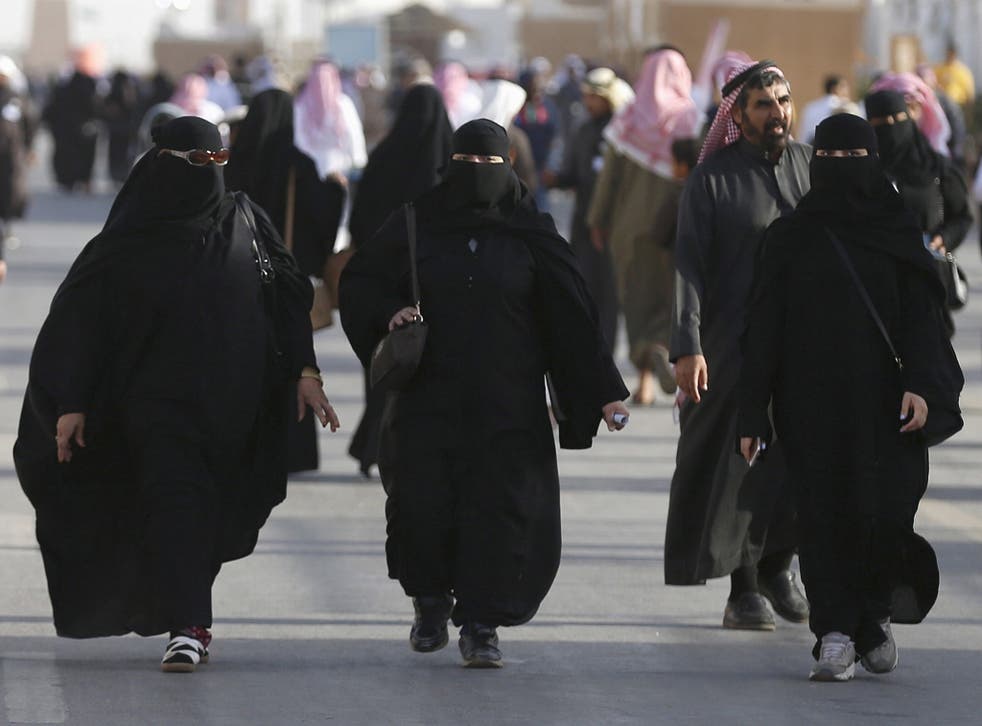 A controversial Saudi government app that can be used by men to control women's movements and stop them from travelling enables domestic violence and abusive labour conditions, a leading human rights organisation has warned.
Absher, an app owned and operated by the kingdom's interior ministry, is available in the Saudi version of Google and Apple online stores.
The app, which has been downloaded more than one million times, gives men the power to grant and rescind travel permission for women and to set up SMS alerts for when they use their passports.
Human Rights Watch has called for Google and Apple to strongly urge the Saudi government to end the male guardianship system.
Under the kingdom's restrictive guardianship system, women are legal minors and cannot marry, divorce, travel, get a job, be released from prison or have elective surgery without permission from their male guardians. Women are also forbidden from mixing freely with members of the opposite sex.
Tunisians protest against Saudi Crown Prince's visit

Show all 10
Human Rights Watch argued companies should always assess apps to determine whether they infringe human rights – saying there should be extra scrutiny for apps which are developed or sponsored by governments.
They should also revise their terms of service to ban apps specifically designed to violate rights and make every effort to alleviate any human rights harm before making such apps available, the organisation said.
"Saudi authorities allow male guardians and employers to trap women and migrants in the country," Rothna Begum, senior women's rights researcher at Human Rights Watch, said. "Such control over people's lives facilitates domestic violence and abusive labour conditions."
She added: "The mobile app Absher is a modern tool for an outdated and repressive system of control over women. Saudi Arabia should end its humiliating and discriminatory requirement for women to have male guardian permission to travel abroad."
Human Rights Watch said the mobile app is used to stop Saudi women from leaving their country without a male relative's permission. In a question-and-answer document, the organisation explains how male guardians use the app to control women's foreign travel, and how employers utilise it to control the travel of migrant workers.
The Absher portal is a government e-service that allows Saudis and residents to renew passports, obtain ID cards, and apply for or renew migrant workers' visas.
It also allows male guardians to view all the trips in and out of Saudi that their female dependents make – displaying destination countries and dates of travel.
Human Rights Watch has documented cases where male guardians have barred women from travelling abroad – including to study or work. They argue that necessitating permission for women to travel abroad generates obstacles that makes it trickier for women to get jobs and advance in their careers – as well as intensifying the difficulties for women experiencing family violence to escape abuse.
Absher, which roughly translates as "yes sir", also enables Saudis who sponsor foreign nationals to control whether their foreign workers, foreign spouses, or foreign children can leave the country, the organisation said. They can do this by specifying when they must return to Saudi Arabia on exit and re-entry visas and by approving or denying their final exit visas.
Saudi Arabia is the only country in the region that requires all migrant workers to request an exit permit from their employer to leave the country. This is part of the kafala (sponsorship) system, which ties migrant workers' legal status to their employer-sponsor, and which leaves migrant workers vulnerable to abuse and exploitation.
Human Rights Watch does not currently support the removal of the Absher app, which has been dubbed the "wife-tracking app", as it could have accidentally negative consequences for some women who might secretly change travel permissions or stop text message alerts on their male guardian's phone. They have documented at least three cases in which Saudi women were able to escape the kingdom after they got hold of their father's mobile phone password and changed the Absher travel permission settings.
Apple and Google have come under mounting scrutiny recently – 14 members of the US Congress wrote a letter to Apple CEO Tim Cook and Google CEO Sundar Pichai asking both companies to stop hosting the app back in February.
They accused the technology giants of enabling gender discrimination – describing both companies as "accomplices in the oppression of Saudi Arabian women".
Register for free to continue reading
Registration is a free and easy way to support our truly independent journalism
By registering, you will also enjoy limited access to Premium articles, exclusive newsletters, commenting, and virtual events with our leading journalists
Already have an account? sign in
Register for free to continue reading
Registration is a free and easy way to support our truly independent journalism
By registering, you will also enjoy limited access to Premium articles, exclusive newsletters, commenting, and virtual events with our leading journalists
Already have an account? sign in
Join our new commenting forum
Join thought-provoking conversations, follow other Independent readers and see their replies