Saudi Arabia state airline to suspend flights in and out of Toronto amid intensifying diplomatic row with Canada
'Can I know how my family and I get back after the holiday?'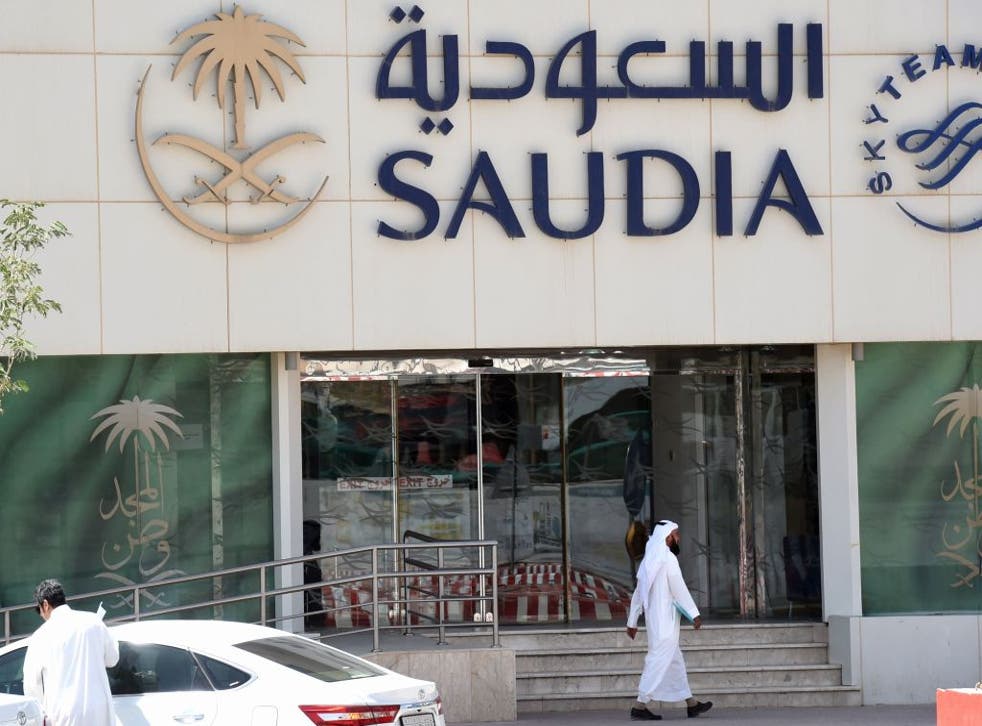 Saudi Arabia's state airline is suspending flights in and out of Toronto amid an intensifying diplomatic row with Canada.
Ottawa refused to back down in its defence of human rights after Riyadh froze new trade and investment and expelled the Canadian ambassador in retaliation for the country's call to free arrested Saudi civil society activists.
In her first public response to Saudi Arabia's actions, foreign minister Chrystia Freeland said, "Let me be very clear... Canada will always stand up for human rights in Canada and around the world, and women's rights are human rights."
Later the airline, Saudia, made the announcement on its Twitter account that it was suspending flights from the 13 August.
The news prompted users to ask how Saudis already on holiday in Canada were going to get back.
"Can I know how my family and I get back after the holiday?" one Twitter user asked Saudia. "We have a confirmed reservation and return tickets on August 24 from Toronto to Riyadh!"
Over the weekend, Riyadh recalled its ambassador from Canada and gave the Canadian ambassador 24 hours to leave. The Saudi government also banned new trade with Canada, although it was unclear if it would affect existing annual Saudi-Canadian trade of more than £3bn billion and a £10bn defence contract.
Saudi rapper Leesa A releases song about women being allowed to drive
The moves were a stern rebuke to Canada after the country expressed concern over the arrests of activists in Saudi Arabia, including prominent women's rights campaigner Samar Badawi, and called for their release.
Riyadh said that amounted to "a blatant interference in the Kingdom's domestic affairs, against basic international norms and all international protocols."
In recent months Saudi Arabia has lifted a ban on women driving, but it has also arrested activists, including more than a dozen high profile campaigners for women's rights.
Saudi foreign minister Adel al-Jubeir again criticised Canada's calls to free arrested civil society activists as a position built on "misleading" information on Monday.
Saudi Women celebrate their freedom to drive

Show all 8
The moves, carried on the official Saudi Press Agency caught diplomats in Riyadh off guard. Both the Saudi and Canadian ambassadors were away on leave when it was made.
The kingdom will suspend educational exchange programmes with Canada and move Saudi scholarship recipients to other countries, Saudi-owned Al Arabiya reported on Monday. Neighbours and allies Bahrain and the United Arab Emirates said they stood with Riyadh, although they did not announce similar measures.
Gulf Cooperation Council (GCC), a loose association of the six Gulf Arab countries, Arab League and Palestine also supported Saudi policy. But Qatar, which is locked in a diplomatic rift with Saudi Arabia and other neighbours for over a year, said on its foreign ministry's official Twitter account that the GCC secretary general's statement did not represent its view of the situation.
Additional reporting by Reuters.
Join our new commenting forum
Join thought-provoking conversations, follow other Independent readers and see their replies