Saudi Arabia's King Salman uses pardons and perks to make his mark in an attempt to win early goodwill
Civil servants and soldiers have received bonuses, prisoners have been released and students, pensioners and other groups have been offered cash gifts
Adam Schreck
Thursday 05 February 2015 21:18 Comments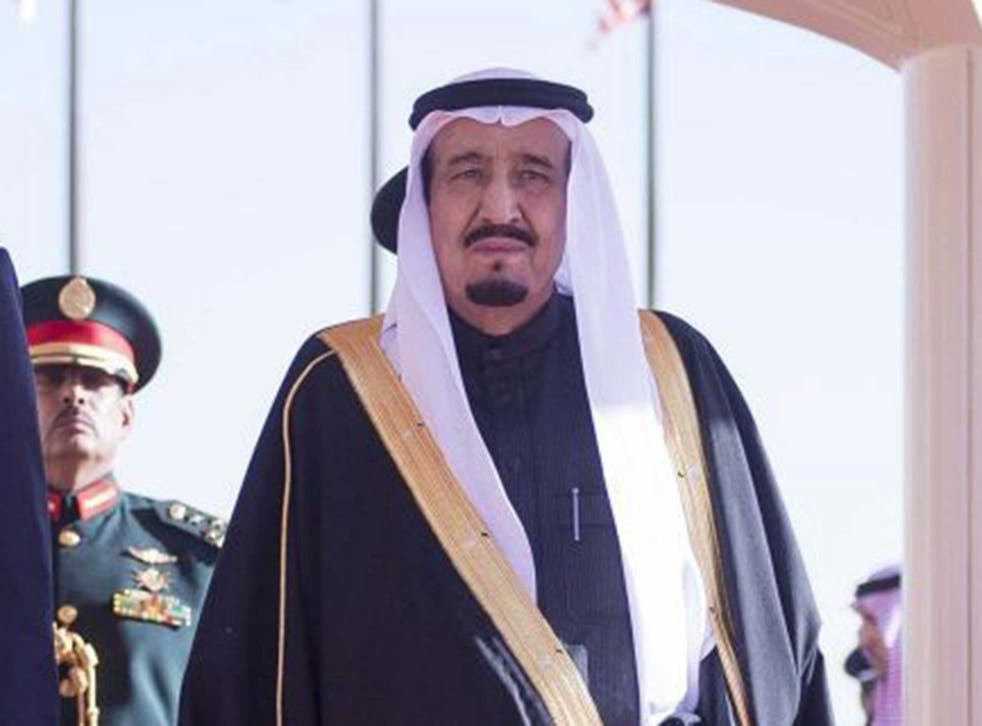 Saudi Arabia's new monarch isn't wasting time. Since assuming the throne on 23 January, King Salman has elevated some of his closest relatives and sidelined previous power-brokers, tightened decision-making and promised lavish payouts designed to win early goodwill.
It remains to be seen whether the swift moves will lead to greater political rights and other reforms in the ultraconservative kingdom.
He has opened the door for pardoning inmates convicted on what are known as "public rights" charges, which could include political activists. But he has left the decision on who gets pardons to the Interior Ministry, which Amnesty International says is primarily responsible for the crackdown on dissenting voices.
Blogger Raif Badawi, who was sentenced to 10 years in prison, a hefty fine and 1,000 lashes has not faced any lashes since King Salman took charge. Souad al-Shammari, the co-founder of Mr Badawi's liberal blog, was quietly released last week after three months.
Mustafa Alani, an expert on security and terrorism at the Geneva-based Gulf Research Cente, said King Salman would likely continue his predecessor's policy of gradual reform, which included curbing the power of the religious establishment and easing restrictions on women, who are still barred from driving cars.
"The direction is to go for more reform, not less," he said. "The environment has changed. You have social media, and nobody can control any society now. And I think this is understood by the leadership."
On the political front, one clear winner in the shake-up is Prince Mohammed bin Nayef, who has been Interior Minister since 2012 and spearheads counter-terrorism efforts.
King Salman named the 55-year-old as Deputy Crown Prince in one of his first acts. That's a historic change, because for the first time it puts a grandson of Saudi Arabia's founder, King Abdul-Aziz Al Saud, on course to rule. He becomes second in line to the throne behind Salman's half-brother Crown Prince Muqrin, who is 69.
King Abdullah dead: Reaction from around the world

Show all 8
Mohammed bin Nayef, who helped to establish a centre for rehabilitating former jihadists, survived a 2009 assassination attempt orchestrated by al-Qaeda's branch in neighbouring Yemen.
Another rising star is one of the king's sons, Prince Mohammed bin Salman, who is in his mid-30s.
King Salman named the prince as his replacement as Defence Minister hours after taking the throne. Mohammed bin Salman also oversees royal protocol and is a special adviser to the king, increasing his influence in the royal court.
Salman also opted to retain long-serving Foreign Minister Saud al-Faisal to lead diplomatic relations with Shia Muslim powerhouse Iran, Saudi Arabia's main regional rival.
Mr Faisal last year invited Iranian Foreign Minister Mohammad Javad Zarif to visit Saudi Arabia, but later accused Iran of fomenting unrest throughout the Middle East. Mr Zarif finally visited shortly after King Abdullah's death, and expressed hopes of greater co-operation with the Sunni-ruled kingdom.
Salman has also dissolved a dozen advisory bodies and replaced them with just two new ones.
Mohammed bin Nayef leads the first committee, Abdulaziz bin Salman the second.
Another of King Salman's early acts has been to pay more than one million civil servants and soldiers a bonus equivalent to two months' salary, and offered cash gifts to students, pensioners and other groups.
AP
Register for free to continue reading
Registration is a free and easy way to support our truly independent journalism
By registering, you will also enjoy limited access to Premium articles, exclusive newsletters, commenting, and virtual events with our leading journalists
Already have an account? sign in
Join our new commenting forum
Join thought-provoking conversations, follow other Independent readers and see their replies