Satellite images show scale of devastation inside Saudi town under siege from its own government
Awamiyah in Qatif province has been the scene of unprecedented violence that has killed between 12 - 25 people since attempts to evict residents turned violent on 10 May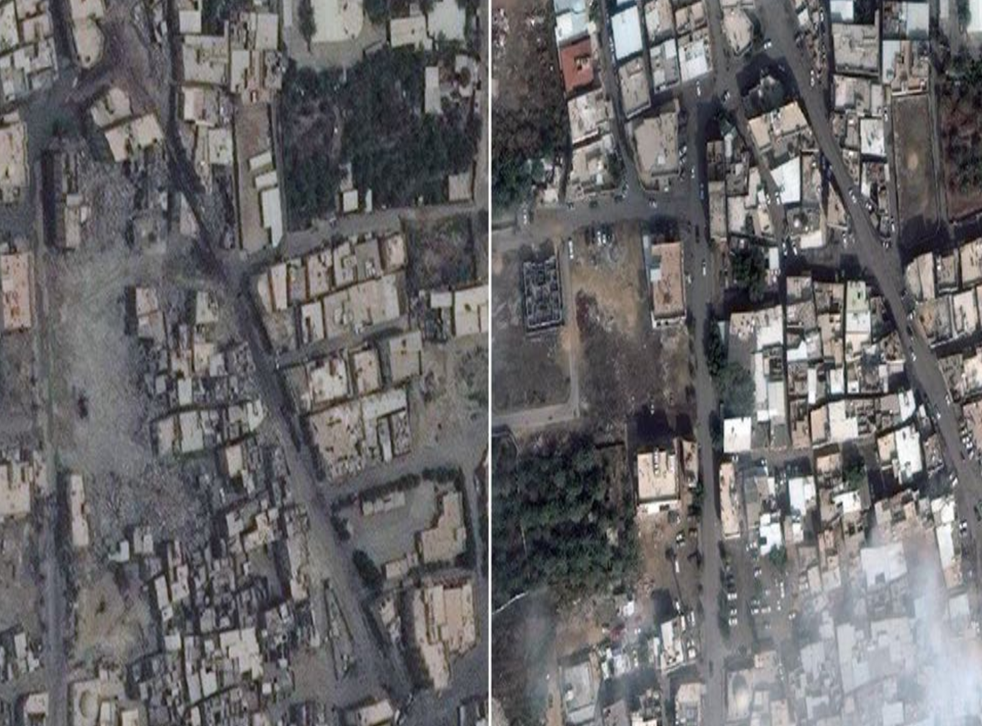 Satellite imagery has emerged from a Shia-majority town in Saudi Arabia showing the extent of the damage caused by a violent stand-off between Saudi security forces and armed protesters.
In images widely shared by activists from the city of Awamiyah, one image from July - contrasted with an earlier shot from February this year - reveals that entire blocks of the al-Musawara neighbourhood have been flattened by what residents say is heavy weaponry such as shelling from mortars.
The Saudi government says that the 400-year-old area is scheduled for demolition because terrorists and drug dealers use its abandoned buildings and winding narrow streets as hideouts.
Qatif, a traditionally Shia province, has been hit by periodic bouts of unrest - including car bombs and attacks on the security services - since Arab Spring calls for an end to discrimination against minority Shia citizens began in 2011.
Since 10 May, however, locals report between 12 - 25 people have died in shelling and sniper fire, and pictures purportedly of the area show it covered in rubble and sewage.
But details of the current conflict - which Human Rights Watch told The Independent is an "unprecedented" stand-off between the state and its citizens - are difficult to verify.
What happened when US officials were asked why they criticised Iran but not Saudi Arabia
Foreign media are not allowed near the area, which means the world is reliant on heavily-controlled Saudi state media, unreliable Shia-focussed news sites and social media from inside the city to begin piecing together what is going on.
Residents and activists The Independent has spoken to, however, paint a very grim picture of the current humanitarian situation for the area's estimated 30,000 residents - many of whom have fled.
The number of people inside who have taken up arms against the government - and their purpose in doing so - is unclear. One armed man The Independent spoke to said he was forced into violent action after government forces raided his home and abused his family.
"Due to its narrow streets, the al-Musawara neighbourhood became a haven for terrorists and suspicious activities ranging from terrorism and kidnapping to selling drugs and weapons," a statement from the Saudi government provided on 8 August said.
Saudi Arabia opens its first women-only hotel

Show all 4
The houses in the al-Musawara neighbourhood were "deserted and have been unsuitable for human habitation for a long time", with residents given a voluntary choice and compensation to move.
"Security forces faced, and still face, resistance from these elements, while many security personnel, citizens and even residents have been killed by the terrorists," a government spokesperson said.
On Monday Saudi media reported that two armed men from a wanted list of 23 had turned themselves in to the authorities.
The situation is "completely under control of the security forces", the spokesperson added.
Register for free to continue reading
Registration is a free and easy way to support our truly independent journalism
By registering, you will also enjoy limited access to Premium articles, exclusive newsletters, commenting, and virtual events with our leading journalists
Already have an account? sign in
Register for free to continue reading
Registration is a free and easy way to support our truly independent journalism
By registering, you will also enjoy limited access to Premium articles, exclusive newsletters, commenting, and virtual events with our leading journalists
Already have an account? sign in
Join our new commenting forum
Join thought-provoking conversations, follow other Independent readers and see their replies