Saudi historian claims Western women drive because they 'don't care about being raped'
'They don't care if they are raped on the roadside - but we do'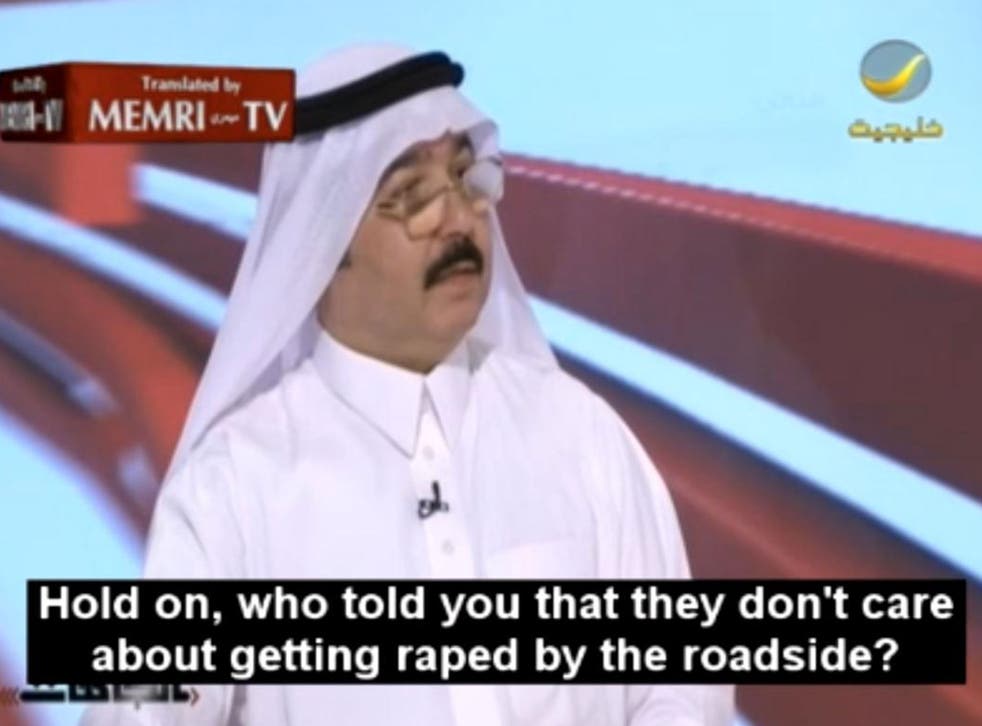 A Saudi historian has sparked outrage by claiming Western women drive cars because they do not care if they are "raped by the roadside".
Dr Saleh al-Saadoon appeared to justify a ban on women driving in Saudi Arabia by saying that they could be attacked and sexually assaulted if their car broke down.
In an appearance on the liberal show Rotana Khalijia TV, Dr al-Saadoon suggested that women in the West "don't care" about being raped, whereas people in Saudi Arabia do.
In December, it was announced that two women who flouted the driving ban were to be tried in a special court for terrorism.
"They don't care if they are raped on the roadside - but we do," he told his host Nadeen Bdeir, according to a translation from the Middle East Media Research Institute (Memri).
"Hold on, who told you that they don't care about getting raped by the roadside?" she asked incredulously.
"It's not a big deal for them beyond the damage to their morale," Dr al-Saadoon claimed. "In our case, however, the problem is of a social and religious nature."
"What is rape if not a blow to the morale of a woman?" the host replied. "That goes deeper than the social damage."
He went on to argue that Saudi women being driven around by their male family members is perhaps something they should appreciate. "Everybody is at their service. They are like queens," he said.
King Abdullah dead: Reaction from around the world

Show all 8
"A queen without a chauffeur has the honour of being driven around by her husband, brother, son and nephews. They are all at the ready for when she gestures with her hand."
When his claims were countered by the fact that women have been raped by their drivers, Al-Saadoon proposed another way of tackling the issue.
"The solution is to bring in female foreign chauffeurs to drive our wives," he said, to which his host put her head in her hands and asked: "Seriously?".
Rotana Khalijia is a liberal TV show that discusses women's rights and human rights issues, according to Memri. The episode first aired on 11 January and was uploaded onto YouTube on 31 January.
Register for free to continue reading
Registration is a free and easy way to support our truly independent journalism
By registering, you will also enjoy limited access to Premium articles, exclusive newsletters, commenting, and virtual events with our leading journalists
Already have an account? sign in
Register for free to continue reading
Registration is a free and easy way to support our truly independent journalism
By registering, you will also enjoy limited access to Premium articles, exclusive newsletters, commenting, and virtual events with our leading journalists
Already have an account? sign in
Join our new commenting forum
Join thought-provoking conversations, follow other Independent readers and see their replies