Saudi King: 'We will pump more oil'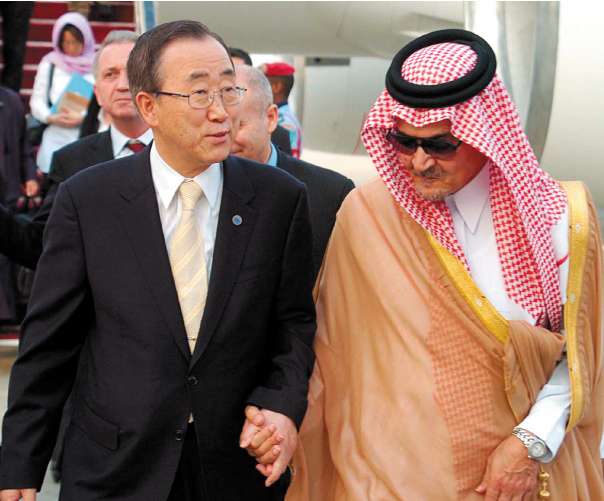 Saudi Arabia will raise oil production to record levels within weeks in an attempt to avert an escalation of social and political unrest around the world. King Abdullah signalled the commitment to the UN secretary general, Ban Ki-moon, at the weekend after the impact of skyrocketing oil prices on food sparked protests and riots from Spain to South Korea.
Next month, the Saudis will be pumping an extra half-a-million barrels of oil a day compared to last month, bringing total Saudi production to 9.7 million barrels a day, their highest ever level. But the world's biggest oil exporters are coupling the increase with an appeal to western Europe to cut fuel taxes to lower the price of petrol to consumers.
Saudi Arabia, which has called an emergency meeting of oil producers and consumers in the port city Jeddah next Sunday, says the energy crisis has not been caused purely by market pressures but by a speculative bubble. Saudi Arabia and Opec believe there are no shortages to justify the sudden surge in prices.
Mr Ban held talks with King Abdullah at the royal palace in Jeddah on Saturday evening for more than an hour which were dominated by the energy crisis. The Saudi monarch shared his concern that the oil price was "abnormally high" although he blamed "national policies" in the West, Mr Ban told The Independent yesterday. "He was also suggesting that consumers should play their own role," Mr Ban added.
Just before his departure for London yesterday, he had a telephone conversation with the Saudi oil minister, Ali al-Naimi, who told him that Saudi Arabia had raised production this month by 300,000 barrels per day at the request of consumers, and next month would raise output by a further 200,000 barrels per day. Mr Ban said: "He told me they will respond positively whenever there is a request for an increase in production. So there will be no shortage of oil."
Mr Naimi said Saudi Arabia was responding to requests from between 30 and 60 consumer countries. Finance ministers from the Group of Eight nations meeting in Tokyo yesterday added to the chorus urging Saudi Arabia to increase production.
The UN chief said he had asked the Saudi minister whether the additional output would be enough to help stabilise the market, adding: "He said the consumers and others should play their own role."
Mr Ban, who flew to Saudi Arabia after a meeting in London with Gordon Brown at Downing Street on Friday as Britain was in the grip of a protest by lorry drivers, conveyed the concerns of world leaders about the impending oil crisis. The South Korean secretary general said: "Unless we properly manage these issues, this may create a cascade of all other challenges and prices, affecting not only social and economic issues but also creating political instability."
But it appears the Saudis are just as worried that record prices – on Friday oil was being priced at just under $135 a barrel – could dampen growth in the industrialised West and lower demand, which would in turn hurt the kingdom.
As well as the protests in Britain, which continued with a go-slow by lorry drivers on the M6 on Saturday, oil-related protests have swept Europe and Asia in recent weeks. Violence has erupted in Spain, riot police were deployed in Malaysia, several Indian states have been hit by fuel-related strikes and most of South Korea's main ports have been paralysed by blockades.
Mr Ban said the King shared his view that the prices of oil and food were intricately linked to the issue of flooding and drought caused by climate change and needed to be dealt with comprehensively.
"But while he acknowledged this concern, he also expressed his own concern that common effort and co-ordination are required, particularly from consumer countries," Mr Ban said.
Saudi Arabia, which is the only Opec member with spare capacity, has been under pressure from the Bush administration to increase production, with petrol now costing a record $4 (£2) per gallon in America. But the Saudis argue that although the barrel has jumped as high as $140 recently, they are earning less in real terms owing to the decline in the value of the dollar. Until now they have hesitated to announce a large increase over a sustained period, sticking to the Opec line which blames Western speculators for the increase.
Opec countries generally follow the Saudi lead on raising levels of production, although the cartel's president, Chakib Khelil, has said it will make no new decision until a September meeting in Vienna.
Gordon Brown is to attend the unprecedented meeting of oil producers and consumers in Jeddah, and the Energy minister, Malcolm Wicks, met Mr Naimi in Riyadh on Saturday.
The US, the world's biggest oil customer, which has expressed considerable frustration with the Saudi position, will be represented at the meeting at ministerial level. Yesterday's Arabic-language newspapers had dampened down speculation about an increase in Saudi production.
The Al Riyadh newspaper quoted oil ministry sources who said that if there had been no increase in demand, there was no need to increase supply. A commentator in Al Watan newspaper said: "Why should we please consumers and increase production?" pointing out that the value of the dollar was in decline.
Saudi Arabia is keenly aware of the political and economic effect of the oil market on the upwards spiral of food prices, and contributed $500m to the World Food Programme ahead of the food summit in Rome to enable the UN agency to cope with escalating problems in feeding the world's poor. Mr Ban thanked King Abdullah for that gesture.
Mr Ban's talks in Saudi Arabia also focused on regional Middle East issues, including Lebanon, Israel/Palestine and Somalia, where a UN-brokered process backed by the Saudis has just produced a peace agreement.
Join our commenting forum
Join thought-provoking conversations, follow other Independent readers and see their replies