Description of shawarma as 'iconic Israeli street food' sparks widespread mockery and derision
Labelling of Middle Eastern meat dish draws sarcastic comparisons and accusations of 'gastronomic theft'
Samuel Osborne
Thursday 10 January 2019 17:43 Comments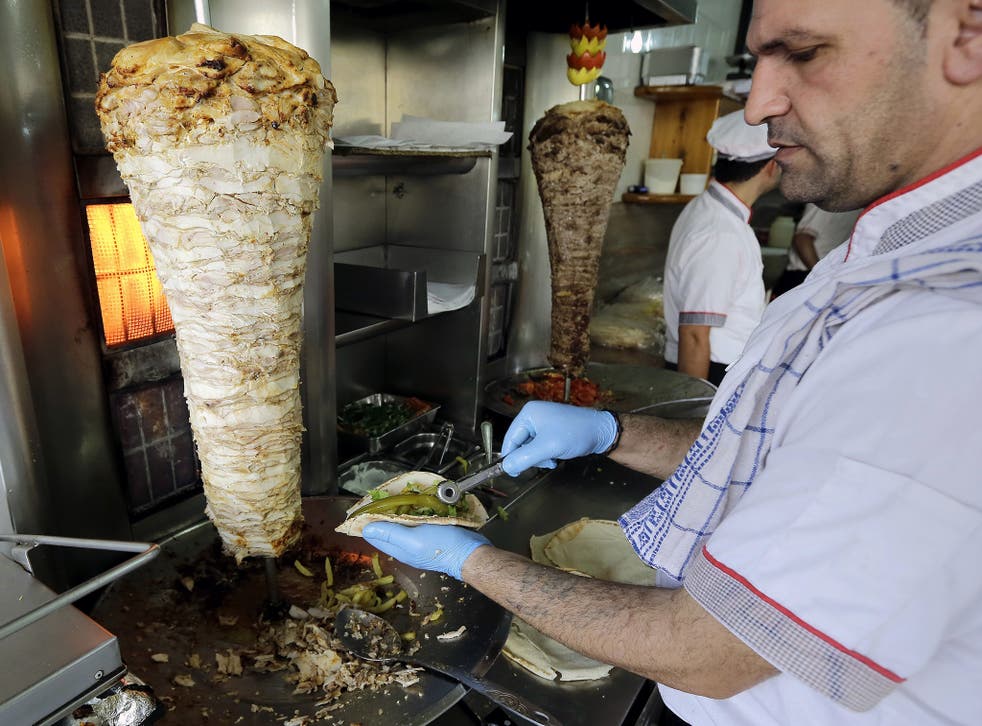 It has been popular across the Middle East for hundreds if not thousands of years, so when a newspaper labelled the shawarma "an iconic Israeli street food", it was met with widespread mockery and derision.
Noting the "pleasing mini-trend" had returned to Tel Aviv, Haaretz reported that new eateries were "making successful attempts" to bring back the meat filled wrap to the city.
It headlined the article: "Shawarma, the Iconic Israeli Street Food, Is Slowly Making a Comeback in Tel Aviv"
The newspaper's decision to claim the street food as Israeli was widely mocked on social media.
Some sarcastically suggested other foods could be claimed by different nations.
"Pizza, the classic street food of the USA can now be found in Naples," one wrote.
Another joked: "Hamburger, an iconic Swedish street food can now be found even in America."
Others took it further, with one writing: "Pizza, the iconic Senegalese street food, is slowly making a come back in Dakar."
Another tweeted: "Shawarma? Israeli. Falafel? Israeli. Gyros? Israeli. Pizza? Israel, all the way, baby."
However, others were less amused by the headline, going as far to label it and "gastronomic theft".
One said: "Shawarma is just about as Israeli as spaghetti is Chinese. Stop trying to steal our culture. It's enough you've already stolen most of our land."
Another said the headline "blatantly erases the historic and cultural ties of this 'iconic' street food" and "implies that Israel invented the shawarma and therefore has sole ownership over it".
Traditionally made of lamb or mutton shawarma's are one of the world's most popular street foods.
The furore was reminiscent of the debate over who invented hummus, with the Levantine dish being claimed by the Turks, Lebanese and Syrians.
More recently, Jamie Oliver was accused of cultural appropriation after launching a "jerk" rice brand.
Levi Roots calls Jamie Oliver's jerk rice dish 'a mistake' on Good Morning Britain
Labour MP Dawn Butler said the celebrity chef's branding was "not OK" while others on social media noted the "punchy jerk rice" microwavable meal did not contain the traditional ingredients found in jerk seasoning.
Gordon Ramsey was also similarly accused over his upcoming show for National Geographic.
Uncharted will see him compete against chefs around the world, "pitting his own interpretations of regional dishes against the tried-and-true classics".
Register for free to continue reading
Registration is a free and easy way to support our truly independent journalism
By registering, you will also enjoy limited access to Premium articles, exclusive newsletters, commenting, and virtual events with our leading journalists
Already have an account? sign in
Register for free to continue reading
Registration is a free and easy way to support our truly independent journalism
By registering, you will also enjoy limited access to Premium articles, exclusive newsletters, commenting, and virtual events with our leading journalists
Already have an account? sign in
Join our new commenting forum
Join thought-provoking conversations, follow other Independent readers and see their replies