Sir Winston Churchill: Zionist hero
Jews hold strong views about the man honoured by a new statue in Jerusalem, says Catrina Stewart
Catrina Stewart
Saturday 03 November 2012 01:01 Comments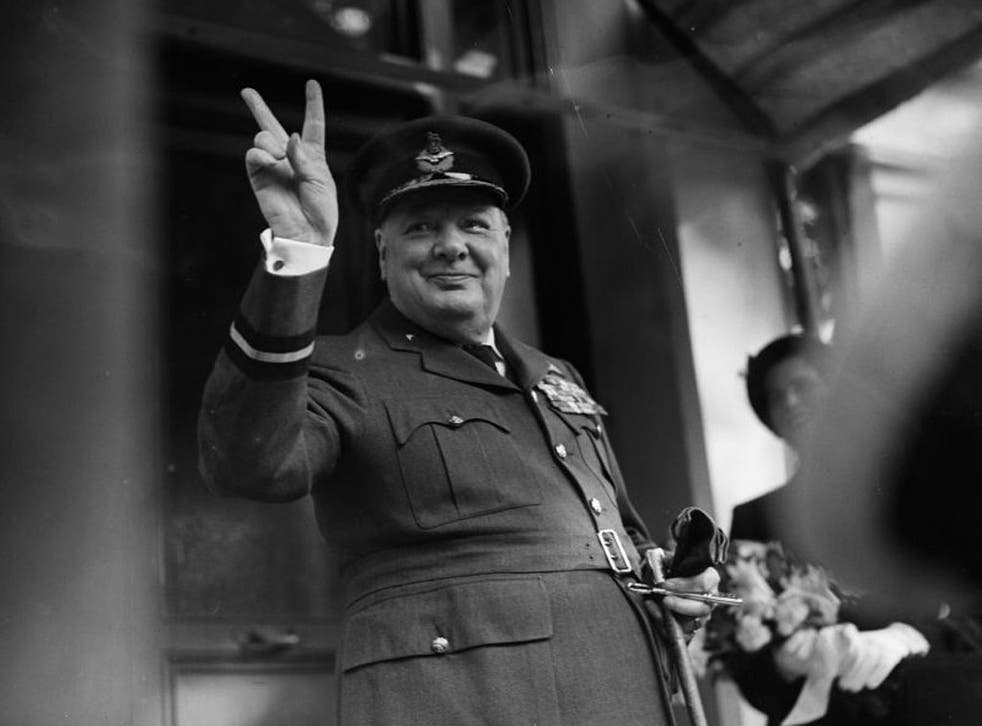 Jewish supporters of Winston Churchill are to unveil a bust of the British wartime leader in Jerusalem this weekend in what they say is a long-overdue recognition of his staunch and unwavering support of the Jewish cause and their desire for a homeland.
"As a passionate Zionist all his life and a philo-semite, Churchill has been under-recognised," says Anthony Rosenfelder, a trustee of the Jerusalem Foundation, which is behind the project to commemorate the British leader. He "combined a historical understanding of the Jewish people and what the promised land meant for Jews … with realpolitik".
It is perhaps ironic that a statue of Churchill should stand just yards away from the King David Hotel, scene of a deadly Jewish terror attack on British military headquarters in 1946 that was to hasten the demise of mandate rule in Palestine.
Sixty-four years after the British exit, Jewish antipathy towards its mandate-era rule of Palestine still remains strong.
Some regard Churchill as a controversial figure whose government turned back Jewish immigrants trying to reach Palestine during the Second World War. Others claim that Churchill was one of the greatest supporters of the Zionist movement. They say he should be acknowledged for his role in helping make real the 1917 Balfour Declaration of British support for a Jewish homeland in Palestine.
Nearly half a century after his death, though, Churchill still remains a complex historical figure among Jews. "It's always important to give history a bit of time to bed down," says Randolph Churchill, great-grandson of the British leader, a reference to the anger many Israelis still harbour towards the British. "People have had time to reflect and consider [on his role]. I don't think it's late after the event."
Most Israelis will remember Churchill for his role in defeating Hitler, and as the man who set the world against the Nazis, he is much admired. Unlike other British officials who backed the movement, such as Henry Balfour, Sir Wyndham Deedes and David Lloyd George, there is, however, almost no official recognition of his contribution.
"Churchill is not really commemorated here, and for lots of reasons he should be," says Isaac Herzog, an Israeli politician behind the bust initiative.
Many Israelis will admit scant knowledge of his long alliance with the Jews during the early part of the 20th century, one which spurred a friend to tell his official biographer, Martin Gilbert, that Churchill was not without fault, that he was "too fond of the Jews."
Indeed, it is Mr Gilbert, himself a Jew, who has proven one of the single biggest champions of Churchill, and whose weighty tome on the subject fired imaginations, including that of Mr Rosenfelder who said the book "switched on a light for me".
Tom Segev, author of One Palestine Complete, claims that Churchill once told his close friend and an elder of the Zionist movement, Chaim Weizmann, that he would support the Zionists "even if they did horribly stupid things".
Not everybody is so convinced. Some see his support for Zionism as a matter of expediency. He spoke often of a Jewish conspiracy behind the Bolshevik Revolution, and there are those who believe that his support for a Jewish state arose from a desire to keep the Jews from meddling in the affairs of others.
"His attitude towards the Jews was very complicated," says Eli Shaltiel, a senior fellow at the Israel Democracy Institute. "The Jewish state was a way of solving the Jewish problem… Once they had a state of their own, it would serve their very uniqueness. They would be normal like any other nation."
The question of Auschwitz concentration camp, where thousands were killed daily, also remains a bone of contention. Critics say he put Allied lives before Jewish ones by failing to bomb it in 1944. Although historians concede Churchill did give the order for an attack, he did not make it a priority.
Edward Luttwak, a Washington-based scholar writing a book about Churchill, is even more uncomplimentary. Even as the full horrors of the extermination camp became more widely known, , he claims, Churchill wilfully ignored the plight of Hungarian Jews.
He points to events in early 1944, when Romania, Bulgaria and Hungary all ceased to cooperate with Nazi Germany in deporting their Jewry, but Britain continued to enforce rigorously stiff immigration quotas to Palestine to appease the Arabs during a time of war. He claims they denied many European Jews safe passage by either declining or issuing out-of-date visa documents.
"The Romanians survived, the Bulgarians survived, the Hungarians did not. That's on Churchill's conscience," says Mr Luttwak. "In 1944, Churchill, lifelong friend of the Jews, became Hitler's remaining Holocaust ally."
By then, Britain's Palestine policy was increasingly under attack from the Jews. The Struma incident two years earlier – where a ship carrying Romanian refugees trying to reach Palestine via Turkey was turned away, only to be sunk by a Soviet submarine, killing 768 people on board – had rallied opposition to the British: Churchill himself was to become a target.
Newly declassified MI5 papers reveal that in 1944, the British feared that the Stern Gang, a Jewish terrorist group determined to oust the British from Palestine, was plotting to kill Churchill, as well as the unpopular politician Ernest Bevin.
In the end, it was not Churchill who died, but his close friend Lord Moyne, who was assassinated by the Stern Gang in Cairo in November 1944. Mr Segev writes that the bloody act "lost the Zionists one of their most important supporters, Winston Churchill".
In an address to the House of Commons, Churchill made clear the depth of his dismay: "If our dreams for Zionism are to end in the smoke of assassins' pistols and our labours for its future to produce only a new set of gangsters worthy of Nazi Germany, many like myself will have to reconsider the position we have maintained so consistently and so long in the past."
But by then the wheels had already been set in motion, and the Jewish state was only a few years from becoming a reality.
Register for free to continue reading
Registration is a free and easy way to support our truly independent journalism
By registering, you will also enjoy limited access to Premium articles, exclusive newsletters, commenting, and virtual events with our leading journalists
Already have an account? sign in
Join our new commenting forum
Join thought-provoking conversations, follow other Independent readers and see their replies