'Grubby charade': Sister of leading jailed Saudi women's activist begs Ladies European Tour golfers to boycott Saudi event
'Don't go to Saudi Arabia, don't help that barbaric regime launder its reputation through your excellence,' says Loujain al-Hathloul's sister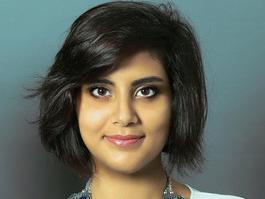 A jailed prominent Saudi women's rights activist's sister has urged Ladies European Tour golfers to boycott an event taking place in the Kingdom in solidarity with women's rights campaigners currently detained there.
Loujain al-Hathloul, a Nobel prize-nominated activist who has allegedly been tortured in prison, campaigned to win Saudi women the right to drive and was arrested several times for infringing the Middle Eastern country's recently overturned driving ban on women.
Human rights organisations say Loujain was forced to endure abuse including electric shocks, flogging and sexual harassment while in jail. The activist was arrested alongside 10 other women's rights activists in Saudi Arabia in May 2018 – weeks before the country reversed the driving ban.
The campaigner's younger sister Lina al-Hathloul has penned a letter, which she shared exclusively with The Independent, to the top players on the Ladies European Tour in which she begs them to show support for her sister's plight by not attending the golfing events in Saudi Arabia.
In the letter Lina, who lives in Brussels, writes: "My sister is a women's rights activist imprisoned and tortured by the Saudi regime. I understand the importance of sports to create links and bridges between different societies.
"However, the current Saudi regime uses sports to whitewash its crimes, to have a window to the West, while maintaining and even worsening women's conditions inside the country. Don't go to Saudi Arabia, don't help that barbaric regime launder its reputation through your excellence. Stand in solidarity with women's rights activists. Boycott the Ladies European Tour events in Saudi Arabia.
"As a leading athlete you have a platform, and with that platform comes responsibility. Your endorsement – implicit or explicit – carries enormous weight. As a woman, you know that women's rights are human rights, and that the battle for equality is far from won. In Saudi Arabia, that battle is being lost – and my sister and campaigners like her – have been tortured for asking for the basic rights that we should all be able to take for granted. Don't let them make you complicit in their crimes."
The 25-year-old branded the event a "grubby charade" as she argued attending it was akin to giving "tacit endorsement to the Saudi regime and its imprisonment and torture of activists like my sister".
"I am begging you, as a woman, as a person of conscience and as a role model – please boycott the Saudi women's tour event," Ms al-Hathloul added. "Stand up for women. Say no to torture, and demand the release of my sister and other prisoners of conscience in the Kingdom of Saudi Arabia."
None of the top golfers have responded to her letter since it was sent out to them last week. The Saudi Ladies International and the Saudi Ladies Team International which are both being held next month will be the first international women's golf events in the Kingdom.
Meghan MacLaren, an English professional golfer, chose to boycott the inaugural Saudi Ladies Championship when it was initially planned for March over concerns Saudi was sportswashing its human rights record.
Ms al-Hathloul recently told The Independent her sister lives in a "daily hell" and her health was deteriorating due to her hunger strike.
She said her parents have finally been able to visit Loujain after the family grew increasingly anxious due to not hearing from her for two months.
Saudi Arabia has faced sustained criticism that it uses sporting tournaments like the golfing one or other events like last year's heavyweight world title rematch to deflect from human rights abuses.
Lucy Rae, a spokesperson for Grant Liberty, a human rights charity, told The Independent: "The Ladies European Tour is being used. The Saudi regime wants to hide its despicable treatment of women's rights campaigners behind a multi-million dollar event that top female athletes should not be part.
"Today, right now in Saudi Arabia, women's rights activists are in prison for campaigning for the right to drive, and the right to live their lives as they see fit – as free people in their own right. Those brave women have suffered torture and sexual violence.
"For these women, the handmaid's tale isn't fiction, it is a fact of life, and the injustice of an apartheid regime isn't in the past, it's in everything they do. Just as a sporting boycott helped end apartheid a sporting boycott is needed now to stand up for these brave women. Female golfers should not let the Saudis make them complicit in their crimes. They should say no to this brutal regime and this charade."
The charity says there are currently at least 12 female women's rights activists in Saudi prisons and of those 12, at least five have been tortured, and at least four have endured some type of sexual violence.
Amnesty International previously raised concerns about the Ladies European Tour announcing it will stage two events in Saudi Arabia in November.
While London's mayor Sadiq Khan, the mayors of New York, Los Angeles and Paris refused to go to or send a representative to a major international summit last month hosted by Saudi as part of its chairmanship of the G20.
Campaigners urged mayors not to go to the three-day Urban 20 summit (U20), which started in the Saudi capital of Riyadh at the end of last month, to show solidarity with political prisoners jailed there. Anne Hidalgo, the mayor of Paris, also said she would not go to the event while Loujain remains imprisoned.
Loujain is awaiting trial on charges of communicating with foreign bodies hostile to Saudi, recruiting government employees to collect confidential information and delivering financial support to entities overseas who are hostile to the Kingdom. Saudi officials have denied the torture allegations and said they were investigating claims of maltreatment.
Join our commenting forum
Join thought-provoking conversations, follow other Independent readers and see their replies