Storm brewing as King Abdullah denies attacking the neighbours
Jordan's monarch hits out at US journalist as comments about several Arab leaders cause a stir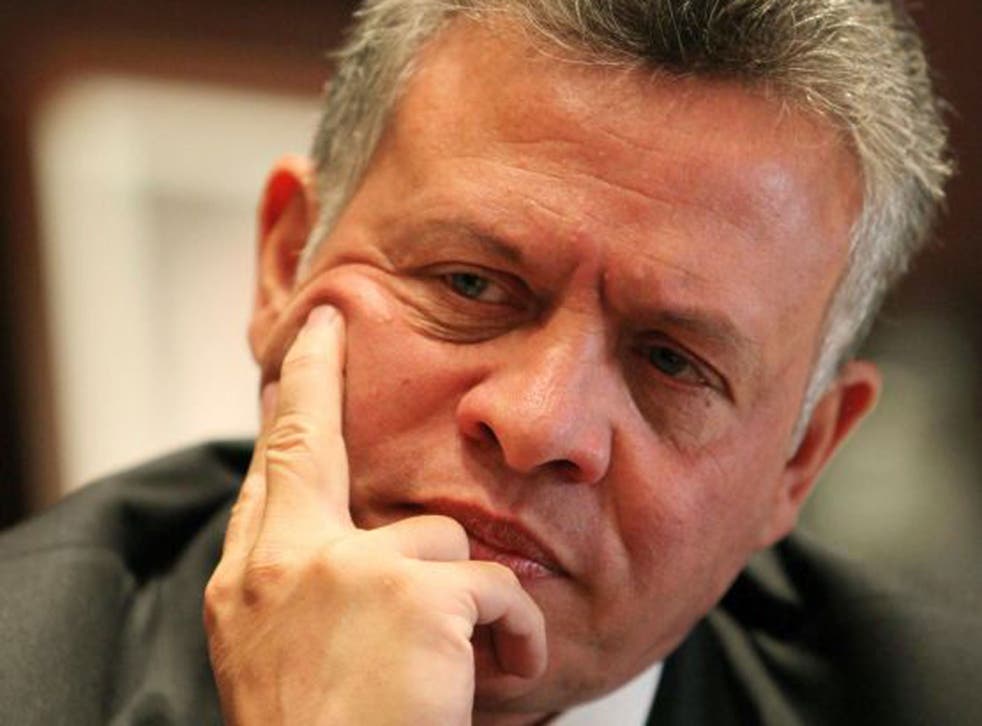 The King of Jordan has fired a broadside against a veteran US journalist for penning a magazine article in which the monarch was quoted berating other Middle Eastern leaders and describing his country's tribal elders as "dinosaurs".
Abdullah II's court released a statement calling Jeffrey Goldberg's 10,000-word piece for The Atlantic "inaccurate and dishonest" after its contents caused a stir in regional media. Of particular contention were what seemed to be derisory references to the leaders of Turkey and Egypt, and tribal chieftains in Jordan's impoverished south.
The article, which paints a portrait of a weary monarch with a deep mistrust of the Muslim Brotherhood, comes at a delicate time for the pro-Western King. Abdullah managed to cling to power even as his country was buffeted by Arab Spring protests, but he has since faced increasing criticism from the country's tribes – a traditional backbone of support.
Mr Goldberg's article noted that on a trip to Karak to meet tribal elders, the King looked forward to flying his helicopter (he pilots Black Hawks) more than the day's events. "I'm sitting with the old dinosaurs today," he was quoted as saying.
The palace statement suggested that the journalist had mixed his own opinions with the King's, and incorrectly interpreted some of his remarks. Mr Goldberg responded on Twitter, saying the royal court was not questioning the accuracy of his quotes but the analysis of his piece in local and international media reports.
Describing a "Muslim Brotherhood crescent developing in Egypt and Turkey" some of the king's most derogatory comments were reserved for the Egyptian President, Mohammed Morsi. "There's no depth to the guy," he was quoted as saying. He chided western leaders for being taken in by the "Masonic cult" that is run by "wolves in sheep's clothing".
Abdullah said that when he invited Jordan's own Muslim Brotherhood for consultations at the started of the Arab Spring and the party pledged loyalty, he replied by saying: "That is the biggest load of crap I have ever heard."
Of the Turkish Prime Minister, Recep Tayyip Erdogan, the King said Mr Erdogan's party was simply promoting a softer-edged version of Islamism, and that the premier had once said that "democracy for him is a bus ride. 'Once I get to my stop, I'm getting off'."
Even his own family did not escape unscathed. "Look at some of my brothers. They believe that they're princes, but my cousins are more princes than my brothers, and their in-laws are like – oh my God," he said.
A royal court statement asserted that King Abdullah is "proud of all Jordanians and all state mechanisms and institutions."
In his own words: King's world view
Before a meeting with Jordan's tribal leaders
"I'm sitting with the old dinosaurs today."
On Mohammad Morsi, the President of Egypt
"There's no depth to the guy… I was trying to explain to him how to deal with Hamas, how to get the peace process moving, and he was like, 'The Israelis will not move.' I said, 'Listen, whether the Israelis move or don't move, it's how we get Fatah and Hamas together'."
On Syria's President, Bashar al-Assad
"There was a dinner with me and him and the King of Morocco, at the King's residence in Cairo. And so Bashar, right, at dinner turns to us and says, 'Can you guys explain to me what jet lag is?' The king arched an eyebrow at me [saying], "He never heard of jet lag."
On the Turkish Prime Minister, Recep Tayyip Ergogan
"Erdogan once said that democracy for him is a bus ride. Once I get to my stop, I'm getting off."
On regional politics
"I see a Muslim Brotherhood crescent developing in Egypt and Turkey. The Arab Spring highlighted a new crescent in the process of development."
Register for free to continue reading
Registration is a free and easy way to support our truly independent journalism
By registering, you will also enjoy limited access to Premium articles, exclusive newsletters, commenting, and virtual events with our leading journalists
Already have an account? sign in
Register for free to continue reading
Registration is a free and easy way to support our truly independent journalism
By registering, you will also enjoy limited access to Premium articles, exclusive newsletters, commenting, and virtual events with our leading journalists
Already have an account? sign in
Join our new commenting forum
Join thought-provoking conversations, follow other Independent readers and see their replies