Supreme leader Ayatollah Ali Khamenei says Iran will not budge over 'nuclear rights'
Ayatollah Ali Khamenei says he has set 'red lines' for his envoys in Geneva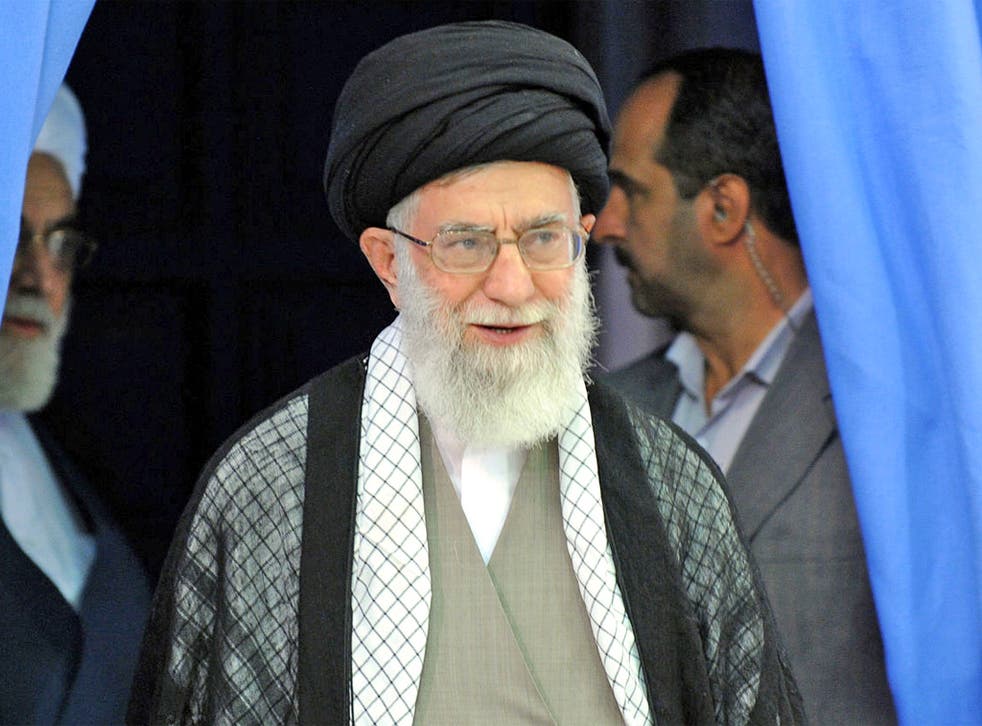 The Iranian supreme leader appears to be assuaging hardliners at home ahead of a possible interim accord that would rein in Iran's nuclear programme in return for the easing of sanctions.
As the so-called P5 plus 1 world powers met Iranian delegates for a second round of talks, Iran's supreme leader, Ayatollah Ali Khamenei, issued a defiant message, saying the Islamic Republic would not step back from what its believes are its nuclear rights, and that he had set "red lines" for his envoys in Geneva.
In a long, televised address to the fanatical Bassij volunteer loyalist militia, Ayatollah Khamenei expressed support for the talks with negotiators from the UK, US, Russia, France and China, plus Germany, that continue today, but warned that Iran would not budge "an iota", and cautioned against raising the pressure on his country. The Ayatollah has ultimate authority over Iran's nuclear programme which Western governments fear could be diverted towards building an atomic bomb.
He described Israel – whose Prime Minister was in Moscow demanding stricter conditions on Iran – as the "rabid dog" of the region.
He accused France of "kneeling before Israel" presumably in reference to France's tough, last-minute amendments to the draft proposals worked out by US and Iranian negotiators, which have been blamed for breaking up the previous talks in Geneva 10 days ago. French President François Hollande said that such attacks by the Iranian leader were "unacceptable".
However, by picking such a hard-line domestic audience, it appears likely that the Ayatollah's speech was intended for Iranians at home who are sceptical of any agreement with the West, countering concerns that negotiators may be preparing to yield on core issues.
In some respects, the negotiators have already backed down from some of Iran's "red lines". The last Geneva meeting stumbled over objections to Iran's insistence that its "right" to enrich uranium be explicitly recognised, as well as its construction of a heavy-water reactor near Arak that could eventually yield plutonium.
However, the Iranian Foreign Minister, Mohammad Javad Zarif, has since suggested a way around the first point, by saying Tehran has the right to refine uranium but not insisting that others recognise that right.
The chief European Union negotiator, Catherine Ashton, discussed the way forward with Mr Zarif after meeting the senior diplomats from the other Western powers earlier in the day. A further round of negotiations involving all parties took place last night.
The Foreign Secretary, William Hague, appears hopeful that a deal could be reached. Speaking in Istanbul, he said gaps were narrowing. "It is the best chance for a long time to make progress on one of the gravest problems in foreign policy," he said.
Congressional officials said the Obama administration estimates Iran could get $6bn to $10bn in sanctions relief if it rolls back its nuclear programme, according to a report from the Associated Press. The administration has not publicly provided a figure.
President Barack Obama has described the aim of the interim deal, which would run for six months while negotiations on a comprehensive pact continue, as preventing Iran from reaching "breakout capacity, where they can run for a weapon before the international community has a chance to react".
Other conditions sought by the West are that Iran would halt its enrichment of uranium to 20 per cent, reduce its existing stockpile of 20 per cent enriched uranium, and stop construction of the heavy-water reactor at Arak.
Iran has already mastered the main technological challenge of enriching uranium, but which needs to be enriched to 90 per cent or more to reach weapons grade.
Register for free to continue reading
Registration is a free and easy way to support our truly independent journalism
By registering, you will also enjoy limited access to Premium articles, exclusive newsletters, commenting, and virtual events with our leading journalists
Already have an account? sign in
Register for free to continue reading
Registration is a free and easy way to support our truly independent journalism
By registering, you will also enjoy limited access to Premium articles, exclusive newsletters, commenting, and virtual events with our leading journalists
Already have an account? sign in
Join our new commenting forum
Join thought-provoking conversations, follow other Independent readers and see their replies