Swimmers cross Dead Sea to highlight shrinking water surface
Participants from around the world congregate to take part in historic swim
Gabriel Samuels
Tuesday 15 November 2016 17:28 Comments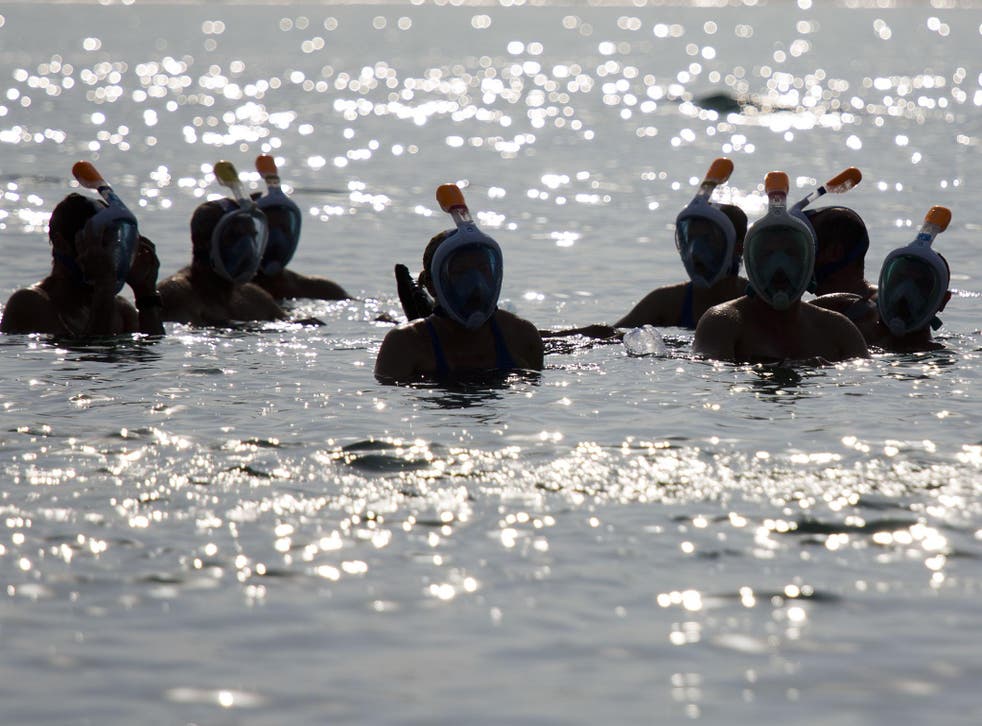 A group of swimmers have crossed the Dead Sea between Israel and Jordan in a day, to highlight the accelerating environmental deterioration of the area.
The crowd of 25 swimmers from various countries set off on the 15km swam from the coast of Jordan on Tuesday morning, and completed the swim in around seven hours.
Participants were advised to wear full-face masks with snorkels to protect them from the salt water, which is known to sting the eyes and lips, and can kill if it is swallowed.
Several of the swimmers came from Israel, while others travelled from New Zealand, South Africa and the UK to take part. Only three swimmers failed to finish despite the tough conditions.
British participant Jackie Cobell said the swim was organised to draw attention to the rapid shrinking of the Dead Sea, as the surface level of the water falls by over a metre every year due to global warming.
"What a fantastic thing to do," she told BBC News. "There's a message behind it - the ecological message of saving the Dead Sea, and how it's disappearing.
"And we need to save it - not just for the people round here but for everyone across the world. This is really important, it's disappearing fast.
Science news in pictures

Show all 20
The Dead Sea, the lowest place on earth at 423 meters (1,388 feet) below sea level, has shrunk significantly over recent decades, a process environmentalists blame on unsustainable water management and over-exploitation of the lake's minerals.
Organisers say the Dead Sea's water level has fallen more than 25 meters (80 feet) over the last three decades. The lake's southern basin, disconnected from the shrinking northern side, has seen flooding in recent years because of heavy industrialisation.
Those swimmers who neared the shoreline first waited so all could finish the race together. Speakers blared "We are the Champions," the iconic hit by the rock band Queen.
"I must say that I did not expect this swim to be so hard and what was really, really tough conditions is that salt. Constantly trying to get the salt out of your mask and the chafing," said Jean Craven, a founder of "Madswimmer," a South African charity that participates in open water swims around the world to raise money for children's causes.
"This was a challenge, not a race," he added. "It was really great to see the camaraderie, you know, everyone trying to bring the slowest swimmers along with them."
Mira Edelstein, one of the swim's organisers, said: "The first ever Dead Sea swim challenge lets us send out a clear message to save the Dead Sea, which is shrinking today at an alarming rate".
Register for free to continue reading
Registration is a free and easy way to support our truly independent journalism
By registering, you will also enjoy limited access to Premium articles, exclusive newsletters, commenting, and virtual events with our leading journalists
Already have an account? sign in
Join our new commenting forum
Join thought-provoking conversations, follow other Independent readers and see their replies