Synagogue attack: Israeli mayor accused of racism after suspending 30 Arab workers for 'security' reasons
Attempts to restore a sense of security have seen several municipalities take measures such as posting armed guards at nursery schools and banning workers from the occupied West Bank
Ben Lynfield
Thursday 20 November 2014 20:42 Comments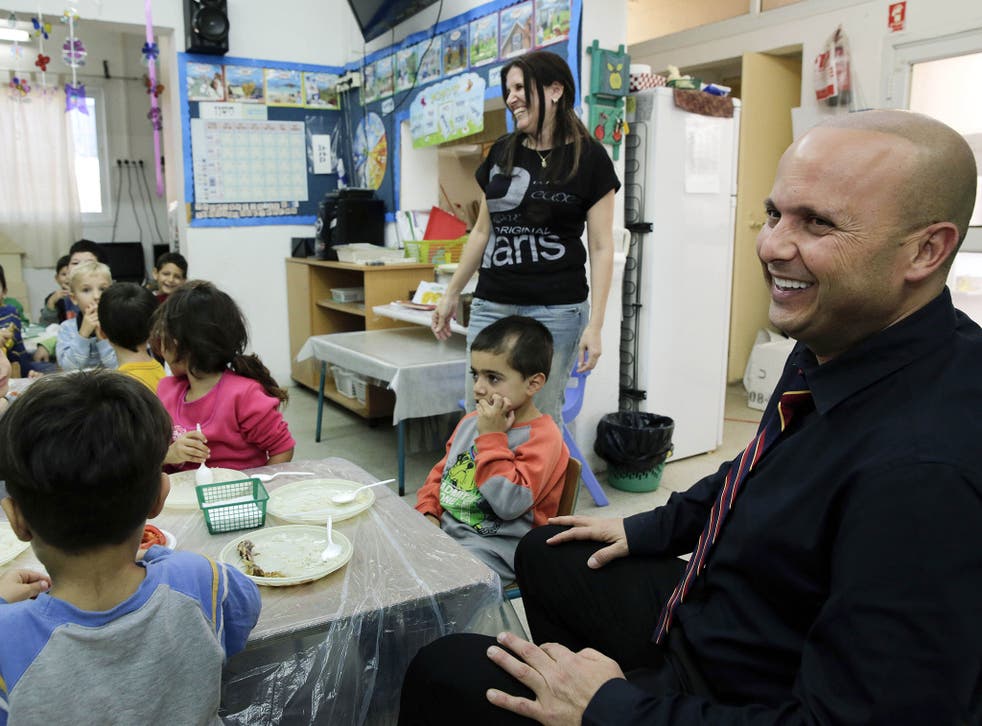 The mayor of one of Israel's biggest cities is facing accusations of racism after he suspended 30 Israeli Arab citizens from their jobs for "security" reasons as fear continued to run high in the Jewish state after Tuesday's deadly Palestinian attack on a Jerusalem synagogue.
The step by Itamar Shimoni, mayor of the coastal city of Ashkelon, comes after a wave of attacks, mostly in Jerusalem, triggered largely by the Palestinian perception of an Israeli threat to al-Aqsa mosque, Islam's third holiest site. The synagogue assailants are widely viewed in Arab East Jerusalem as "martyrs" who acted in defence of the mosque. Israeli Prime Minister Benjamin Netanyahu has said Israel will not make changes in the mosque compound, sacred to Jews as the Temple Mount. But provocative visits by right-wing Israeli politicians have more weight in Arab eyes than the premier's declarations.
Israelis were jolted by the synagogue attack, in which four worshippers and a policeman were killed, and the government is hard pressed to restore a sense of security after a wave of violence over the past month. Public Security Minister Yitzhak Aharonovich eased the granting of gun licences, and several municipalities said they would post armed security guards at nursery schools that are close to construction sites where Arabs are employed.
Unrest in Jerusalem

Show all 22
There are calls on social media sites to sack workers from annexed East Jerusalem. The municipality of Ashdod, south of Tel Aviv, has instituted a rotation system by which parents take turns as guards at their children's nursery schools, Ynet news agency reported. Another municipality, Kiryat Ono, imposed a ban on workers from the occupied West Bank.
Meanwhile, Israeli security forces notified the families of the assailants in the synagogue attack, Uday Abu Jamal and Ghassan Abu Jamal, that their homes will be demolished. Israel says this is a deterrent to future attacks, but Bill Van Esveld, local representative of Human Rights Watch, said they "deliberately harm the innocent."
"Israel should prosecute and punish those responsible for criminal attacks, not make their families homeless," he said.
Clashes between youths and police erupted in the Shuafat refugee camp in Arab East Jerusalem after security forces served a demolition order to the family of a Palestinian who killed two Israelis earlier this month in a car attack. In Jabel Mukaber, where the Abu Jamal homes are located, 50 Palestinians pelted police with stones before being dispersed with stun grenades, according to police spokesman Micky Rosenfeld.
Mr Shimoni announced on his Facebook page that he was halting "until further notice" construction of municipal bomb shelters being built by Israeli Arabs and was posting armed guards at 40 nursery schools that are near other construction sites where Arabs are employed. He told the Walla website that this was intended "to increase the personal security of parents, children and the educational staff." Arab Israelis are full Israeli citizens.
Tziona Koenig-Yair, Israel's commissioner for equal employment opportunities, said Mr Shimoni's move violates a legal ban on employment discrimination based on race, ethnic origin or religion. The commission said in a statement that since the synagogue attack there has been a "not insignificant" number of cases of employers firing or wishing to terminate Arab employees "solely on racial grounds."
Register for free to continue reading
Registration is a free and easy way to support our truly independent journalism
By registering, you will also enjoy limited access to Premium articles, exclusive newsletters, commenting, and virtual events with our leading journalists
Already have an account? sign in
Register for free to continue reading
Registration is a free and easy way to support our truly independent journalism
By registering, you will also enjoy limited access to Premium articles, exclusive newsletters, commenting, and virtual events with our leading journalists
Already have an account? sign in
Join our new commenting forum
Join thought-provoking conversations, follow other Independent readers and see their replies