Syria air strike kills 23 people including five children amid intense spike in violence
New wave of air strikes and shelling plunges besieged area into spiral of violence and despair
Samuel Osborne
Wednesday 07 February 2018 13:04 Comments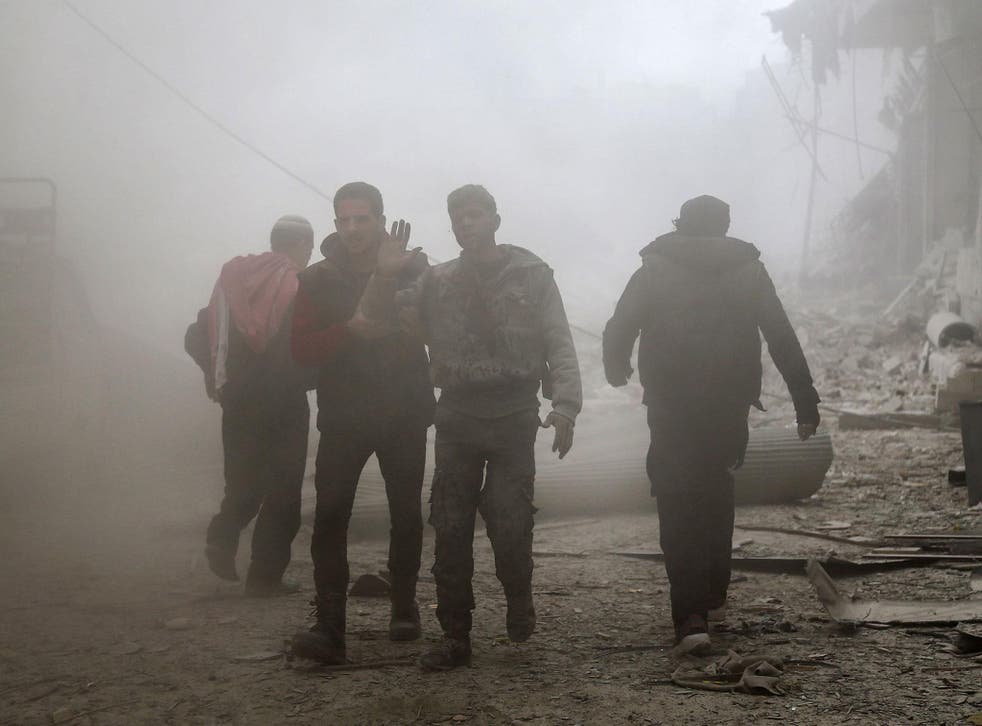 At least 23 people, including five children, have been killed in a regime air strike in Syria's Eastern Ghouta, amid an intense period of bombing in the Damascus suburb.
Russian and Syrian government forces have launched a new wave of air strikes and shelling, plunging the besieged area just outside the country's capital into a spiral of violence and despair.
Around 60 civilians were killed on Tuesday in air strikes and shelling that overwhelmed rescue workers and prompted the United Nations to call call for an immediate cease-fire in order to deliver critical medical care to civilians across the country.
In Pictures: The crisis unfolding in Syria

Show all 30
The punishing campaign by the Syrian government and its ally has also battered the northwestern province of Idlib, the largest area under opposition control in Syria.
The Idlib offensive hit hospitals and residential buildings and has intensified after militants shot down a Russian Su-25 fighter jet near the town of Saraqeb over the weekend.
Video later surfaced which is said to show the final moments of the pilot as he detonated a grenade to avoid being captured by fighters from Hayet Tahrir al-Sham, an al-Qaeda affiliated group.
Video purports to show final moments of Russian pilot shot down in Syria
The UN mission in Damascus warned of "dire consequences" to the humanitarian crises in Syria, identifying seven areas needing urgent relief.
The ongoing fighting and deliberate obstructions by forces were preventing aid organisations from reaching civilians, it said.
The lead investigator of a UN-mandated Commission of Inquiry on Syria said his team was looking into the reports bombs allegedly containing weaponised chlorine were used on two recent occasions in the town of Saraqeb, in Idlib, and Douma, in Eastern Ghouta.
In a statement, Paulo Pinheiro said the spiraling violence had made "a mockery of the so-called 'de-escalation zones"' — an agreement reached last year among Russia, Iran and Turkey to stabilise the lines of conflict and open corridors for humanitarian aid.
He described the government's siege and indiscriminate bombardment of eastern Ghouta as "international crimes."
On Wednesday, France's foreign minister said "all indications show us today that the Syrian regime is using chlorine gas at the moment."
Jean-Yves Le Drian added: "An investigation has been opened on that matter by the United Nations.
"The threat of using chemical weapons remains, this is a very serious situation."
Meanwhile, Syria said it had responded to "a new Israeli aggression" on Wednesday, after aircraft targeted a military outpost near Damascus.
State news agency SANA said air defences confronted the Israeli planes, which it said were flying over Lebanese territory when they fired the missiles and the army claimed its air defence system destroyed most of the missiles.
"Our air defence systems responded to missiles fired by the Israeli enemy air force from over Lebanese territory on a military outpost in Damascus countryside and destroyed most of them," an army statement said.
The Syrian Observatory for Human Rights said the air strike targeted positions of the Syrian army and its allies in the area of Jamraya, northwest of Damascus, which is home to a government research centre and was also hit in December.
Syria's multisided war has drawn in armies and insurgents from around the world, aggravating a conflict that began in 2011 as an uprising against its President, Bashar al-Assad.
Though he appears to have survived the insurgency, his forces continue to bomb and besiege opposition pockets across Syria, including in Eastern Ghouta and Idlib.
Additional reporting by agencies
Register for free to continue reading
Registration is a free and easy way to support our truly independent journalism
By registering, you will also enjoy limited access to Premium articles, exclusive newsletters, commenting, and virtual events with our leading journalists
Already have an account? sign in
Join our new commenting forum
Join thought-provoking conversations, follow other Independent readers and see their replies