Russia and Syria 'have not bombed Aleppo for a week', Moscow claims, despite evidence to contrary
Monitors and residents on the ground say air strikes have resumed since the end of a three day pause in fighting on Saturday - and 17 children killed in neighbouring Idlib - despite Russian reassurances moratorium has been extended
Wednesday 26 October 2016 09:56 Comments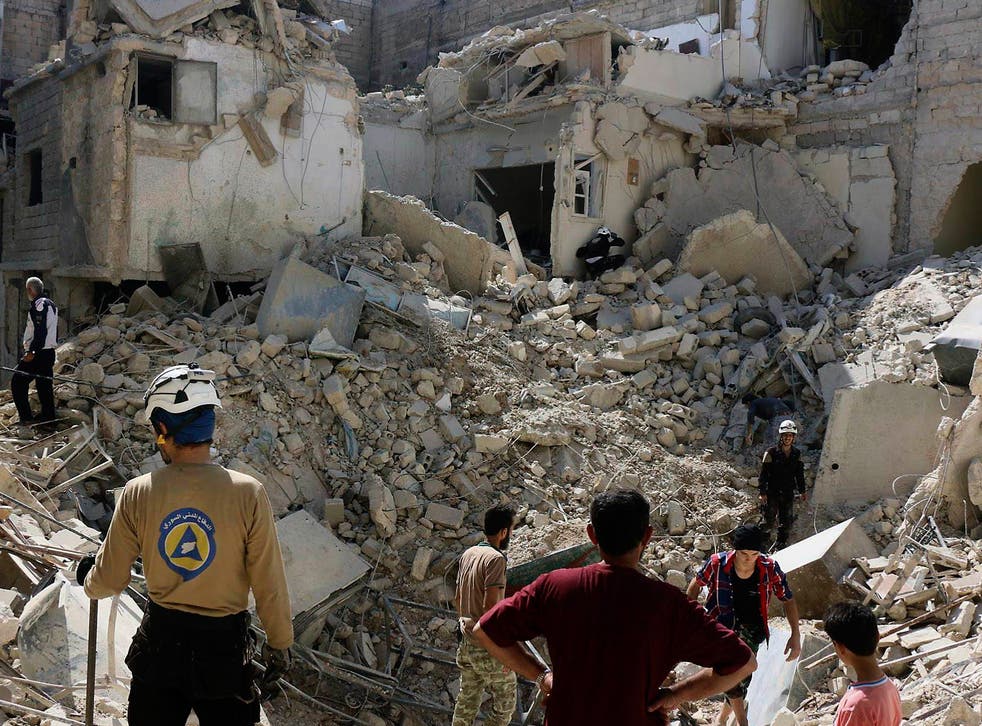 Russia has announced that it will extend its suspension of air strikes on besieged east Aleppo, but independent monitors as well as residents in the rebel-held area say that several parts of the divided city have been hit in recent days.
Rebel-occupied areas outside the city limits have also been targeted, the UK-based Syrian Observatory for Human Rights (SOHR) said, although they were not included in the original truce. Activists said and SOHR confirmed that at least 17 children were killed in a regime or Russian air strike that hit a school in the village of Haas on Wednesday, sending pictures too graphic for publication of children of around 10 years of age in bodybags with their arms and legs blown off.
Russian Defence Ministry spokesperson Major-General Igor Konashenkov said on Tuesday that in Aleppo itself, Russian and Syrian warplanes had stayed more than six miles (10 kilometres) away from the city limits since Moscow announced a humanitarian pause in hostilities on October 18.
There have been no reconnaissance flights over rebel neighbourhoods, let alone bombings, he added - although SOHR as well as city officials and activists in the city say that there have been several strikes, mostly on the southwest frontline.
Ibrahim Abu al-Laith, a civil service defence official, also said that air strikes and shelling had hit the rebel-held half of the city In the past week, although no casualties had been recorded.
"There was artillery shelling... and there were planes, the city was hit by several strikes," he said.
Last Tuesday Russia announced a three-day-long humanitarian pause later in the week in which both bombings and ground offensives by its Syrian allies on the neighbourhood during daylight hours would stop, in order to allow civilians and rebels to escape the siege barricades under an amnesty, and for UN aid deliveries to enter the desperate side of the city.
The rebels did not accept the terms of the deal, and very few people have left, both Syrian state media and rebel sources say. Last week, rebel mortar fire was caught on camera hitting a checkpoint into government-held west Aleppo, in an indication of the danger leaving the eastern side holds. For their part, rebels say government snipers have targeted anyone approaching the siege barricades.
Revealed: The 12 Most Dangerous Countries in the World

Show all 12
East Aleppo - home to 250,000 people - has been under siege conditions since July, and food, fuel and medical supplies are running dangerously low, aid agencies say.
President Bashar al-Assad's new air and ground campaign to oust the rebels from the city, which began last month, has caused unprecedented damage in the six-year-old conflict, killing more than 500 people and decimating medical infrastructure. Several western governments have accused Moscow and Damascus of war crimes for the brutal assault on the built-up area.
Speaking late on Tuesday the US State department urged Russia to use the extension to meet UN safety requirements to allow the passage of aid to east Aleppo.
"We obviously welcome any reduction in the violence, but it has to be met with a commitment and an actual delivery of humanitarian assistance, which was the purpose in the first place," State Department spokesman John Kirby said in a briefing.
German Foreign Minister Frank-Walter also urged a renewal of the ceasefire in separate telephone calls with U.S. Secretary of State John Kerry and Russian Foreign Minister Sergei Lavrov on Tuesday, German officials said.
A Russian defence ministry official said that while the moratorium is being extended, he could not specify for how long.
Fighting is expected to step up for control of east Aleppo in the next few weeks: Russia has sent a massive deployment of ships to Syria's coastline, including the country's only aircraft carrier.
Retaking the whole city would be a significant victory for Mr Assad. Observers expect that the gain would bolster the regime sufficiently for Russia to begin a military exit from the conflict.
Register for free to continue reading
Registration is a free and easy way to support our truly independent journalism
By registering, you will also enjoy limited access to Premium articles, exclusive newsletters, commenting, and virtual events with our leading journalists
Already have an account? sign in
Join our new commenting forum
Join thought-provoking conversations, follow other Independent readers and see their replies