Syria: Bombing hits bus convoy carrying civilians evacuated from besieged towns under deal between regime and rebels
Car bomb 'concealed in aid van' targets families stranded at transit point during planned evacuation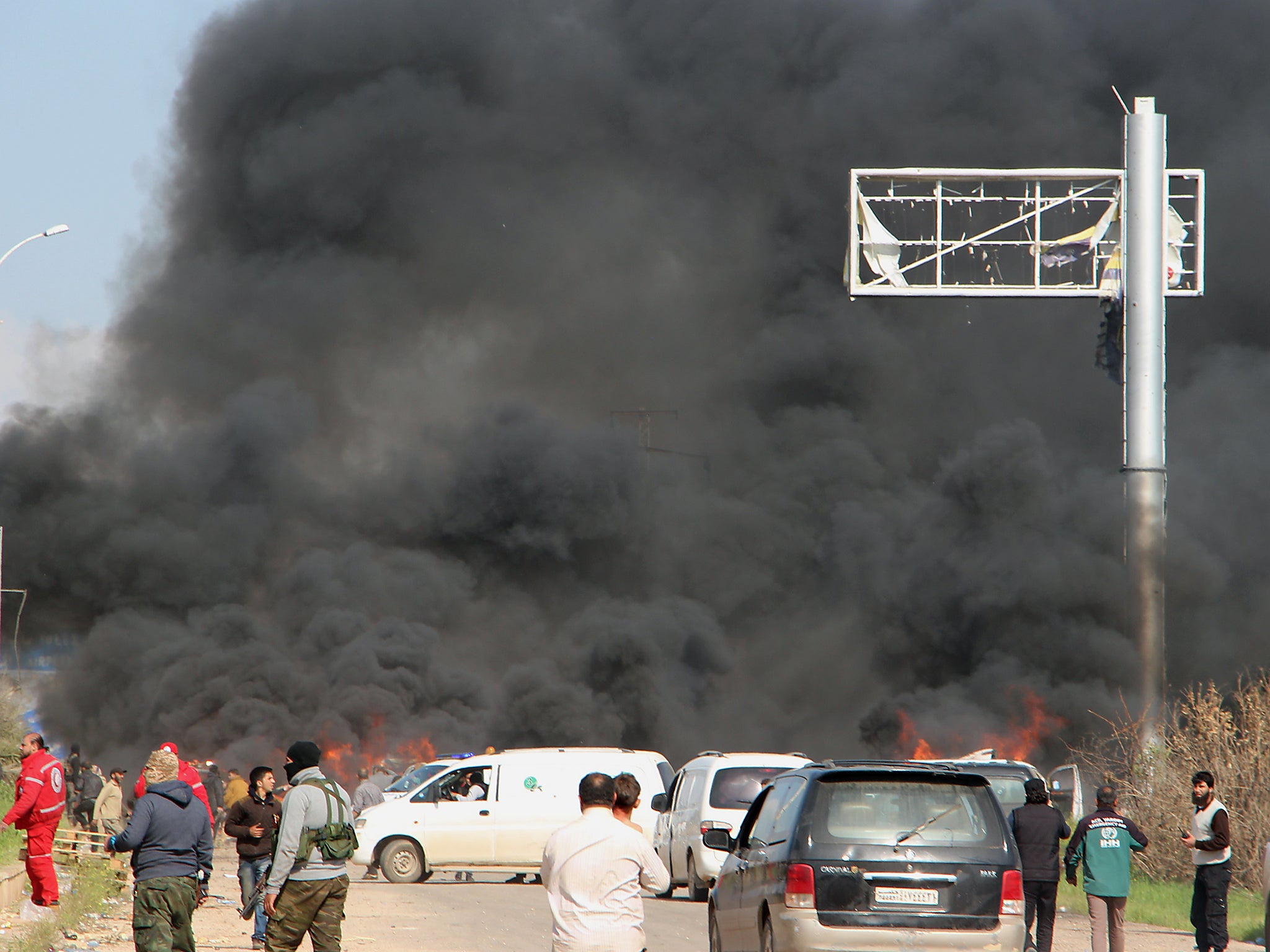 A car bomb has hit a convoy of buses carrying civilians evacuated from besieged towns in Syria, killing dozens of people as they waited to be taken to safety.
Volunteer rescue workers from the White Helmets said they recovered at least 100 bodies from the scene. The Syrian Observatory for Human Rights monitoring group later put the death toll at 112.
The blast hit the Rashidin area on the outskirts of Aleppo, where dozens of buses carrying mostly Shia Muslim families from pro-government villages were waiting to enter the city.
Photos that were too graphic to publish showed a huge fire raging next to bodies, including those of children, scattered on the ground next to charred buses with blown-out windows.
There was no immediate claim of responsibility for the attack, with Shias targeted predominantly by Isis and, to a lesser extent, al-Qaeda in the past.
Reports by Syrian state media that the car bomb had infiltrated the area after being loaded with food supplies for children could not be confirmed.
The victims are believed to be from the pro-government villages of Foua and Kefraya, who had been starving under a siege by Islamist rebels.
They were being guarded by fighters from the al-Qaeda-linked alliance Hayat Tahrir al-Sham, whose members were also killed in the blast.
They were allowed to leave the area in the "four towns" deal struck between rebels and Bashar al-Assad's government, which allowed thousands of people to leave the pro-rebel areas of Madaya and Zabadani, where residents had also been starving.
The United Nations described the situation as "catastrophic", saying more than 64,000 civilians were "trapped in a cycle of daily violence and deprivation".
Aid reaches starved Madaya and other besieged Syria towns
Dozens of buses carrying civilians from opposing sides of the six-year civil war left as planned on Friday but were held at depots overnight, parked up in separate districts on the outskirts of Aleppo city.
They were waiting near the checkpoint where the handover was due to take place when the bomb went off at around 3.30pm local time (1.30pm BST) on Saturday.
There were fears of revenge attacks or punishment for civilians from rebel-held areas in the wake of the bombing, with international organisations urged to keep the peace as Russian troops were reportedly deployed to prevent retaliation.
Gareth Bayley, the UK's special representative for Syria, condemned "yet another atrocity on Syrian civilians", urging protection for all others at risk.
Syrian state television had blamed rebels for obstructing the deal, while Syrian Red Crescent teams distributed meals for families stranded more than 30 hours after they left their homes.
Residents from Kefraya and Foua were to be transferred to government-controlled Jibrin, while those from Madaya and Zabadani were heading towards the rebel-held Idlib province.
"The people are restless and the situation is disastrous," said Ahmed Afandar, a resident evacuated from his hometown near Madaya.
In pictures: Children play underground in Syria
Show all 8
"All these thousands of people are stuck in less than half a kilometre. We are not moving forward or backward."
Mr Afandar said people had not been "pressured" to remain on buses amid reported disagreements between regime and rebel negotiators over the evacuation of fighters.
An opposition representative, Ali Diab, told Al-Arabiya television that fewer armed men than had been agreed were evacuated from the pro-government areas, violating the terms of the agreement.
A resident of Zabadani, Amer Burhan, said no evacuation had taken place.
Syrian opposition groups have characterised the deal as forced displacement because of the removal of Assad's opponents from urban centres including Aleppo and Homs.
The country's population is mostly Sunni, while the President is from the Alawite minority sometimes considered as an offshoot of Shia Islam.
Assad has been backed by Shia militias including Iraqi groups and fighters from the Lebanese militant group Hezbollah, while Isis, al-Qaeda and Islamist rebel groups are Sunni.
Additional reporting by agencies
Join our commenting forum
Join thought-provoking conversations, follow other Independent readers and see their replies