Syria rebels say they will consider ceasefire 'null and void' if government violations continue
Russian President Vladimir Putin described the truce as 'quite fragile' and requiring 'special attention and patience'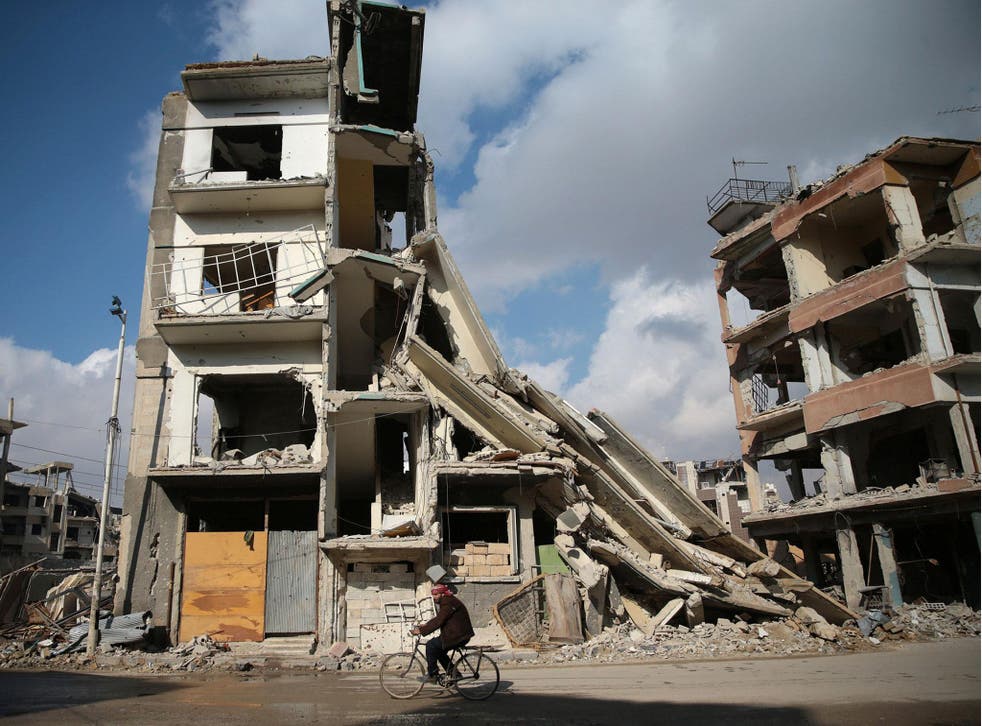 Syrian rebels groups have said they will consider a ceasefire deal "null and void" if government forces and their allies continue to violate it.
Clashes and air strikes continued in some areas since the nationwide ceasefire, brokered by Russia and Turkey began on Friday.
"Continued violations by the regime and bombardment and attempts to attack areas under the control of the revolutionary factions will made the agreement null and void," a statement signed by a number of rebel groups said.
The rebels also said it appeared the government and the opposition had signed two different versions of the deal, one of which was missing "a number of key and essential points that are non-negotiable", but did not say what those were.
Vladimir Putin announces ceasefire agreement in Syria
If it holds, the truce between the Syrian government and the country's mainstream rebel forces will be followed by peace talks in Kazakhstan next month, Russian President Vladimir Putin said on Thursday as he announced the agreement.
He described it, however, as "quite fragile" and requiring "special attention and patience".
The Britain-based Syrian Observatory for Human Rights reported clashes early on Friday between troops and rebels in the central province of Hama and near the capital, Damascus.
It said later in the day a man was killed by sniper fire in the eastern suburbs of Damascus, becoming the first fatality since the truce went into effect. The group also reported an aerial attack on the rebel-held Barada Valley near Damascus.
The Syrian army denied reports it was bombarding the Barada Valley region saying opposition claims aim to show that the army is not abiding by the truce.
Several past attempts at halting the fighting have failed. As with previous agreements, the current ceasefire excludes both Isis and Jabhat al-Nusra (recently rebranded to Jabhat Fateh al-Sham in an effort to distance the group from al-Qaida).
Aleppo before the Syrian Civil War

Show all 12
The UN Security Council will vote on Saturday on a resolution to endorse the ceasefire agreement and reiterate support for a roadmap to peace, starting with a transitional government.
The resolution also calls for "rapid, safe and unhindered" access to deliver humanitarian aid throughout the war torn country.
Divisions in the Security Council between Russia and the veto-wielding Western powers — the US, Britain and France, who support the moderate opposition and demand Syrian President Bashar al-Assad steps down — have blocked action to end the war, now in its sixth year.
If it holds, the ceasefire agreement will mark a potential breaking in the conflict, which began in 2011 with an uprising against the Assad family's four-decade rule.
It has left over 300,000 people dead and triggered a refugee crisis across Europe.
Additional reporting by agencies
Register for free to continue reading
Registration is a free and easy way to support our truly independent journalism
By registering, you will also enjoy limited access to Premium articles, exclusive newsletters, commenting, and virtual events with our leading journalists
Already have an account? sign in
Register for free to continue reading
Registration is a free and easy way to support our truly independent journalism
By registering, you will also enjoy limited access to Premium articles, exclusive newsletters, commenting, and virtual events with our leading journalists
Already have an account? sign in
Join our new commenting forum
Join thought-provoking conversations, follow other Independent readers and see their replies