Syria conflict: Eastern Aleppo 'could be destroyed in two months', UN envoy warns
'There is only one thing we are not ready to do: be passive, resign ourselves to another Srebrenica, another Rwanda', Staffan de Mistura says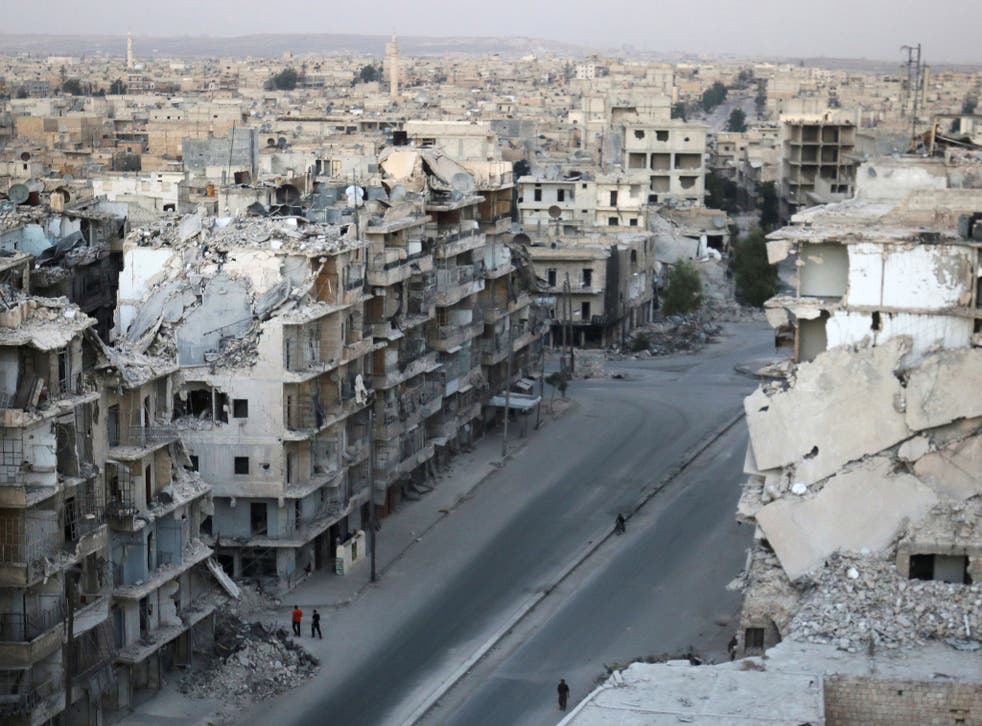 Rebel-held eastern Aleppo could face "total destruction" by Christmas and thousands could die if the current assault on the city is not stopped, the UN's special envoy to Syria has warned.
Staffan de Mistura told reporters in Geneva that he was prepared to go to the besieged area of the city and personally escort al-Qaeda-linked fighters out himself in an appeal to stop the current bombing campaign by Russian and Syrian forces.
"The bottom line is in a maximum of two months, two and a half months, the city of eastern Aleppo at this rate may be totally destroyed. We are talking about the old city in particular," he said, adding that "thousands of Syrian civilians, not terrorists, will be killed".
Approximately 250,000 people are thought to trapped in east Aleppo – where rebel supply lines were cut off by President Bashar al-Assad's troops in July. A renewed aerial and ground campaign to retake opposition-held areas has left hundreds of civilians dead, according to the UN, and damaged hospitals, water plants, and bakeries.
"There is only one thing we are not ready to do: be passive, resign ourselves to another Srebrenica, another Rwanda, which we are sadly ready to recognise written on that wall in front of us, unless something takes place," Mr de Mistura said.
Syria, backed by Russia, says it is targeting militants in the city who use civilians as human shields. Mr de Mistura said that the presence of about 900 former or current Jabhat al-Nusra – now calling themselves Jabhat Fateh al-Sham – fighters did not justify the destruction that has been wrought on the city in the last two weeks following the collapse of a US-Russian brokered ceasefire. He said that there were about 8,000 fighters in eastern Aleppo in total.
Syria: Government advance in Aleppo continues as tanks cross front line
Addressing the fighters directly, Mr de Mistura asked if they were willing to decide the destiny of so many innocent people, saying he would ensure their safety if they accepted an amnesty.
"If you did decide to leave in dignity, and with your weapons, to Idlib or anywhere you wanted to go, I personally am ready physically to accompany you," he said.
Mr de Mistura also warned that history would judge decision makers in Damascus and Moscow for the misery imposed on east Aleppo's citizens through the fighting.
"Thousands ... will be killed and many of them wounded ... This is what you, we, the world will be seeing when we will be trying to celebrate Christmas, or the end of the year if this continues at this rate, unimpeded. Homs multiplied by 50." Homs is the rebel-held city recently completely retaken by the regime.
In pictures: Aleppo bombing

Show all 14
He called for shelling of the city to stop immediately, and for the UN to be allowed to take aid supplies into rebel-held areas. East Aleppo has not received any humanitarian assistance in the last three months, and food and medical supplies are running dangerously low.
French Foreign Minister Jean-Marc Ayrault also said on Thursday that what he described as the indiscriminate bombing of the Syrian city of Aleppo was feeding terrorism and creating a new generation of Islamist extremists.
Mr Ayrault, who was speaking at a news conference after holding talks with Russian Foreign Minister Sergei Lavrov, said it was never too late to stop the bombing and that was why he had decided to visit Moscow.
A spokesperson from the Russia Foreign Ministry said that Russia was "willing to work on" France's draft UN resolution.
The US broke off talks with Russia on Syria earlier this week, citing Moscow's "unacceptable" backing for Mr Assad's Aleppo campaign.
Register for free to continue reading
Registration is a free and easy way to support our truly independent journalism
By registering, you will also enjoy limited access to Premium articles, exclusive newsletters, commenting, and virtual events with our leading journalists
Already have an account? sign in
Register for free to continue reading
Registration is a free and easy way to support our truly independent journalism
By registering, you will also enjoy limited access to Premium articles, exclusive newsletters, commenting, and virtual events with our leading journalists
Already have an account? sign in
Join our new commenting forum
Join thought-provoking conversations, follow other Independent readers and see their replies