Syria civil war: Angela Merkel backs no-fly zones to protect civilians after Russia accused of bombing schools and hospitals
The air campaign has sent a new wave of refugees to the Turkish border, alarming both Ankara and European leaders fearful that more people could seek to reach their shores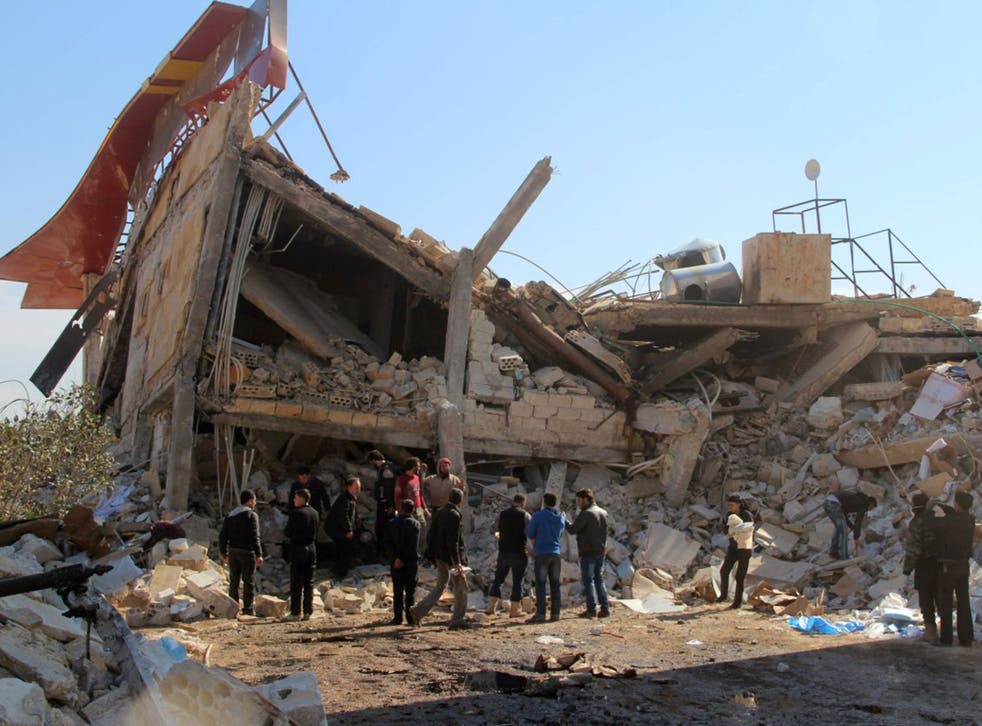 Almost 50 civilians were killed in attacks on at least four hospitals and two schools in northern Syria, the UN has said, as the German Chancellor Angela Merkel said she now supported a no-fly zone to protect civilians.
Residents and activists said that several of the attacks in Idlib and Aleppo provinces were launched by the Russian air force, casting further doubt on a pause in fighting due to come into effect by Saturday.
Russian and Syrian jets have pounded the region as part of a major offensive to push towards the key city of Aleppo and cut off rebels' access to Turkey. The campaign has sent a new wave of refugees to the Turkish border, alarming both Ankara and European leaders fearful that more people could seek to reach their shores.
In a new departure, Ms Merkel told Germany's Stuttgarter Zeitung newspaper that she now favoured a no-fly zone being imposed in Syria. She said: "In the present situation it would be helpful if there were an area over which none of the warring parties would fly air attacks – a sort of no-fly zone."
However, she ventured that such an arrangement should be negotiated, not imposed, saying: "If it were possible to reach such an agreement between the anti-Assad coalition and the Assad supporters, that would be helpful."
Turkey has long wanted a no-fly zone in Syria's northern border region, but has found few supporters in the international community. Mrs Merkel's rethink follows warnings that the five-year conflict is spiralling out of control, bringing rival militaries into dangerously close proximity and sending the death toll soaring.
Fourteen people were killed in Azaz, near the Turkish border, when missiles hit a children's hospital, a school and a refugee shelter. The French NGO Syria Charity, which supports the hospital, blamed Russia. It published a video showing distressed babies in incubators as sirens blared. The UN children's agency Unicef said that a further health facility and school were attacked in Azaz.
In neighbouring Idlib province, five patients, a caretaker and a hospital guard were killed in two missile strikes on a hospital supported by Médecins Sans Frontières (MSF). The charity said that the assault on the town of Maarat al-Numan was "a deliberate attack against a health establishment" by either the Syrian or Russian air force that would deprive 40,000 people of healthcare.
A third attack in the same town killed two nurses at the National Hospital, according to the pro-opposition Syrian Observatory for Human Rights. Locals in both towns blamed Russia for the attacks, and the Turkish Prime Minister, Ahmet Davutoglu, said it was a Russian ballistic missile that hit Azaz.
A UN spokesman said Secretary General Ban Ki-moon was deeply concerned. "Such attacks are blatant violation of international laws," he said.
Moscow claims its air intervention, which began in September, targets only terrorist groups, but the US says it has mainly targeted other factions opposed to President Bashar al-Assad.
The "cessation of hostilities" deal agreed in Munich last week was already criticised for not mentioning an end to Russian air strikes. The Russian Prime Minister, Dmitry Medvedev, told Time magazine that Moscow had no plans to halt its attacks on rebels. "They are all bandits and terrorists," he said.
Meanwhile complicated battles are under way in Aleppo province. US-backed Kurdish forces have sought to take advantage of rebel losses by advancing from their western enclave of Afrin. Alarmed by this, Turkey shelled Kurdish positions for the third day running. Even so the Syrian Observatory for Human Rights said that the US-backed and Kurdish-dominated Syrian Democratic Forces had wrested control of a large part of the town of Tal Rifaat from other rebel groups.
Join our new commenting forum
Join thought-provoking conversations, follow other Independent readers and see their replies