Syria civil war: President Assad's forces cut off last rebel supply line to Aleppo raising fears of huge humanitarian crisis
Civilians and medics in the area are stockpiling food and supplies in anticipation that a siege will be imposed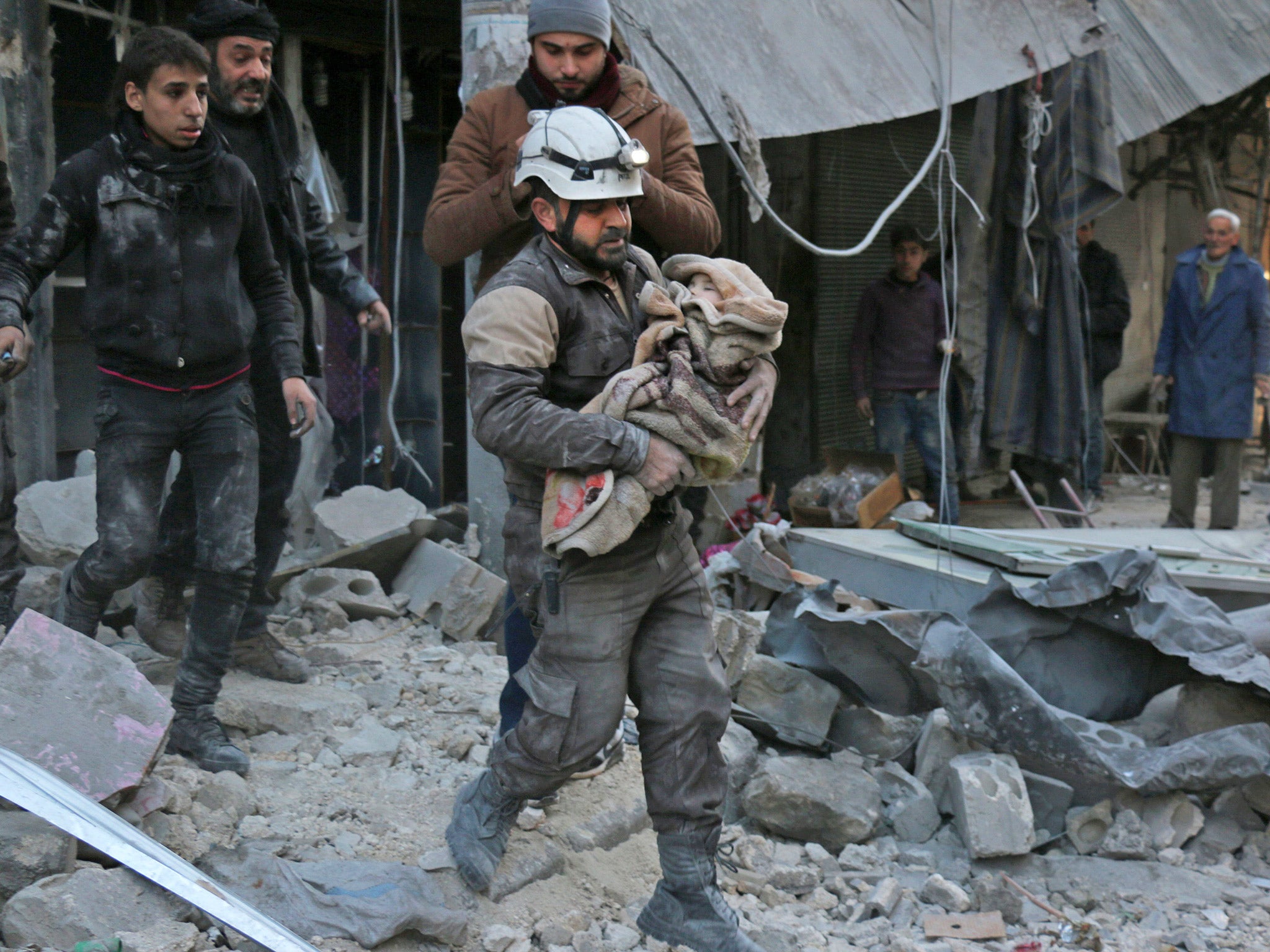 Forces loyal to Bashar al-Assad claimed to have severed the last rebel supply line to Aleppo last night in what would be a devastating blow to the Syrian opposition.
The attack, backed by Russian warplanes, was condemned by France for "torpedoing" tentative peace talks in Geneva, while the US said it was "difficult" to see how the air strikes, which the State Department said were mostly on civilian targets, would help resolve the conflict.
Pro-government media said that forces from the Syrian army and the Lebanese militia Hezbollah had reached two Shia towns north of the city that had been besieged by rebel insurgents. They claimed to have captured part of the only road that runs from Turkey to the rebel-held half of Aleppo, cutting its only supply route.
With pro-government forces close to surrounding Syria's second city, the United Nations under-secretary general for humanitarian affairs, Stephen O'Brien, spoke yesterday of grave consequences for its beleaguered population if Aleppo was besieged by regime forces.
"What is happening in Syria is bad enough without something like that happening in Aleppo. But if the situation there gets worse we will have a large population at risk and we would need to get immediate access for road convoys to provide the necessary humanitarian assistance" he told The Independent. Aid groups also warned that a huge humanitarian crisis was looming, while people in the area were stockpiling food and supplies in anticipation of a siege.
Battle for Aleppo threatens Switzerland peace talks
If that were to happen, Mr O'Brien said, urgent negotiations would need to be carried out to allow aid to get through. "All sides in this conflict need to give this access," he said. "International law requires that this access is given; it is not a matter of making a decision whether or not to give this access."
But the chance of successful peace negotiations appeared more remote, after the UN announced a "temporary pause" in the Geneva talks until 25 February.
US State Department spokesman John Kirby said Russian air strikes targeted opponents of President Assad, rather than Islamic State militants. "It is difficult to see how strikes against civilian targets contribute in any way to the peace process now being explored," Mr Kirby said.
Laurent Fabius, the French Foreign Minister, said France condemned "the Syrian regime's brutal offensive with support from Russia to surround and suffocate Aleppo".
"France fully supports the [UN] special envoy's decision to suspend negotiations to which neither Bashar al-Assad's regime nor his allies clearly want to contribute in good faith, thus torpedoing peace efforts," he added.
However, Sergey Lavrov, the Russian Foreign Minister, defied calls to halt the air campaign, vowing strikes would continue "until we truly defeat the terrorist organisations Isis and Jabhat al-Nusra".
Syria rebels face strong government threat in Aleppo
Syria's state-owned news agency Sana said that government forces had reached the villages of al-Zahraa and Nubl, and that other units had "completely cut off the terrorists' supply route" by seizing part of the Aleppo-Turkey highway.
The claim was denied last night by opposition media outlets, which said that the towns had not yet been lost, but all sides said that heavy fighting was taking place in the area. The Syrian Observatory for Human Rights said that 750 fighters from Jabhat al-Nusra had been sent to provide reinforcements.
The isolation of Aleppo would also threaten hundreds of thousands of civilians. Zaher Sahloul, president of the Syrian American Medical Society, said that the charity's 10 hospitals and clinics were preparing for the worst. "Our hospitals are stocking six months' worth of supplies, bracing for a painful siege," he said. He warned that the city had only enough food and fuel to last a month.
There had been reports that the UN has given approval to Western countries to carry out air drops into besieged towns without the permission of the Assad regime. Mr O'Brien said: "I believe that all options must be considered to provide help to the Syrians who are suffering so much. But road transport is the most effective of way of delivering humanitarian assistance. Air drops are not sustainable in densely populated areas."
In the UK, David Cameron has pledged an additional £1.2bn to support refugees fleeing Syria's war as world leaders from more than 70 countries gather in London for talks on the crisis.
Additional reporting by Nadia Beard in Moscow
Join our commenting forum
Join thought-provoking conversations, follow other Independent readers and see their replies