Syria conflict: Russia sends missile system to Tartus base as air strikes continue in Aleppo
The move comes as Turkey says it will try to revive a ceasefire – the collapse of which has increased tensions between the US and Russia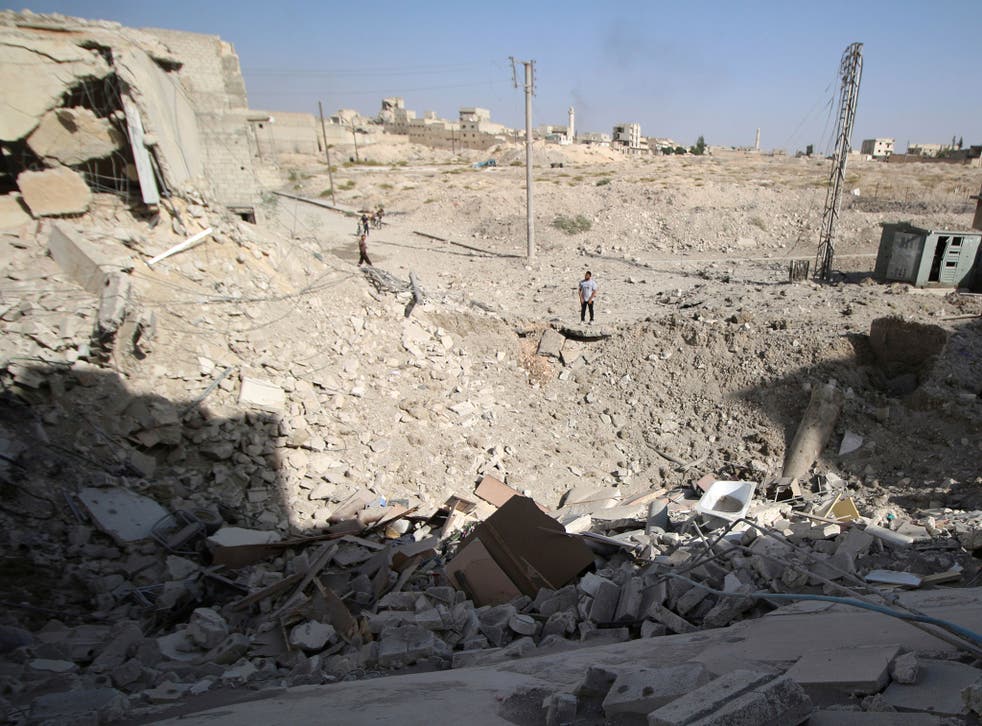 Syrian rebels claim to have repelled an army offensive in southern Aleppo as Russian and Syrian warplanes pound residential areas – while other nations fret over rebuilding a peace process the United States broke off this week.
US Secretary of State John Kerry, who had previously announced that Washington was suspending talks with Moscow due to Russia's role in the offensive, said on Tuesday that peace efforts must carry on.
Turkey, long one of the main foes of Syrian President Bashar al-Assad but which has lately repaired its damaged ties with his ally Russia, said it planned to make a proposal to Washington and Moscow to resurrect a ceasefire that collapsed last month.
However, Moscow said it had deployed the advanced S-300 anti-aircraft missile system to Syria for the first time to protect its base at Tartus, Russia's only sea base on the Mediterranean.
Elsewhere, there was no sign of peace with potentially the biggest and most decisive battle of the five-and-a-half year war unfolding as pro-government forces sought to drive anti-Assad rebels from their last major urban stronghold.
Mr Assad's government, with Russian air support and Iranian ground forces, launched the assault on Aleppo last month, a week into a ceasefire agreed by Washington and Moscow.
The United States and other Western countries say Moscow and Damascus are guilty of potential war crimes for deliberately targetting civilians, hospitals and aid deliveries to crush the will of more than 250,000 people trapped under siege in Aleppo. The Syrian and Russian governments say they target only militants.
Rebels said they inflicted losses on pro-government fighters after hours of clashes on the fringe of Sheikh Saed district, at the southern edge of the rebel-held eastern half of Aleppo city.
"We repelled their attempt to advance in Sheikh Saed and killed 10 regime fighters and destroyed several vehicles," said a fighter from the Failaq al-Sham rebel group who gave his name as Abdullah al-Halabi.
Pro-government media said the Syrian army was pressing ahead in a major campaign supported by Iranian-backed militias and Russian air power to take full control of Syria's largest city, divided between rebel and government zones since 2012.
US suspends bilateral relations with Russia over Syria
In the 15 days since the collapse of the ceasefire, war monitor the Syrian Observatory for Human Rights said it had documented the deaths of 293 civilians in besieged east Aleppo as a result of air strikes and shelling, including 20 on Tuesday. It has documented 25 deaths in government-held west Aleppo from rebel shelling during the 15 days.
Opposition sources give higher death tolls in the besieged rebel-held sector, under attack from bombing described as unprecedented in its ferocity. Many hundreds of wounded people have been brought to a handful of functioning hospitals, which are short of supplies and have themselves come under attack.
The collapse of the ceasefire last month left US policy on Syria in tatters and was a personal blow for Mr Kerry, who negotiated the truce over months of intense diplomacy with Moscow despite scepticism in Washington, including from other senior figures in the Barack Obama administration.
Last month Republican Senator John McCain called Mr Kerry "intrepid but deluded" for relying on Moscow.
Mr Kerry suspended talks with Russia on Monday, accusing Moscow of failing to live up to its commitments to halt fighting and assure aid reached besieged communities.
"We are not giving up on the Syrian people and we are not abandoning the pursuit of peace," Mr Kerry said on Tuesday in a speech in Brussels.
He accused Moscow of turning a blind eye to Syria's use of "barrel bombs" – oil drums packed with explosives – which can kill civilians.
"Where they make a desert, they call it peace," Mr Kerry said, quoting the Roman historian Tacitus.
In pictures: Aleppo bombing

Show all 14
Russian Foreign Minister Sergei Lavrov was quoted by Russian news agencies saying Moscow would make efforts to resolve the crisis despite the US suspension of talks.
A spokesman for the Turkish president said Recep Tayyip Erdogan could speak by telephone to Mr Obama and President Vladimir Putin about a proposal to revive the Syrian ceasefire. The spokesman did not give details of the proposal. A German official said US, British, French, German and Italian officials would meet in Berlin on Wednesday to discuss next steps.
The UN high commissioner for human rights, Zeid Ra'ad al-Hussein, said attacks on civilians in Aleppo could amount to crimes against humanity. He suggested countries with a veto at the UN Security Council, such as Russia, should be stripped of the power to prevent such serious cases being reported to the International Criminal Court in the Hague.
Syria's civil war has killed hundreds of thousands of people and made half the country homeless in the world's worst refugee crisis. Most regional states and many global powers have been drawn into the conflict to support the opposing sides, and amid the fighting the hardline Sunni Muslim group Islamic State seized much of Syria and neighbouring Iraq.
Washington is bombing Isis but has mostly avoided direct involvement in war elsewhere in Syria, leaving the field open to Russia which joined the conflict a year ago on the side of its longtime ally Mr Assad.
Russia says the only way to fight Isis is to support President Assad. Washington says the Syrian leader has too much blood on his hands and must leave power.
UN: Syria's healthcare system nearly destroyed
A successful assault on Aleppo would deliver the biggest victory of the war for Mr Assad, and leave his government in control of all the major cities of western Syria where the overwhelming majority of the population lives.
The rebels, armed and funded by foreign powers including Western countries, Arab States and Turkey, are putting up a bitter fight for districts of Aleppo where they have had years to fortify their positions. They also control other territory and have launched advances of their own.
A rebel commander from the Nour al-Din al-Zinki group said the army had opened several fronts simultaneously since the launch of a ground assault in order to stretch rebel forces, and had dropped leaflets from helicopters calling for surrender.
Government forces have pressed southwards since securing Handarat, a camp for Palestinians on the northern edge of Aleppo last Thursday following what rebels called carpet bombing. "They levelled the ground and our people had no choice but to retreat under the bombing of the Russians," the Zinki commander said.
Rebels still expect the army thrust will slow in residential areas that offer them more cover from air raids.
In the heart of the city, warplanes flying at high altitude hit Bustan al Qasr, Hay al Huluk and Fardous neighbourhoods with reports of casualties, several rebel contacts said. Rebels believe those planes are Russian.
The Russian embassy in Damascus was hit by mortar fire on Monday. Moscow said the shells had been fired from the rebel-held Jobar neighbourhood east of Damascus.
Reuters
Join our new commenting forum
Join thought-provoking conversations, follow other Independent readers and see their replies