Extremists attempt to consolidate power in northern Syria with wave of arrests during ceasefire
Hayat Tahrir al-Sham, which counts former al-Qaeda members among its ranks, has arrested dozens of civilians in Idlib since a Russia-Turkey ceasefire deal was agreed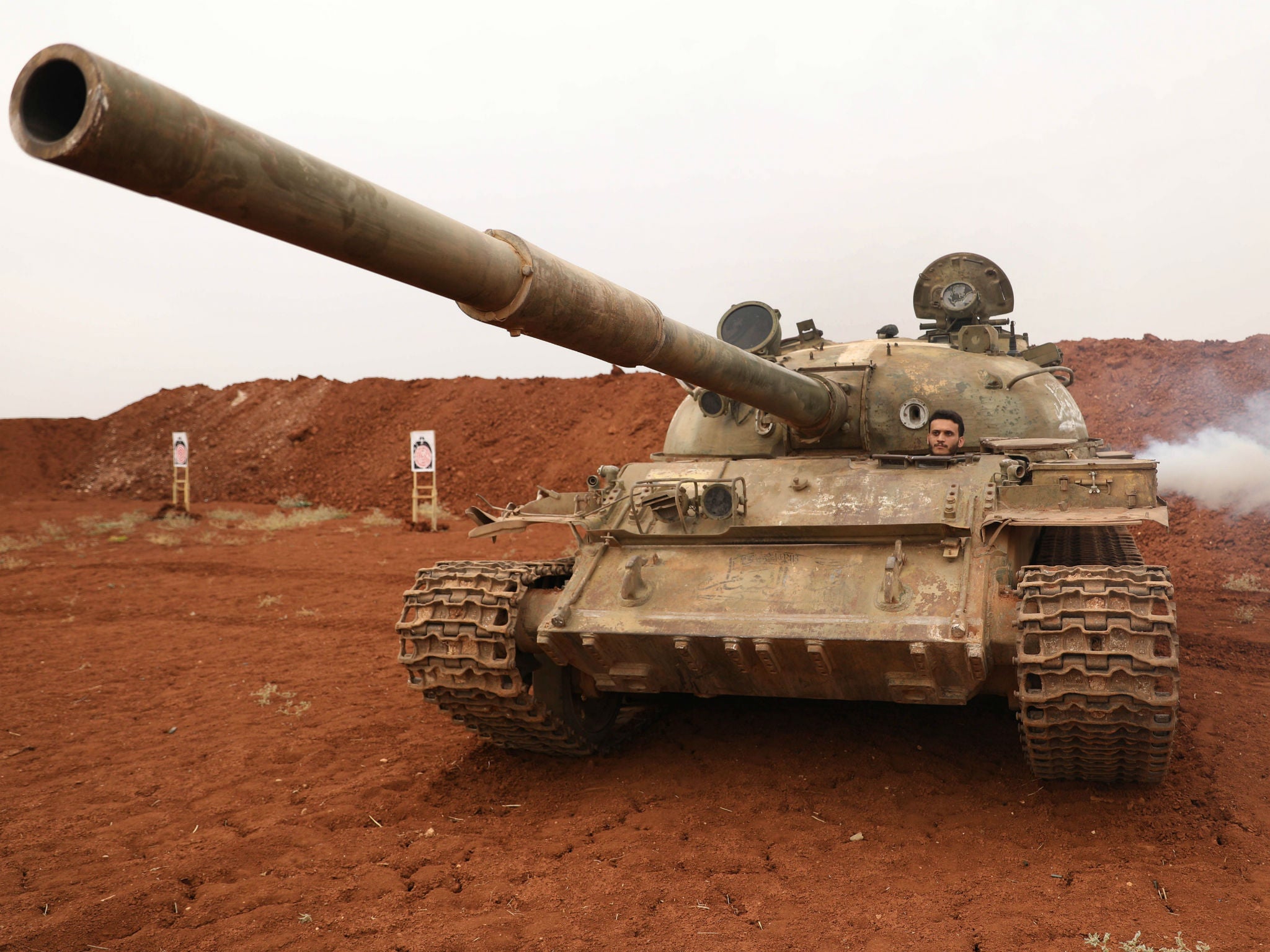 A powerful Syrian rebel group has been accused of taking advantage of an internationally brokered ceasefire in the north of the country to carry out a wave of arrests against civilians.
Hayat Tahrir al-Sham, an extremist group that controls roughly two-thirds of Idlib province and counts former al-Qaeda-linked fighters in its ranks, has arrested 184 people since the beginning of September, according to a war monitor.
Among those targeted were activists who had criticised the group, as well as preachers and aid workers, said the UK-based Syrian Observatory for Human Rights. The observatory, which relies on a network of sources inside Syria, said the group had also killed five civilians in raids and by opening fire on demonstrations against it.
"We recorded a significant escalation of Hayat Tahrir al-Sham violations in north Syria, where the group has raided a number of villages and arrested dozens of individuals, including local activists, relief workers and mosque preachers," the observatory said in a 10-page report.
The crackdown began just two weeks before Russia and Turkey reached a ceasefire agreement that was widely credited with preventing a devastating Syrian government offensive against the last opposition-held part of Syria. Turkey, which backs a number of rebel groups in Idlib, engaged in weeks of intensive diplomacy to prevent the long-threatened assault, fearing it would send another wave of refugees to its border.
As part of the deal, Ankara committed to jointly patrol a buffer zone with Russia – an ally of President Bashar al-Assad – that would be free from heavy weapons and extremist fighters. The agreement has largely been implemented, but Hayat Tahrir al-Sham has sent conflicting messages about whether it would fully comply.
"We value the efforts of all those striving – at home and abroad – to protect the liberated area and prevent its invasion and the perpetration of massacres in it," the group said in its first public statement on the deal last week.
Syrian families waiting in the shadows of Lebanon's refugee camps
Show all 20
But it added that it would not give up its weapons, and warned against "the trickery of the Russian occupier or having faith in its intentions".
Residents of Idlib who spoke to The Independent by phone said the Russia-Turkey deal had brought a degree of calm to the last rebel holdout in the country.
"There is more stability and a sense of greater security. People are feeling safer than before," said Ahmed, who currently lives in a camp near the Turkish border and gave only his first name.
But further south, the observatory said the crackdown had "destabilised the state of security and stability" that the agreement instilled.
Support free-thinking journalism and attend Independent events
The arrests come as group's influence is being sapped by increased Turkish involvement in the province, which has only deepened since the deal with Russia. Ankara has sought to strengthen more moderate groups to act as a bulwark against extremists, but has so far avoided open conflict.
Hayat Tahrir al-Sham has announced a number of operations in Idlib which it said were aimed at rooting out Isis sleeper cells and "collaborators" with the Syrian government. As far back as August, the group announced it had arrested 30 people who it said were attempting to reconcile with Damascus.
"Hayat Tahrir al-Sham is seeking to consolidate its power in Idlib, using the excuse that it is acting decisively against local spies of Assad, or outside powers, that are seeking to end the armed revolution," said Nicholas Heras, Middle East Security Fellow at the Center for a New American Security.
"These arrests also send the message that it is still business as usual in Idlib, which is that nothing there can happen unless HTS grants its blessing, and that the other elements of the Syrian opposition that might oppose it are vulnerable."
But the arrests are a recognition from the group that it is under threat.
"Hayat Tahrir al-Sham is a smart military-political actor, whose history shows a consistent willingness to assert and preemptively protect itself from any existing or potential future threats," said Charles Lister, a senior fellow at the Middle East Institute.
"There's a clear concern about security threats posed by reconciliation and the return of an Isis presence in Syria's northwest. Security operations that have resulted from both of those perceived threats have resulted in widespread arrest campaigns and military operations," he added.
The ceasefire has also given space for civil activists to protest more openly against the group. Since the Idlib deal was implemented, a number of large-scale protests have taken place across the province calling for the removal of Mr Assad, while also criticising extremist groups like Hayat Tahrir al-Sham.
In an effort to reinforce the Idlib deal, the leaders of Turkey, Russia, Germany and France are to hold a summit in Istanbul next week.
A spokesperson for Turkey's President Erdogan said the summit would focus on Idlib and the political process for the resolution of the Syrian conflict.
Join our commenting forum
Join thought-provoking conversations, follow other Independent readers and see their replies