Syria civil war: John Kerry and Arab leaders agree 'global red line was crossed'
Ahead of talks with the Foreign Secretary William Hague on Monday, the US Secretary of State says the world must not stand by as 'silent spectators to slaughter'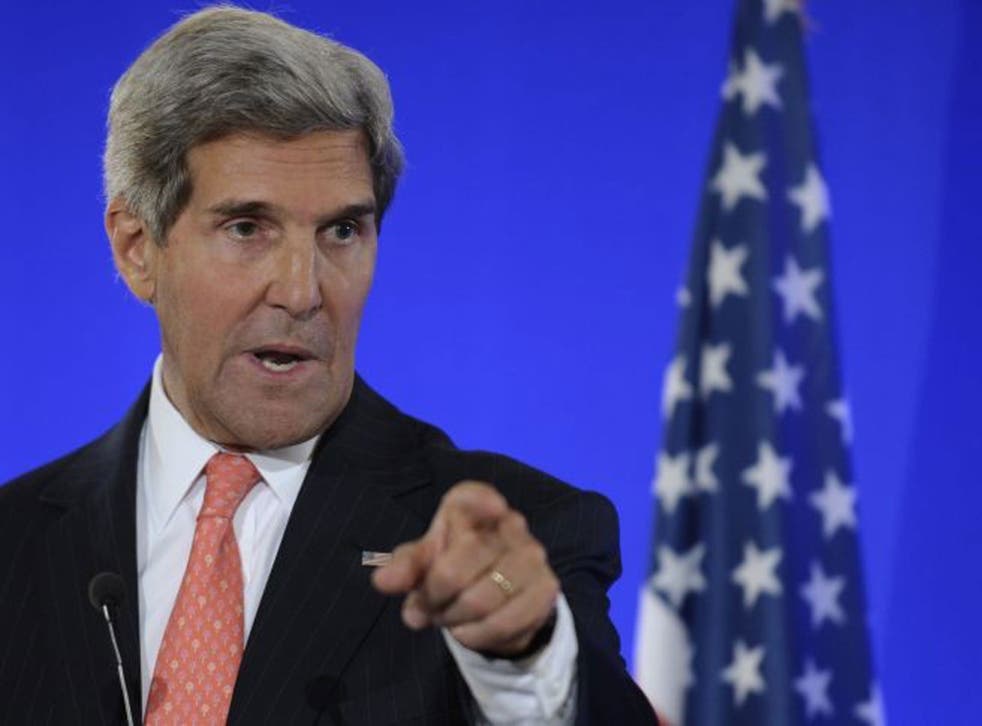 US Secretary of State John Kerry has emerged from talks with Arab leaders to say that they all agreed an "international, global red line" was crossed when Syrian President Bashar al-Assad allegedly targeted his own people in a chemical weapons attack.
Speaking at a news conference after meeting ministers from countries including Saudi Arabia, Egypt, Qatar and the United Arab Emirates, Mr Kerry said a number had signed up to a G20 statement calling for a "strong response" to the atrocities of 21 August in Damascus.
The US is hoping to build international support for a "targeted" missile strike against Syrian military targets, ahead of the matter going to a vote in the Senate this week.
And the support of the Arab nations could be a vital boost to President Obama's case for intervention in the Middle East.
Standing alongside his Qatari counterpart Khaled al-Attiya, Mr Kerry said: "All of us agreed - not one dissenter - that Assad's deplorable use of chemical weapons, which we know killed hundreds of innocent people ... this crosses an international, global red line."
Earlier Mr Kerry had said that the world must not stand by as "silent spectators to slaughter" in Syria.
In a press conference in Paris, Mr Kerry likened avoiding military action to the policy of appeasement in the build-up to the Second World War, saying "this is our Munich moment".
Over the course of his trans-Atlantic visit so far, European foreign ministers have been keen to offer their support for a "clear and strong response" if the US will wait for the UN to return a report, a State Department official said.
A statement from the EU's foreign policy chief, Baroness Ashton, described the alleged chemical weapons attack on 21 August in Damascus as a "blatant violation of international law, a war crime and a crime against humanity".
Information from a wide variety of sources confirmed the chemical attack, according to the statement, and "seems to indicate strong evidence that the Syrian regime is responsible" as it is the only party "that possesses chemical weapons agents and the means of their delivery in a sufficient quantity".
Addressing reporters alongside the French foreign minister Laurent Fabius, Mr Kerry said he and President Barack Obama were "exceedingly grateful to have France by our side" in pushing for a "limited" military strike.
"We in the United States know and our French partners know that this is not the time to be silent spectators to slaughter," he said. "This is not the time to send a message where doing nothing is far more risky than responding."
"This is not the time to allow a dictator unfettered use of some of the heinous weapons on earth."
He called for a "clear and effective response", saying: "What we are talking about here is a limited military action, one that is aimed squarely at degrading Assad's ability to use chemical weapons and deterring him from using them again."
Mr Kerry's next stop after Paris is London, where on Monday he will be holding talks with President Mahmoud Abbas and UK foreign secretary William Hague before returning to Washington.
Speaking on the BBC's Andrew Marr show this morning, Mr Hague said: "I do believe very strongly that the world must stand up to the use of chemical weapons, and the risks of not doing so are in my view greater than the risks of doing so.
"This issue is about chemical weapons, and it is a bigger issue than Syria… [but] we are not a government that is gung ho about military action."
He said the talks would cover all the issues around Syria, and particularly what can be done to alleviate the humanitarian crisis which has stemmed from the conflict.
Join our new commenting forum
Join thought-provoking conversations, follow other Independent readers and see their replies