Inside the 'Blackwater of Jihad': The private security company training extremists in Syria
Malhama Tactical is an Islamist private military contractor that means business and has operated across a number of states, including Syria – its name means 'great war' or Armageddon
Kim Sengupta
Urfa
Monday 13 March 2017 19:04 Comments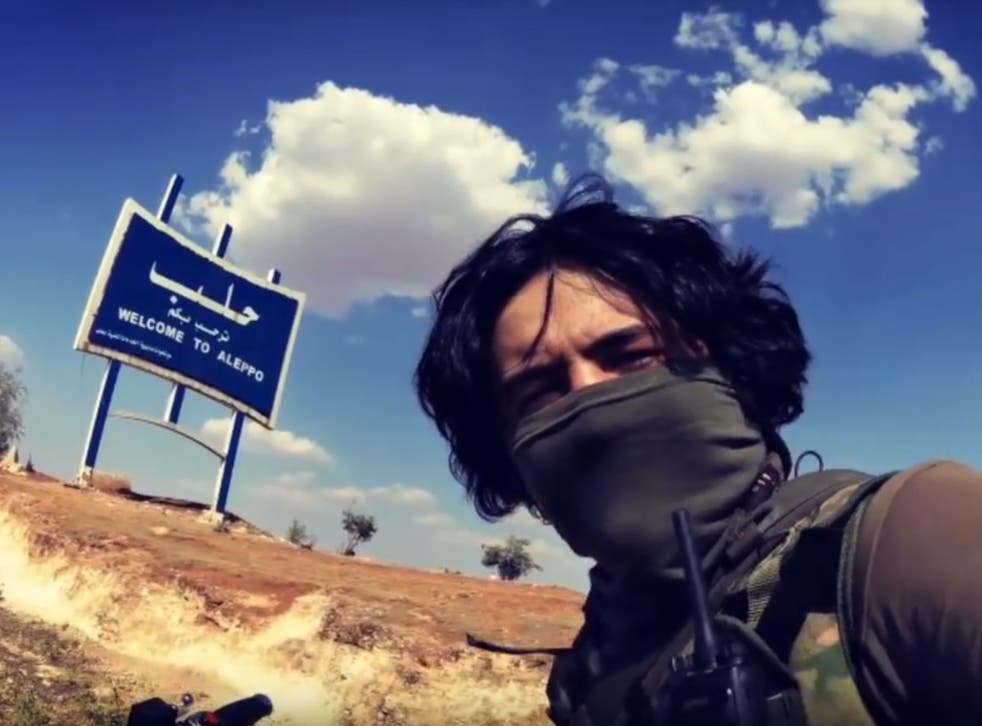 They wear the latest and most advanced body armour and helmets, camouflage gear and anti-ballistic sunglasses: the fashion statement favoured by frontline private security companies across the world's combat zones. But Malhama Tactical is not from the West like most of the others. Its fighters are in Syria training Islamists: a "Blackwater of jihad" who have found a new way of cashing in on the self-styled "caliphate".
Blackwater became the most high-profile of Western security contractors in Iraq, gaining notoriety as the most violent and aggressive of the corporate military firms that spotted a highly lucrative trade following the "liberation" of the country in 2003. Such firms were largely immune from scrutiny or prosecution: that changed after a particularly bloody day in Baghdad.
One late morning in September in 2007, I watched as Blackwater's guards opened fire from their armoured cars into families out on a Sunday in a popular location, Nisoor Square: 17 civilians were killed and more than were 40 injured. Four of the guards were later convicted in connection with the deaths. Blackwater changed its name, first to Xe Services and then Academi and continues to receive US government contracts.
Malhama, named for the Islamic equivalent to Armageddon, is unlikely to be called to legal account for atrocities in the anarchic maelstrom of Syria's civil war, although it is now firmly in the gunsight of powerful enemies. The small group, of about a dozen drawn mainly from Central Asia, has been an enthusiastic user of social media. At the end of last year it placed advertisements in Facebook looking for instructors who were prepared to "constantly engage, develop and learn". The company's YouTube pages provide free guides ranging from weapons maintenance and laying ambushes to battlefield first aid.
The leader and founder of Malhala – a firm which is "fun and friendly" according to its online brochures – is an Uzbek using the nom de guerre Abu Rofiq who claims to have served in the VDV, a Russian military airborne unit. Although it was a commercial concern, Rofiq has stressed the religious aspect of its work meant helping "oppressed Sunni Muslims" militarily, beyond Syria. Preparing for Armageddon has taken the company into China, Burma, back to the former Soviet Asian republics and Russia itself.
In China this means training Uighur separatists of the Turkistan Islamist Party. They are present in the Islamist ranks in Syria and Iraq in large numbers and it was at Uzbek Isis recruit with Uighur connections who carried out the New Year's Eve massacre in an Istanbul nightclub in January. Chechen and other Caucasian groups have also been active in other fronts, carrying out attacks in Russia and states allied to the Kremlin in the region.
Aleppo before the Syrian Civil War

Show all 12
It is such threats that are believed to have brought Abu Rofiq and his men to the attention of those around Vladimir Putin and Recep Tayyip Erdogan. Rofiq was targeted in an air strike in Idlib last month in which his wife and young son were killed. His own fate remains unclear. There were reports that he too had died but Islamist fighters who worked with him deny this was the case and insist he survived.
Training and arming of the rebels had begun as a slow and often chaotic process in Syria. In the summer of 2012, with the protests against the regime of Bashar al-Assad still in its early stages, I accompanied a group of opposition fighters, led by Abdul Haq, a 34-year-old mechanic calling himself a resistance commander, into Idlib.
The 50 men did not have a single semi-automatic rifle between them. Instead they passed around 20 elderly hunting rifles, shotguns and handguns. At one point a Remington pump-action shotgun one of his men was firing simply fell apart in his hands, possibly due to metal fatigue. Other weapons in the armoury included a Soviet Star pistol, with the stamp of its place of manufacture – "CCCP", made in the USSR – and a piece of British help for the revolution, a Webley revolver, circa 1930s.
Tales of trauma from Syria's refugee children
As the uprising descended into a vicious bloodbath, the flow of arms into Syria from the international backers on both sides went up massively in quantity and quality. The regime received its supplies from Russia and Iran while its enemies were backed by Saudi Arabia, Qatar and other Gulf states. Some "moderate" opposition fighters trained and armed by the Americans in Jordan and Turkey surrendered with their weapons to extremist groups on crossing the border.
Abu Rofiq is said to have seen the training opportunities for rebels after first going to Syria in 2013. He began to bring in experienced fighters from the Caucasus before starting Malhama with a dozen others in the beginning of 2016. The company has been working with Jabhat Fateh al-Sham, the new name taken by Jabhat al-Nusra, the al-Qaeda affiliate in Syria, as well as Ahrar al-Sham, a rebel group which had been backed by Turkey and Saudi Arabia.
There has been a strong presence of Islamists from the Caucasus in Syria for a while. They have built up a reputation as the fiercest and most dedicated of the foreign fighters. One of the most effective military chiefs of Isis, who played a key role in its early successes, was Abu Omar al-Shishani – of Chechen and Georgian background. He was killed in July last year in a US airstrike in the town of Al-Shirkat in Iraq – a significant loss, the Islamists acknowledged, to their leadership.
Salah Abdulhamid Awad, from the city of Binesh, was trained by Malhama in Aleppo last year while fighting with al-Nusra. He had joined the group, he claimed, because they were the best opponents of the Assad regime.
"But no group really had good lessons, from good teachers, except when we had the Uzbeks [from Malhama] for a short time" he said. "They were all quite young, but they said they had been in the military with the Russians: they were good professionals and they had good weapons.
"These also took part in some fighting, they were like advisers. We saw them in the battles in which Al-Assad and Minyan in Aleppo were captured. They were worried about being captured; they said that if the Russians caught them then they would surely be executed. We heard that their commander was killed in Idlib, but then we heard that he may be alive, I do not personally. But, whatever happened, I think Malhama will carry on, in Syria and other places."
Awad's own fighting days, he maintained, were over for the time being. He, too, had been in Idlib, the last major rebel stronghold in northern Syria, one dominated by al-Nusra. He had fled there from Aleppo just before the opposition-held part of the city fell to regime troops and their Russian and Iranian backers.
But he had left after 10 days. "It was not the bombing, we had worse in Aleppo, I could cope. But people need to have a break, to clear heads and decide how best the struggle against Bashar should continue," Awad reflected. "The foreigners, people like Malhama, can come and go, but we Syrians have to stay, we have to stay, and face the consequences of all that has happened."
Register for free to continue reading
Registration is a free and easy way to support our truly independent journalism
By registering, you will also enjoy limited access to Premium articles, exclusive newsletters, commenting, and virtual events with our leading journalists
Already have an account? sign in
Join our new commenting forum
Join thought-provoking conversations, follow other Independent readers and see their replies