Syria civil war: Locals fear 'Aleppo is dying' as rebel stronghold transforms into a battlefield
Tens of thousands of civilians remain in rebel-held areas of the city, as air strikes and bombardments reduce it to ruins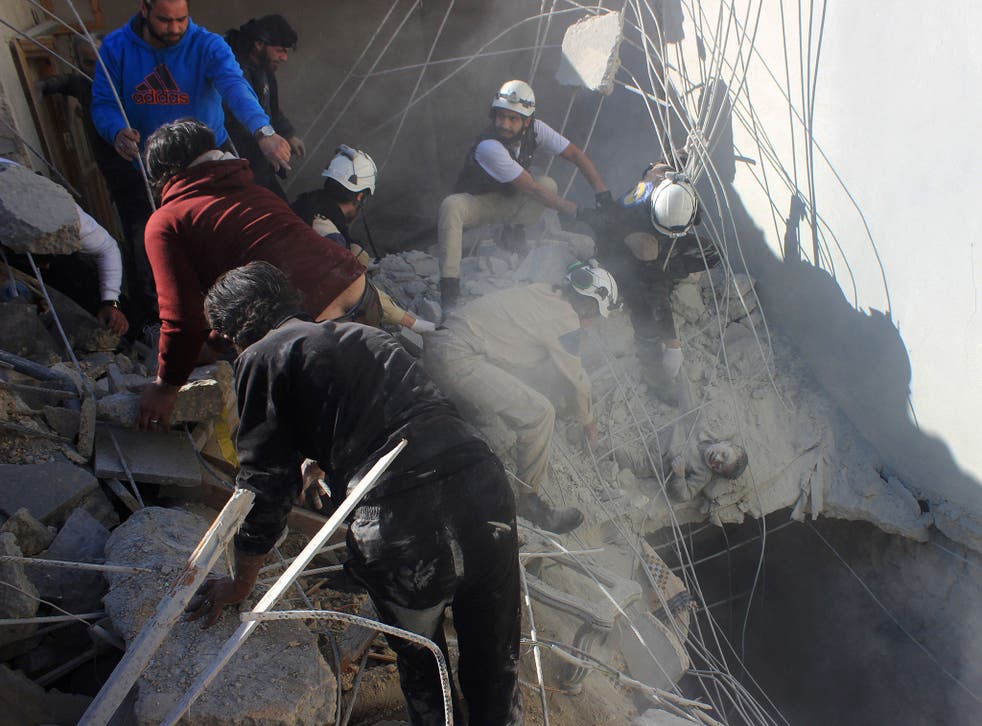 Plagued by clashes between government forces and militant groups, Aleppo, the largest city in Syria and the last rebel stronghold before the border with Turkey, has transformed into a battlefield.
Tens of thousands of civilians remain in rebel-held areas of the city, while air strikes and bombardments reduce it to ruins.
A picture, shared by the French-based NGO Syria Charity on 14 February, shows a father covered in dust, clutching his dead baby in the wake of an air strike that has killed five other members of his family – "Aleppo is dying" reads the caption.
"We share these pictures so that people know what is happening on the ground in Aleppo," says Anfal Seddik, a spokesperson for Syria Charity, which has operated in the country since 2011, providing medical services and food packages for civilians and runs an orphan sponsorship programme.
"Air strikes are ongoing daily, sometimes several times a day. It is tough for the people, there has been a lot of fighting with government forces, with Isis and with members from the Kurds group and "moderate" rebels. It is really frustrating not to know what will happen in the city."
On 15 February, around 50 civilians were killed when missiles hit at least five medical facilities and two schools in rebel-held areas of Syria, according to the United Nations, which labelled the attacks a blatant violation of international law.
This included a mother and baby hospital operated by the charity in Azaz, north of Aleppo, which was destroyed after being hit in what has been called a "deliberate" attack by humanitarian organisations.
Video footage, taken moments after the bombing, shows distressed new born babies crying in their incubators, surrounded by debris.
In pictures: Russian air strikes in Syria

Show all 19
The air strikes come after world powers agreed to a temporary "cessation of hostilities" to start within a week, along with the acceleration and expansion of aid deliveries.
Baring the brunt of the bombardments, local people now have "distrust" in Western governments, she says.
"The media talk about Isis and about terrorists, but that's not the main point. Most people who are dying are dying from air strikes, they are not dying because of Isis."
"Last week there was an agreement for a cessation of hostilities, but still the Russians have been striking. It is not terrorists or soldiers who are suffering, just civilians, and the air strikes are getting worse. People on the ground do not expect anything from these talks."
Syrian army tightens grip on Aleppo
"People leave the country because they are under constant fear, it is not safe anymore. However, many still have hope that things will get better. But if things do get better, most believe it will not be due to government action - it will be because of the people here."
This hope for a better future has been witnessed by photographer Karam al Masri, who captures images of Aleppo's people attempting to go about their daily lives in the conflict-zone.
The 25-year-old, who lost his mother and aunt in the fighting and has previously been imprisoned by Isis, told CNN he tries to capture everyday moments in the city in an attempt to show "normalcy".
"They have seen so much horror they are almost oblivious to it," he says, describing market stallholders who still sell produce, despite there being less stock and dramatic price rises, and children who still go to school, though often in makeshift, underground classrooms.
A 31-year old boxer, Shaaban Kattan, snapped by Mr Masri, holds a club for youngsters so they can escape the chaos.
"I liked this story because I was able to show how people are trying to forget the war, cope, endure," says Mr Masri.
There is little hope for the long-term peace, however, after President Bashar al-Assad vowed to retake control of the entire country by force.
Despite the promise of ceasefires, the bombardments continue and have intensified says Ms Seddik, explaining the impact the conflict is having on a generation of young Syrians, faced with a devastated country to rebuild in the future.
"It's a traumatised generation, the children today," she says. "They have lost their parents, their brothers or sisters, their homes. Their childhood is gone."
"When we first created the charity," she says, "we thought it would be a quick thing and would not turn this way. We have been going one year after the other and now we don't know when this will end."
The message from Syrian people to the world is "we are dying" says Ms Seddik. "People are dying from hunger, people are dying from the cold, they have no more electricity, they have no more running water."
"We are dying and it's like nobody really cares. It's been five years already, so what is the world doing?"
Register for free to continue reading
Registration is a free and easy way to support our truly independent journalism
By registering, you will also enjoy limited access to Premium articles, exclusive newsletters, commenting, and virtual events with our leading journalists
Already have an account? sign in
Register for free to continue reading
Registration is a free and easy way to support our truly independent journalism
By registering, you will also enjoy limited access to Premium articles, exclusive newsletters, commenting, and virtual events with our leading journalists
Already have an account? sign in
Join our new commenting forum
Join thought-provoking conversations, follow other Independent readers and see their replies