Islamist rebels claim responsibility after Syrian fighter jet crashes in Turkey
Pilots believed to have safely ejected after wreckage found empty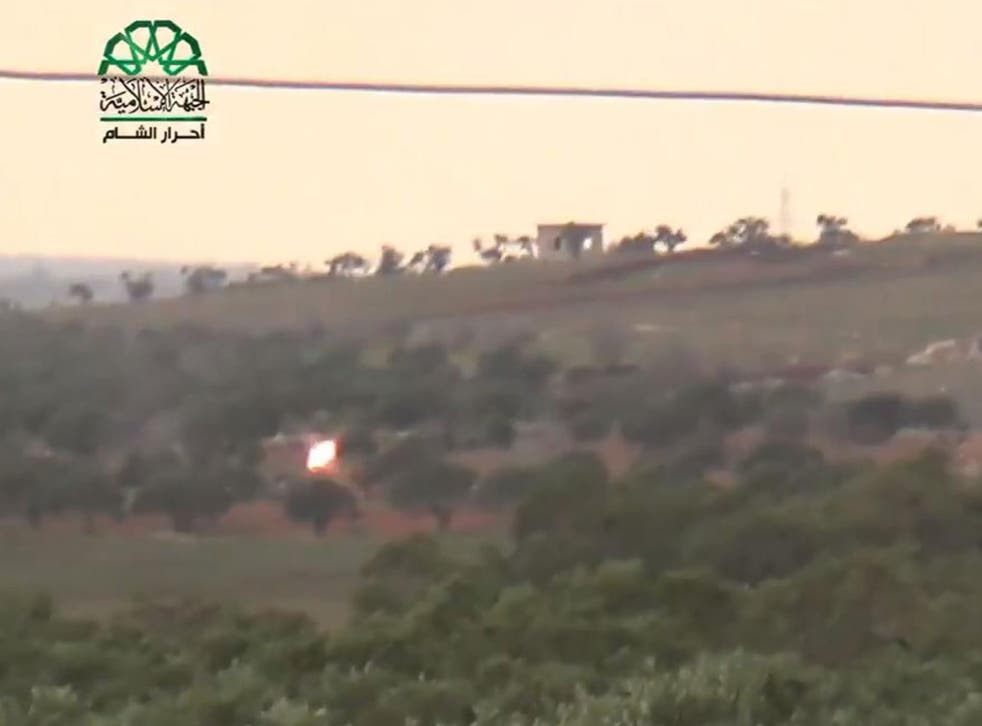 A Islamist rebel group has claimed responsibility for shooting down a Syrian government fighter jet that crashed on Turkish soil.
Ahrar al-Sham released a video claiming to show the plane being shot down with an anti-aircraft gun, but Bashar al-Assad's military said it crashed due to technical difficulties.
Turkish Prime Minister Binali Yildirim said a Syrian government MiG had crashed at the edge of the Amanos mountains near the town of Samandag in Hatay province.
Syria's civil war: Russian chopper shot down in Idlib
Governor Erdal Ata told the Turkish state-run news agency Anadolu that rescue teams had found the wreckage but the cockpit was empty – confirming earlier reports by villagers who say they had seen pilots ejecting.
Mr Ata said there had been no airspace violation and no intervention by Turkish forces.
The crash follows several years of tensions between Turkey and Syria that led to two Syrian helicopters and a MiG jet being shot down for violating Turkish airspace, as well as Russian aircraft flying missions in support of Assad.
A Russian military plane was similarly shot down by Turkey for violating airspace in 2015, leading to months of tension between Ankara and Moscow.
Ahrar al-Sham, an Islamist alliance that controls large swathes of Idlib province, claimed the jet it was downed using a 23 millimetre machine gun as it was bombing the countryside in the north-west of the province.
Turkish media said earlier that villagers had called authorities to report the crash at around 6.30pm local time.
Russian plane shot down by Turkish jets

Show all 5
Additional reporting by AP
Register for free to continue reading
Registration is a free and easy way to support our truly independent journalism
By registering, you will also enjoy limited access to Premium articles, exclusive newsletters, commenting, and virtual events with our leading journalists
Already have an account? sign in
Register for free to continue reading
Registration is a free and easy way to support our truly independent journalism
By registering, you will also enjoy limited access to Premium articles, exclusive newsletters, commenting, and virtual events with our leading journalists
Already have an account? sign in