Syria civil war: Staff manning US ceasefire hotline 'can't speak Arabic'
State Department officials admit that volunteers fielding incoming phone calls had not all been 'properly vetted'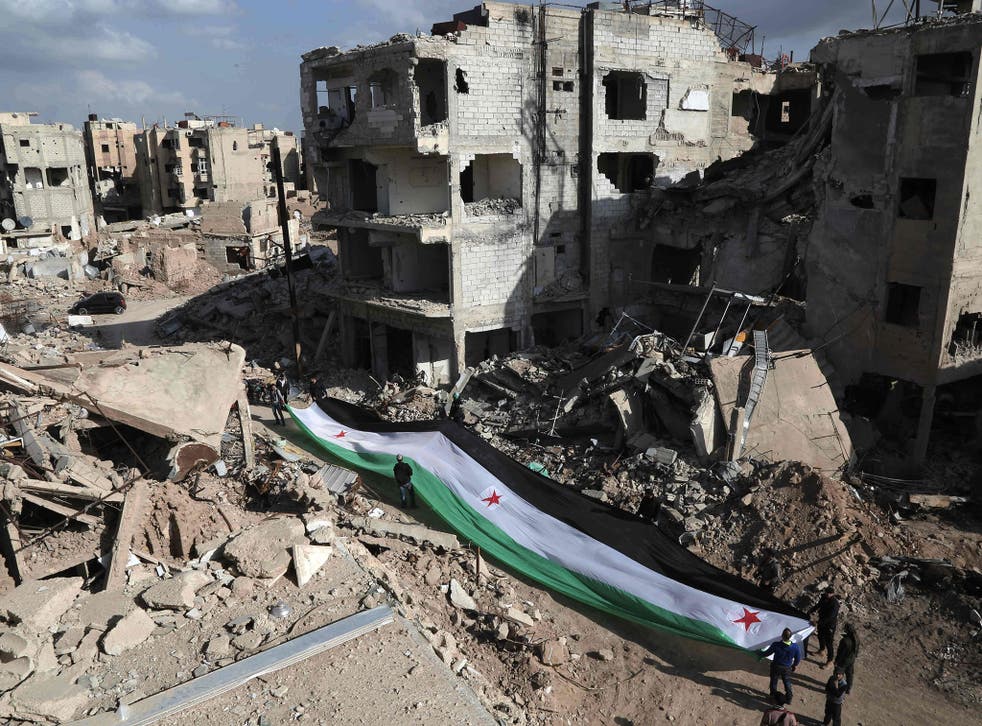 It is the last thing the victim of an air strike needs to hear on phoning an official hotline to report an attack – someone on the end of the line who doesn't speak their language.
But the US State Department has admitted that its round-the-clock hotline service for Syrians to report violations of the recent ceasefire needs improvement, following reports that the volunteers manning the phones were unable to understand the Arabic speakers who called in.
The hotline was set up on Saturday after the declaration of a tentative ceasefire in Syria's devastating civil war. Witnesses on the ground have been encouraged to call and report any breaches of the agreement between rebels and the regime of President Bashar al-Assad.
There have been repeated claims of air and artillery attacks in recent days, but a story published on Wednesday by Syria Direct – a non-profit group of journalists covering the war from inside Syria – suggested witnesses had found it difficult to describe the details of such violations to US officials.
Abu Odei al-Homsi, an activist with the Ceasefire Monitoring Centre in Homs, told Syria Direct he and his colleagues had tried to call the hotline, "but we don't think they understood what we were saying." One State Department operator reportedly repeated the name Harbnifsah, a village south of Hama, as "Harb Bebsi," which means "Pepsi War". A call to the line was answered in English: "Hello, this is the State Department cessation of Syria hostilities hotline, may I help you?"
State Department spokesman Mark Toner said operators staffing the hotline were State Department employees who had volunteered in their spare time. He admitted that only "some" spoke Arabic, and that their language skills had not all been "properly vetted". "There were some language issues," Mr Toner said. "We're working to correct those, obviously, because it's important that we have Arabic speakers that were able to field incoming calls."
Syrians are also able to report violations of the truce by other means, including texting, emailing, or contacting the State Department via Google Voice. According to Syria Direct, some have decided to report the breaches instead to a United Nations hotline, which is manned by a native Arabic speaker.
The UN's special envoy for the Syrian crisis, Staffan de Mistura, said yesterday that the ceasefire had so far been successful despite scattered incidents of violence in the Homs, Hama, Lataki and Damascus provinces. "Success is not guaranteed but progress is visible," he told reporters in Geneva.
State Department spokesman John Kirby said this week that US had not been informed of "any claims of any additional violations of any significance" since the truce took effect over the weekend, but Syrians were sceptical. Salim a-Rihal, from north Homs, which suffered shelling on Tuesday, told Syria Direct: "America has no idea what's happening on the ground in Syria."
Both sides have accused the other of breaking the ceasefire, brokered by the US and Russia to give the Syrian government and the opposition a chance to reopen peace negotiations in the civil war, which has lasted almost five years and claimed at least 250,000 lives. However, the truce did not include Isis or the al-Nusra front, the region's al-Qaeda affiliate.
Residents across Syria were also left without power after a massive blackout whose cause was "unknown", according to state media.
Language issues: The hotline in action
On Saturday night, Orion Wilcox, a journalist with the non-profit media group Syria Direct, called the US State Department hotline to report ceasefire violations in Homs province. "I didn't expect an American to answer; he answered in English but switched to Arabic. I started telling him in Arabic about reports we were getting from Homs province of specific ceasefire violations," Mr Wilcox reported later.
"He's really struggling and can't understand me... I'm like, why is this American guy on the phone who can't speak Arabic? I'd give a detailed account of something happening in Homs province and he would listen and his answer was: 'Homs.' That's it."
On Monday, another Syria Direct reporter, Osama Abu Zeid, called the hotline to report on what were believed to be Russian air strikes on villages south of Hama city. The first State Department operator to answer the phone replied in poor Arabic, told him that he had the wrong number, and then hung up.
Tim Walker
Join our new commenting forum
Join thought-provoking conversations, follow other Independent readers and see their replies