Syria civil war: UN taking control of country 'could provide solution to conflict'
Former international relief adviser makes call for a new international consensus on the war-torn country
James Cusick
Political Correspondent
Sunday 06 December 2015 01:53 Comments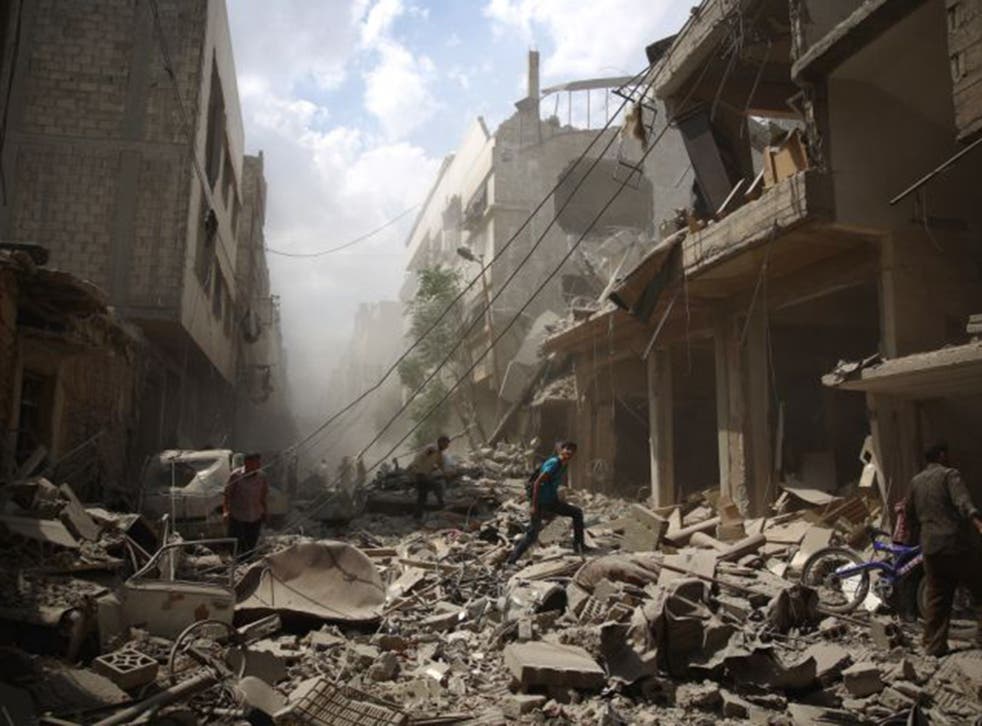 A solution to the seemingly intractable conflict in Syria could be for the United Nations to take control of the country as a "mandate territory", according to one of Britain's most respected diplomatic advisers.
The call for a new international consensus on Syria, involving the temporary transfer of legal control to the UN, is made in the Independent On Sunday by Gilbert Greenall, a former international relief adviser with decades of experience in Africa and the Middle East.
He warns that Syria's situation is "simply unsustainable" and that "a return to a UN mandate territory", similar to the League of Nations structure that governed the country from 1923 to 1945, should be considered urgently.
The idea of an accelerated role for the UN is understood to have been mooted in Whitehall.
Coming days after Parliament authorised an extension of air attacks against Isis into Syria, Dr Greenall's suggestion that "a UN force" should be involved in returning Syria to normality has been met with both approval and hesitancy by leading politicians.
RAF planes launch second round of strikes on Isis oil field in Syria
Lord Ashdown, the former Liberal Democrat leader who worked as a peace advocate in Bosnia and Herzegovina, and for the UN in Afghanistan, said: "We need our maximum imagination to think outside the box on how we resolve the instability of Syria. This is one idea that needs to be considered."
However, he foresaw difficulty setting up an international force to police the mandate territory: "It is self-evident that no Western force could or should do this, because they could be seen as the enemy." But he said that if the UN-approved force was "Arab and effective, then that might be a different story".
With Labour split over Syria and Tory rebels still demanding a clearer picture about the Government's long-term objectives, Dr Greenall's solution might be considered idealistic rather than pragmatic.
The Labour MP and former soldier Dan Jarvis, who voted to extend bombing into Syria, said: "The notion of a UN-mandate territory is worthy of consideration. One of the lessons from Afghanistan is that it is possible to bring together disparate groupings into a cohesive force. We saw this with the ANA [Afghan National Army] and, to a lesser extent, the ANP [National Police]. There may well be a role for the UN in facilitating this process by supporting indigenous forces in a training and mentoring role."
David Davis, the former shadow home secretary, who voted against air strikes on Isis in Syria, was hesitant about UN involvement. He told The IoS: "You need a mandate which is respected by the inhabitants of the country, so you probably need some sort of protectorate with perhaps Iranian and Saudi guarantors, both a Shia and a Sunni element, with back-up guarantors in the shape of the US and Russia or China."
He said the points raised by Dr Greenall were important, adding: "It is vital that we start thinking about this now. We should at least have an idea of what the endgame [in Syria] will look like, or how do you know what you are fighting for?"
Former foreign secretary Sir Malcolm Rifkind praised Dr Greenall, but warned of difficulties. He said: "First, you would have to get consensus among the great powers, particularly Russia and America, and Europe, that this is right. I do not see this as being an unsolvable problem."
Sir Malcolm said that because the UN would not be deployed as a fighting army, "a political deal of some sort would need to come first". He suggested a "Syrian government of national unity, as a transition, but under a UN mandate in order to give it extra legitimacy and authority".
"If you got to that stage, then you might get not peacemakers but peacekeepers. Perhaps some international force, mainly Arab or Muslim. All of this is theoretically possible, but it is one helluva long shot," he added.
Paul Rogers, professor of peace studies at the University of Bradford, said Dr Greenall's call for UN involvement would have been easier to judge if the UN had an emergency peace service to order into Syria.
"This is exactly the sort of occasion where, if you had a highly professional UN standing force, drawing on a number of countries, it could be used," he said. "A force capable of handling an Ebola crisis, right through to people who would go in and be used in an emergency peace-enforcing role. We don't have it – and, without such a UN force, this very good idea will be extremely difficult to implement."
Register for free to continue reading
Registration is a free and easy way to support our truly independent journalism
By registering, you will also enjoy limited access to Premium articles, exclusive newsletters, commenting, and virtual events with our leading journalists
Already have an account? sign in
Join our new commenting forum
Join thought-provoking conversations, follow other Independent readers and see their replies