Syria conflict: Diplomacy over crisis 'on life support' as fighting continues in Aleppo
Russia is reportedly sending in more war planes US discuss military options in response to air strikes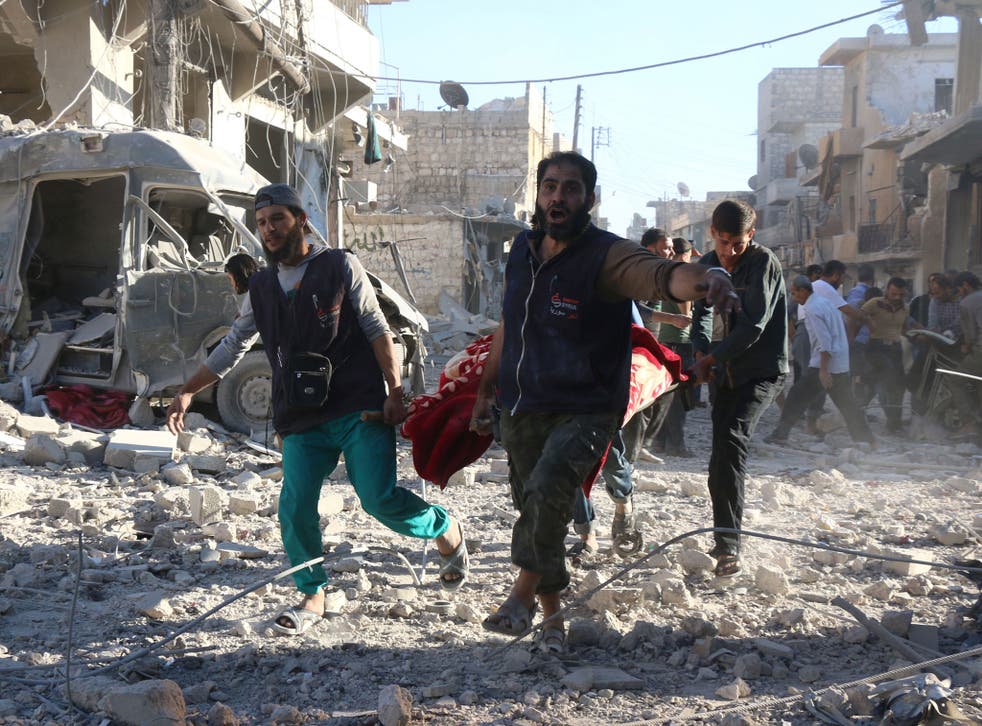 Russia is sending more warplanes to Syria to ramp up its air campaign, a Russian newspaper has claimed, as the United States said diplomacy to halt the violence was "on life support" but not dead yet.
Fighting continued to intensify a week into a new Russian-backed Syrian government offensive to capture rebel-held eastern Aleppo and crush the last urban stronghold of a revolt against Syrian President Bashar al-Assad that began in 2011.
Moscow and Assad spurned a US-Russian brokered ceasefire agreed to this month and launched attacks on rebel-held areas in Aleppo in potentially the most decisive battle in the Syrian civil war.
US Secretary of State John Kerry and Russian Foreign Minister Sergei Lavrov spoke by telephone for a third straight day on Friday, with the top Russian diplomat saying Moscow was ready to consider more ways to normalise the situation in Aleppo.
But Mr Lavrov criticised Washington's failure to separate moderate rebel groups from those the Russians call terrorists, which had allowed forces led by the group formerly known as Jabhat al-Nusra front to violate the US-Russian truce agreed last month.
The United States made clear on Friday that it would not, at least for now, carry through on the threat it made on Wednesday to halt the diplomacy if Russia did not take immediate steps to halt the violence.
"This is on life support, but it's not flat-lined yet," State Department spokesman Mark Toner said. "We have seen enough that we don't want to definitively close the door yet."
In a 40-minute discussion with Syrians, diplomats and others on the sidelines of the United Nations General Assembly meeting in New York last week, Mr Kerry said the administration of President Barack Obama had failed to make any threat of military force that give him leverage with Russia.
"I think you're looking at three people, four people in the administration who have all argued for use of force, and I lost the argument," Mr Kerry told the group, according to a recording of the session obtained by The New York Times.
In pictures: Aleppo bombing

Show all 14
US officials and analysts argued the White House has few alternatives. "If we do walk away from this diplomatic process, as ... moribund as it is, what are the options?" Mr Toner asked.
"They can't afford to," said Chas Freeman, a retired US ambassador. "You can't do international business with silence and ostracism."
The White House put on hold for now proposals to end the talks despite the possibility that continuing them would erase whatever credibility Washington has on Syria, risk encouraging Assad and his Russian backers to continue the carnage, and prompt Saudi Arabia and other Assad opponents to arm rebel groups with better weapons without consulting Washington.
It also would leave the United States vulnerable to attacks that it failed to intervene to halt war crimes, proponents of ending the diplomacy argued, according to officials familiar with the internal discussions.
According to the tape, however, Mr Kerry told the Syria group last week that as the bombing of Aleppo had escalated, "There's a different conversation taking place."
Aleppo onslaught: Volunteer rescuers struggle to save the injured
CIA director John Brennan said in an interview on Friday that Russia's actions in Syria over the last several weeks have shown that Russian President Vladimir Putin has not been serious about negotiating a political solution to the conflict.
"I think that pushing back against a bully is appropriate," Mr Brennan told Reuters. "I think that is very different than rushing in and bombing the hell out of a place."
Military options that administration officials say are still being discussed include providing more sophisticated arms, logistical support, and training to Syrian rebel groups, though not shoulder-fired anti-aircraft missiles, either directly or via Gulf Arab states or Turkey, these officials said.
Another idea, they said, was first to attempt humanitarian relief flights over Aleppo or other embattled areas, escorted by fighter jets, to see how the Russians and Syrians respond. Further down the list would be launching an air or cruise missile strike on a Syrian base, with a tentative list already drawn up of what one official said was "slightly more than a dozen" Syrian airbases, barrel-bomb factories and other targets.
However, senior officials concluded there is no alternative to leaving the door open to talks for now because any immediate action would risk provoking an open conflict with Russia.
According to the tape of his meeting with the Syrian group in New York, Mr Kerry warned that if the U.S. started using muscle, "then everybody ups the ante, right? Russia puts in more, Iran puts in more; Hezbollah is there more and Nusra is more; and Saudi Arabia and Turkey put all their surrogate money in, and you all are destroyed."
Western countries accuse Russia of war crimes, saying it has targeted civilians, hospitals and aid deliveries in recent days to crush the will of 250,000 people trapped inside the besieged rebel-held sector of Aleppo, Syria's biggest city before the war.
Moscow and Damascus say they have targeted only militants.
Russia joined the war a year ago, tipping the balance of power in favour of Assad, who is also supported by Iranian ground forces and Shi'ite militia from Lebanon and Iraq.
Syria war a year since Russian intervention
The Kremlin said on Friday there was no time frame for its military operation in Syria. The main result of Russian air strikes over the past year is that "neither Isis, nor al-Qaeda nor [Jabhat al-Nusra] are now sitting in Damascus", Kremlin spokesman Dmitry Peskov told reporters.
Russia's Izvestia newspaper reported that a group of Su-24 and Su-34 warplanes had arrived at Syria's Hmeymim base.
The Su-25 is an armoured twin-engine jet that was battle-tested in the 1980s during the Soviet war in Afghanistan. It can be used to strafe targets on the ground, or as a bomber.
Russia's defence ministry did not immediately respond to a request from Reuters for comment. The U.S. State and Defense Departments declined comment on the Izvestia report.
Syrian government forces and rebels fought battles on Friday in the city centre and north of Aleppo, where government troops had recaptured a Palestinian refugee camp on Thursday that already had changed hands once since the start of the attack.
The sides gave conflicting accounts of the outcome of Friday's fighting. North of the city, the military said it had captured territory around the Kindi hospital near the refugee camp. Rebel sources denied the army had advanced there.
Reuters
Register for free to continue reading
Registration is a free and easy way to support our truly independent journalism
By registering, you will also enjoy limited access to Premium articles, exclusive newsletters, commenting, and virtual events with our leading journalists
Already have an account? sign in
Register for free to continue reading
Registration is a free and easy way to support our truly independent journalism
By registering, you will also enjoy limited access to Premium articles, exclusive newsletters, commenting, and virtual events with our leading journalists
Already have an account? sign in
Join our new commenting forum
Join thought-provoking conversations, follow other Independent readers and see their replies