Syrian conflict: Chlorine used in Douma attack that left dozens of civilians dead, chemical weapons watchdog finds
But no evidence of nerve agents, says watchdog
Harriet Agerholm
Friday 06 July 2018 23:14 Comments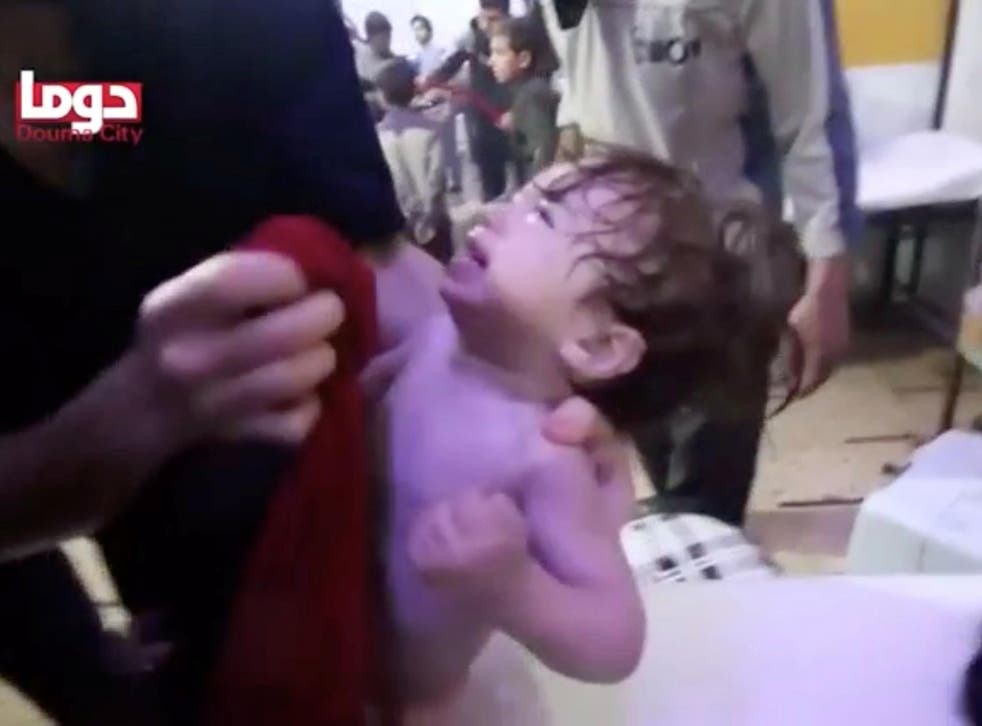 Chlorine was used in an attack on the Syrian city of Douma that killed dozens of civilians in April, the world's chemical weapons watchdog has found.
A preliminary report by the Organisation for the Prohibition of Chemical Weapons (OPCW) said it found "various chlorinated organic chemicals" in two locations, but there was no evidence nerve agents were used.
Dozens of civilians were killed in the attack on the rebel-held town in the Eastern Ghouta region, near the country's capital Damascus.
Footage of young children foaming at the mouth following the incident elicited horrified reactions from people around the world.
The OPCW's findings confirm reports by medics who said they treated 500 patients "exhibiting signs and symptoms consistent with exposure to toxic chemicals".
Western governments blamed President Bashar al-Assad's regime for the attack and US, British and French warplanes carried out strikes against government military targets in retaliation.
The Syrian government denies carrying out any attacks with chemical weapons, but the OPCW has documented systematic use of banned munitions in Syria's civil war by both the regime and Isis.
The OPCW has not attributed blame for the banned munitions in the April attack, but its investigation into the use of chemical weapons is continuing.
The chemical weapons watchdog was initially barred from accessing the site of the attack, but workers were granted access in mid-April.
Douma chemical attack: Syria war in pictures

Show all 13
Inspectors visited two sites where they interviewed witnesses and took samples, which were taken to their lab in the Netherlands before being forwarded to affiliated national labs for testing.
Two samples recovered from gas cylinders at the scene tested positive for chlorine, the report said.
In the aftermath of the deadly attack, US media quoted unnamed officials who said both chlorine and sarin were used in the attack.
A UN investigation said evidence pointed to the use of chlorine, but that some people had exhibited symptoms indicating they were exposed to a nerve agent.
Yet the OPCW report said "no organophosphorous nerve agents or their degradation products were detected".
Civilians in Eastern Ghouta, an agricultural area, lived under seige for five years until a Russia-backed offensive drove the rebels out - reportedly killing 1,700 men woman and children in the process.
Reuters contributed to this report
Register for free to continue reading
Registration is a free and easy way to support our truly independent journalism
By registering, you will also enjoy limited access to Premium articles, exclusive newsletters, commenting, and virtual events with our leading journalists
Already have an account? sign in
Join our new commenting forum
Join thought-provoking conversations, follow other Independent readers and see their replies