Syria conflict: Idlib city falls to Jabhat al-Nusra as President Assad's forces flee, jihadists claim
The reports could be the latest in a series of Islamist gains in Syria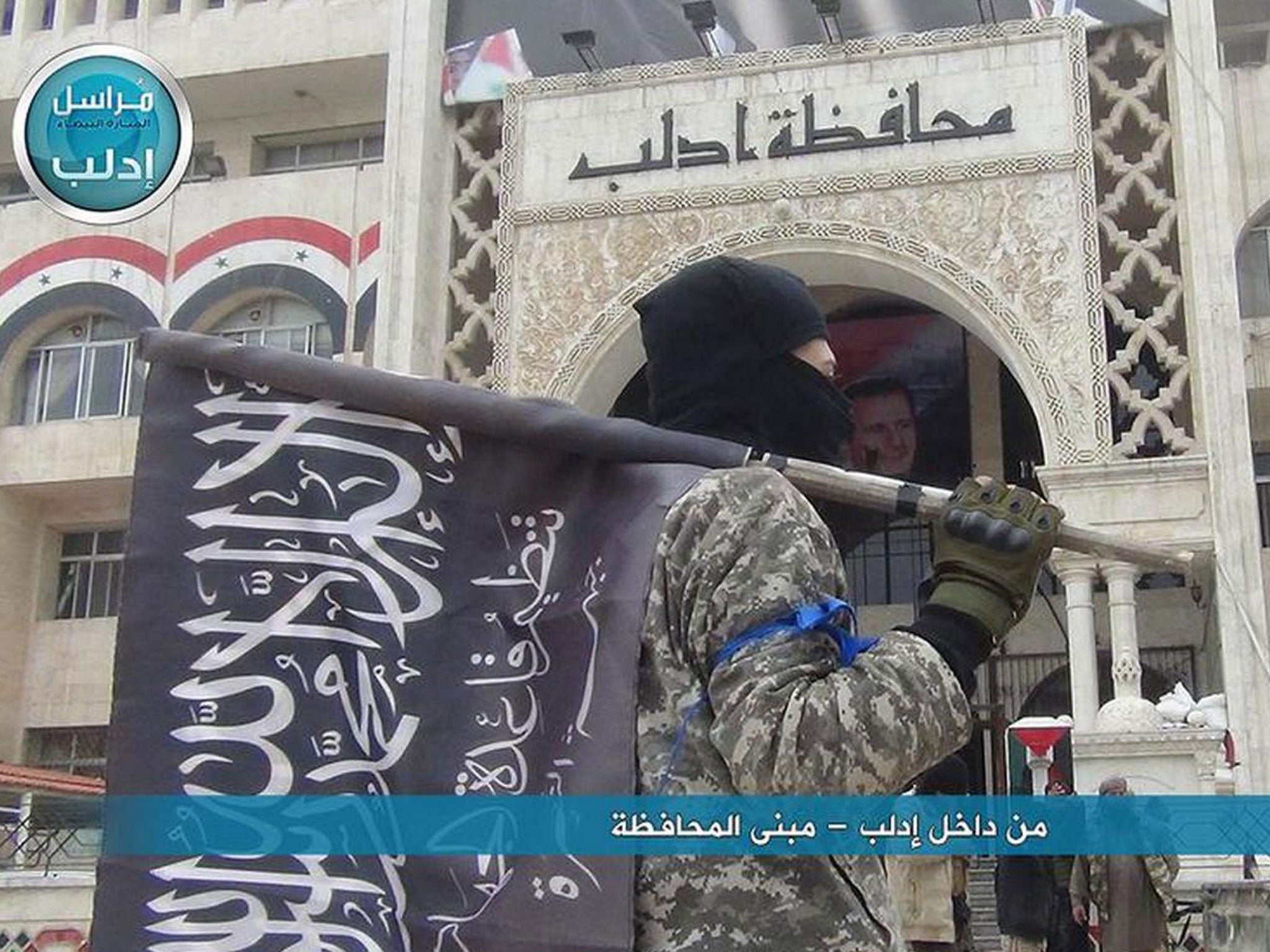 Jihadists claim to have taken control of the Syrian city of Idlib after days of fierce battles with government forces.
Al-Qaeda affiliate Jabhat al-Nusra is leading the coalition of militants that reportedly made large gains today after launching a major offensive against President Bashar al-Assad's troops earlier this week.
A Twitter account supporting the Jaysh al Fateh alliance claimed victory on Saturday, saying Idlib had been "liberated" by mujahideen and government soldiers were being chased as they fled.
The following video claims to show victorious jihadists in the city and cannot be verified.
It posted pictures claiming to show Islamists waving their black flags in the centre of the city and posing outside official buildings papered with faded pictures of President Assad.
In one video, a rebel fighter is seen tearing a billboard showing Assad in a suit and tie, with the words "Together, we protect it (Syria)," before trampling it with his feet.
Separate footage showed another jihadist outside a building saying: "This is my house, for four years I have not entered it, this is my neighbourhood, this is our country and by God's will we will liberate and inhabit Muslims in it."
He appeared to be welcomed by several men, some wearing civilian clothes, who hugged him and cried.
Islamist claims of victory have been supported by observers including the UK-based Syrian Observatory for Human Rights, which said jihadists had taken control after four days of fighting.
In pictures: Syria conflict
Show all 40
At least seven rebels reportedly died in battle, while an unknown number of regime soldiers were killed or captured.
The Syrian Air Force continued to target Islamist fighters around the city, which is the capital of Idlib Governorate, bordering Turkey.
According to the Observatory, militants seized control of most of Idlib in a push on Friday evening and early this morning after government forces withdrew to their bases and several other buildings in the city.
The group, which relies on an extensive network of activists across Syria, said heavy fighting continued Saturday amid heavy artillery shelling from both sides.
The Local Coordination Committees, an opposition activist collective in Syria, also reported the "almost complete" capture of large parts of Idlib by the rebels.
As well as Jabhat al-Nusra, the jihadist coalition includes groups known as Ahrar al-Sham, Jund al-Aqsa, Liwa al-Haqq, Jaysh al-Sunna, Ajnad al-Sham, and Faylaq al-Sham.
The name of the coalition, the Army of Fatah, is a reference to the Muslim conquests that spread the faith through the Middle East starting in the seventh century.
If Idlib has fallen, it is the second provincial capital and major city lost by Assad's forces in the four-year civil war.
The city, which had a population of 165,000 before the conflict broke out, lies on a strategic motorway linking Damascus to Aleppo and is near the President's coastal stronghold of Latakia.
The eastern city of Raqqa fell to rebels in March 2013 and subsequently taken over by Jabhat al-Nusra's rival Isis, which has declared it as the de-facto capital of its so-called Islamic State.
An Syrian military official quoted by state-run news agency Sana claimed the army was still engaged in "fierce battles" against "armed terrorist groups" to regain control in Idlib, adding that the opposing side suffered heavy losses.
Earlier, the agency said army troops directed strikes at fighters who tried to sneak into the area near the national museum and the industrial zone around the city's eastern entrance.
In an indication of the gravity of the situation, Sana also said the army is repositioning forces and units in the city to face "thousands of terrorists crossing the border from Turkey."
Idlib was the scene of battles in the early years of the Syrian civil war and became a rebel stronghold before they were ousted by the government in April 2012.
The latest humiliating losses in Idlib mark the second blow to government forces this week, after rebels, led by Jabhat al-Nusra, captured the ancient and strategic town of Busra Sham in southern Syria.
More than 220,000 people have been killed so far in the Syrian civil war, which began after protests during the 2011 Arab Spring grew increasingly violent during a government crackdown on dissent.
Additional reporting by agencies
Join our commenting forum
Join thought-provoking conversations, follow other Independent readers and see their replies