Syria conflict: John Kerry warns Bashar al-Assad has one week to hand over chemical weapons and avoid attack
Russia backs plans for the stockpile to be placed under international control and says it has put the idea to Syria, as the US Secretary of State speaks alongside William Hague in London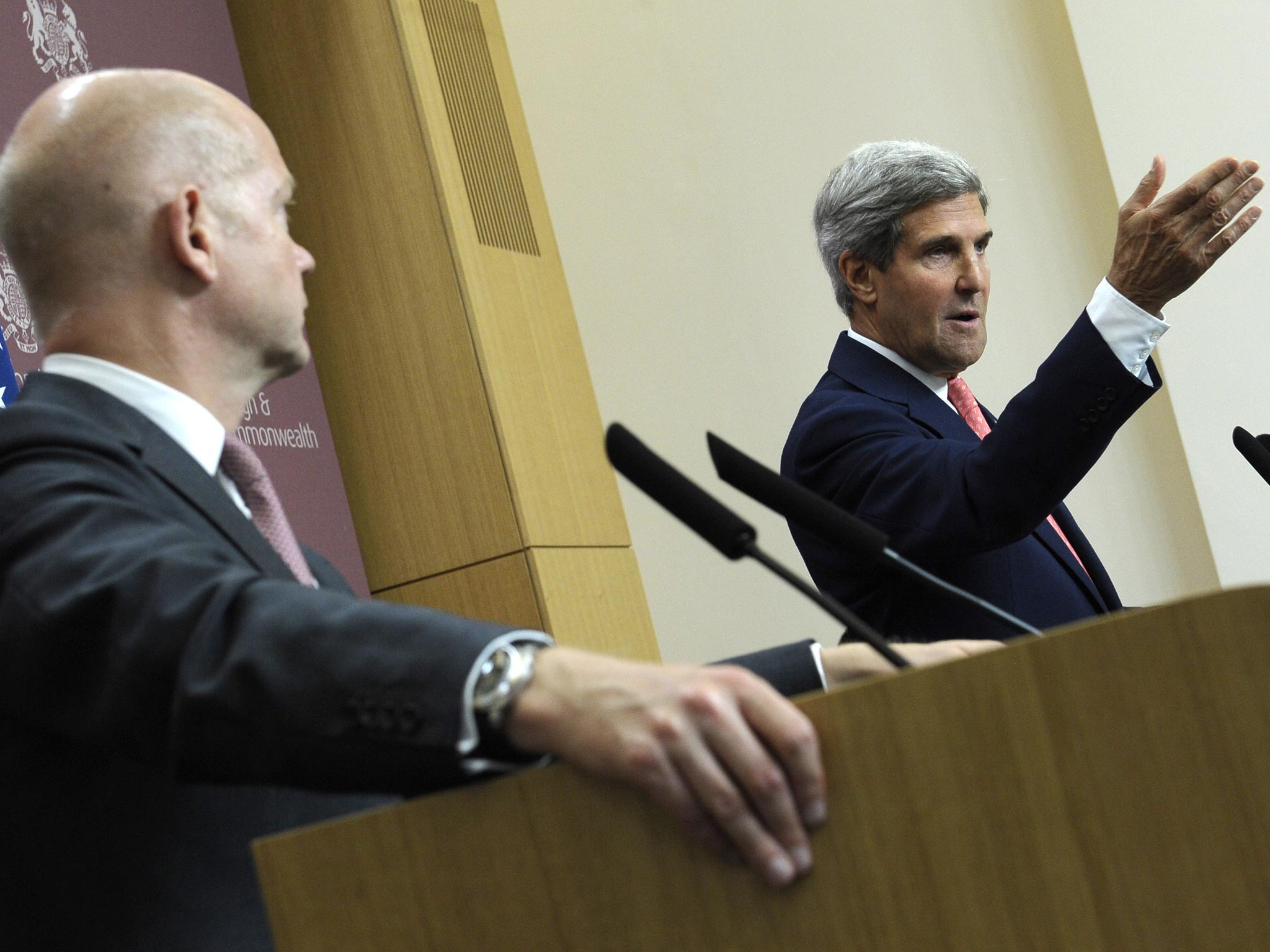 US Secretary of State John Kerry has declared that the only thing Syrian President Bashar al-Assad could do to avoid a US military strike would be to hand over his entire arsenal of chemical weapons within the next week.
Renewing his country's allegations that the dictator bombed his own people with weapons that have been outlawed by the international community for 100 years, Mr Kerry added that the regime "isn't about to do that".
Despite the apparent lack of faith Mr Kerry had in his own solution, it was immediately backed by the Russian foreign minister Sergei Lavrov.
He called a news conference to announce that he had proposed the idea to the Syrian foreign minister Walid al-Moualem at talks in Moscow, and added that as one of the country's closest allies Russia expected "a quick and, I hope, a positive answer."
As President Barack Obama's right-hand man in convincing the US Congress that an intervention in the Middle East is necessary, Mr Kerry appeared alongside William Hague at the Foreign Office in the conclusion of a tour aimed at gathering European support.
The Secretary said that he appreciated the concerns of British protesters outside the press conference calling for the US to "keep [its] hands off Syria". But he said a political solution could only be sought after a military campaign had suitably chastened the Assad government.
He said: "A resolution will not be found on the military battlefield but at the negotiating table. But we have to get to that table.
"We come to this with years of effort to try to bring the parties to the table and create a political solution. Our respected leaders made clear in St Petersburg that a strong international response is needed to stop Assad using chemical weapons against his own people again."
Mr Kerry passionately refuted Mr Assad's claims, to be aired in a CBS interview this evening, that there is no evidence his regime conducted the alleged chemical weapons attack in Damascus on 21 August.
"I just gave you real evidence of a chemical weapons attack," he said. "I'm confident about the state of the evidence. Read the unclassified report on whitehouse.gov – what does he (Mr Assad) offer?
"This is a man who has just killed 1000 of his own citizens. He sends Scud missiles into schools. This is a man without credibility."
In his first interview on American television for two years, Bashar al-Assad told CBS's Charlie Rose that the US could "expect every action" of retaliation if an air strike on Syria went ahead.
"Expect everything," he said when pressed on whether there would be attacks against US bases in the Middle East in response to an air strike.
Mr Assad also said rejected John Kerry's claims that he had been responsible for using chemical weapons against his own people.
"He presented his confidence and he prevented his convictions," Mr Assad said. "It is not about confidence, it is about evidence.

Mr Assad compared Mr Kerry's accusations to the "big life" that he said Colin Powell had told in conjunction with the alleged existence of weapons of mass destruction in Iraq.
The Syrian leader has refused to either confirm or deny the existence of a reportedly enormous stockpile of chemical weapons at his government's disposal, but Mr Kerry said the US knew Mr Assad to have "a huge stock of these weapons, and these weapons remain".
He said: "Sure, he could turn over every single bit of his chemical weapons to the international community in the next week - turn it over, all of it without delay and allow the full and total accounting (of it) but he isn't about to do it and it can't be done."
Mr Hague said the UK and US's stances on Syria "remain closely aligned".
He denied that Britain would be marginalised by the vote against military action in the Commons, speaking instead about the work Britain can do to alleviate the humanitarian crisis.
And he said: "Our government supports the objective of ensuring there can be no impunity for the first use of chemical warfare in the 21st century. We admire the leadership of President Obama and Secretary Kerry himself in making this case so powerfully to the world.
"They have the full diplomatic support of the UK. The US-UK special relationship is an alliance of values... We will work [on Syria] with our closest ally over the weeks and months."
On that topic of the "special relationship", Mr Kerry said: "The relationship between the US and UK has often been described as special, essential, described thusly because it is.
"Our bond is bigger than one vote, bigger than one moment in history."
Join our commenting forum
Join thought-provoking conversations, follow other Independent readers and see their replies