Syria threatens to shoot down Turkish planes in its airspace after attack on Kurdish bases
Damascus calls Turkish bombing of mainly Kurdish Syrian Democratic Forces targets in northern Syria "flagrant aggression" which could "escalate the situation" in the multi-sided conflict 
Friday 21 October 2016 13:06 Comments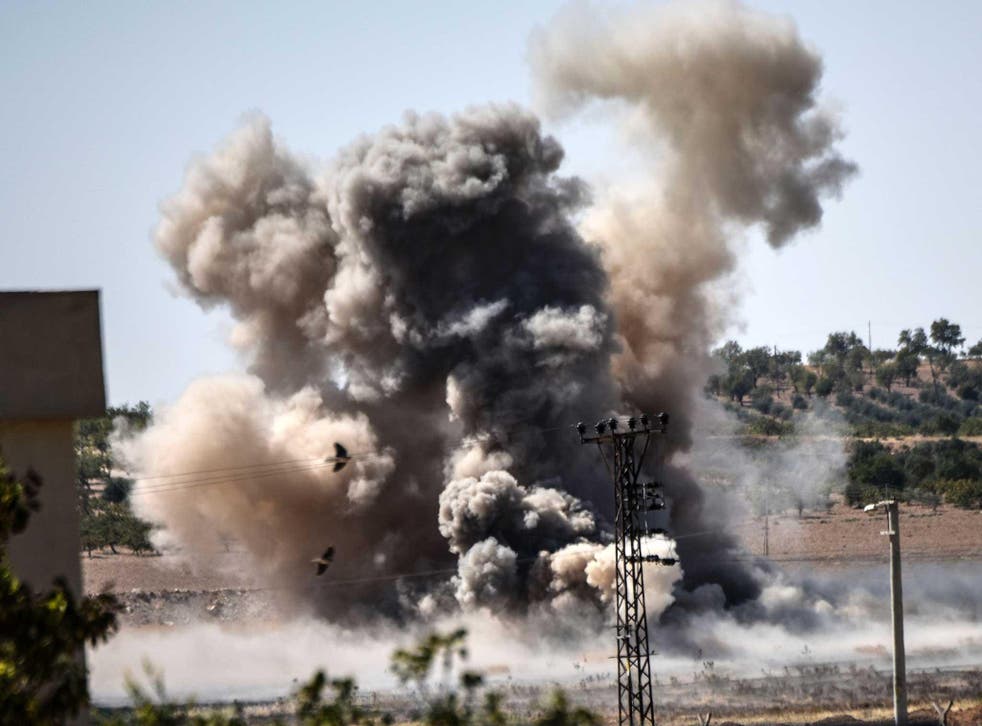 The Syrian government has accused Turkey of escalating the complex war in Syria by carrying out air strikes near Aleppo, warning that further Turkish planes in Syrian airspace will be "brought down by all means available.
The Turkish air force struck 18 different Kurdish targets in Maarraat Umm Hawsh near Aleppo on Thursday, killing up to 200 soldiers. Ankara has significantly escalated its military presence in the Syrian civil war since August, successfully driving out Isis from the border region and attempting to curb Kurdish efforts at territorial expansion, which it sees as a threat to Turkish sovereignty.
The Syrian Defence Ministry released a statement on Thursday accusing Turkey of "flagrant aggression, which targeted innocent citizens," warning Turkey's incursions deeper into Syria are "a dangerous development that could escalate the situation."
"Any attempt to once again breach Syrian airspace by Turkish war planes will be dealt with and they will be brought down by all means available," the statement said.
Turkish-backed Syrian Sunni rebel groups and Kurdish militias have been fighting for control of areas their combined strength has managed to recently retake from Isis.
The situation is also likely to further inflame Turkey's relations with the US since the Nato allies disagree over the role of Kurdish forces in the Syrian and Iraqi conflicts.
Syria's war: Foreign fighters deepen sectarian divide
The US State Department distanced itself from from Ankara's actions on Thursday. "Contrary to some reports, US was not involved in Turkey airstrikes last night," spokesperson John Kirby said, adding that uncoordinated movements "only benefit" Isis.
Syria shot down a Turkish military jet in 2012, which it said flew just one kilometre away from the Syrian coast. Turkey later said that the plane had entered Syrian airspace by mistake, but had been shot down while flying over international waters.
Register for free to continue reading
Registration is a free and easy way to support our truly independent journalism
By registering, you will also enjoy limited access to Premium articles, exclusive newsletters, commenting, and virtual events with our leading journalists
Already have an account? sign in
Join our new commenting forum
Join thought-provoking conversations, follow other Independent readers and see their replies