Syria conflict: Nato raises response force to 40,000 troops in face of Russia's 'aggressive and dangerous' actions
Moscow has been accused of targeting rebels that most directly threaten President Assad rather than Isis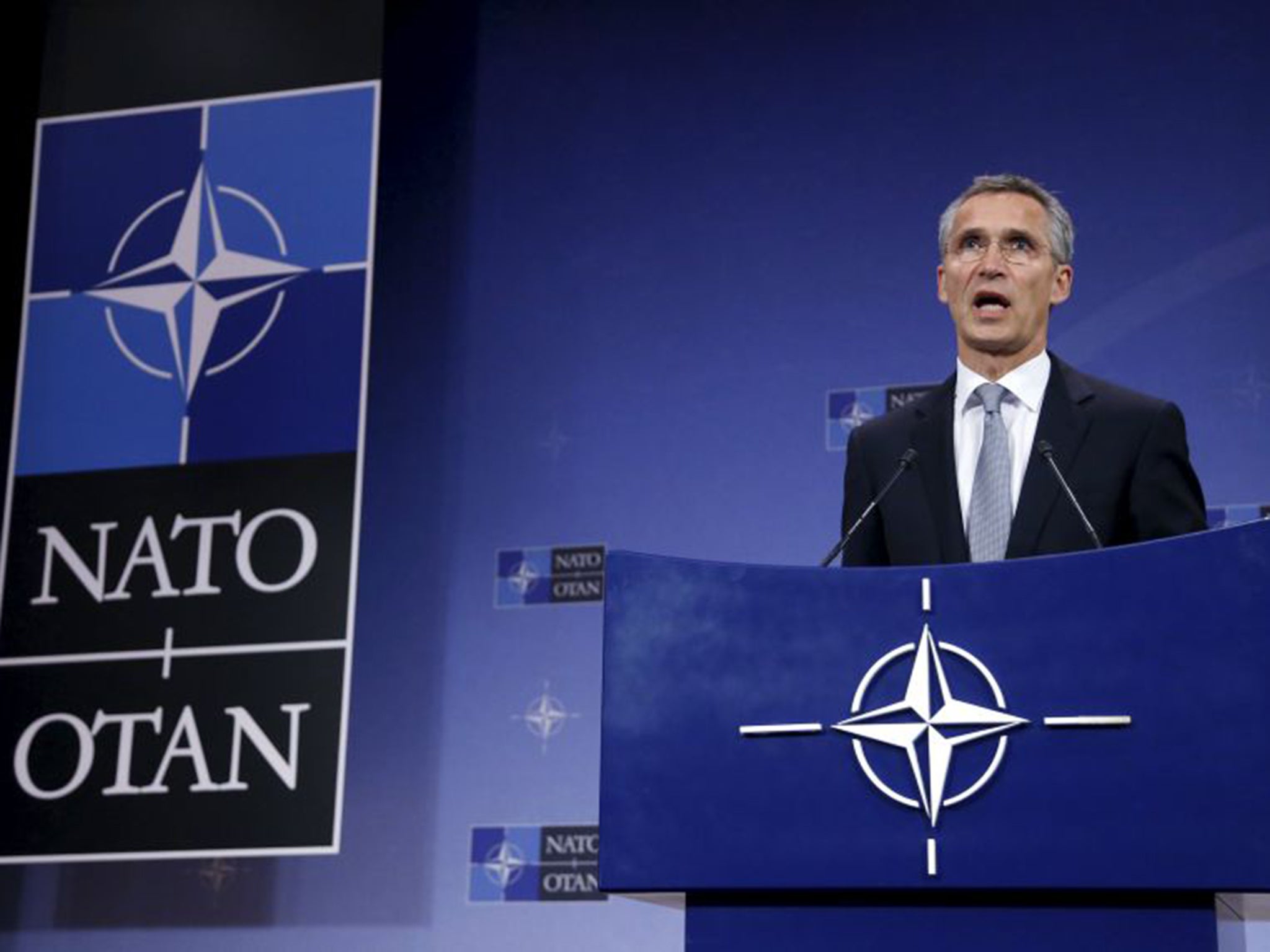 Russia's determination to prop up the regime of Bashar al-Assad with bombing raids on Syrian rebels triggered a response from Nato members as the alliance pledged to double the size of its rapid response force.
Meeting in Brussels, Nato defence ministers pledged to stand firm against Russia's "aggressive and dangerous" entry into the Syrian civil war, and offered any support needed to Turkey, whose airspace has been encroached by Russian warplanes.
Amid continuing claims of civilian casualties from Russian air strikes, and accusations that Moscow was not targeting Isis as claimed, but the rebels that most directly threaten Mr Assad, Nato's Secretary-General Jens Stoltenberg said the measure indicated that the alliance was ready to show resolve in the face of Russia's growing military involvement in the Syria conflict.
"We now have everything in place to make the Response Force stronger, faster and more capable. This force will count up to 40,000 troops," Mr Stoltenberg said. "That's twice as many troops as the current level of troops in the Nato Response Force."
The danger of the crisis taking an unexpectedly dangerous turn was underscored when Pentagon officials claimed that several of the 26 Russian cruise missiles fired into Syria from the Caspian Sea on Wednesday had landed instead in Iran. The US officials could not say whether the errant missiles caused any significant damage in Iran, which had given permission for them to fly through its airspace. A Russian defence official denied the claim.
The Nato Response Force, launched in 2002, consists of land, air, maritime and Special Operations forces that can react rapidly. It was enhanced last year when a "Spearhead Force" – also known as a "Very High Readiness Joint Task Force" – was created. Russia has asked coalition forces fighting Isis in Syria to vacate the country's airspace while it conducts its own sorties, but US Defence Secretary Ash Carter said Nato would not co-operate. "We believe Russia has the wrong strategy," he said. "They continue to hit targets that are not IS [Isis]."
His rebuke was echoed by other ministers. "Russia is not constructive, not reliable and not co-operative," said Dutch Defence Minister Jeanine Hennis Plasschaert.
The Nato announcement came as the Syrian army, backed by Russian air strikes, fought heavy battles against rebel groups in the Assad regime's heartland for control of a hilltop in Jub al Ahmar, a highland area in Latakia province which, if captured, would allow the army more effectively to pound rebel positions from the Ghab Plain.
US officials say only one in 10 Russian air strikes have targeted Isis. The rest, it is claimed, are aimed exclusively at weakening other rebel groups and securing Mr Assad's government. Rebel sources also said the Syrian army, aided by Russian jets, shelled the insurgent-held town of Salma, a major front line between rebels and government forces north-east of Latakia.
The Russian defence ministry said its cruise missiles fired on Wednesday struck weapons factories, arms dumps, command centres and training camps in Homs, Hama and Raqqa. All the targets, Moscow claimed, were supporting Isis forces.
In Brussels, Germany's defence minister Ursula von der Leyen said: "It is important for Russia to accept if they fight those who are fighting against Isis, they will strengthen Isis and this can't be in Russian interest or our interest."
Turkey has asked its Nato allies to help bolster its missile defences, aimed at shooting down any incoming Syrian rockets. Germany and the US said earlier this year that they would withdraw their Patriot anti-missile system from Turkey, but other Nato allies have yet to step forward to plug the gaps.
Despite Mr Stoltenberg's offer to send ground forces to defend Turkey, Ankara has not yet formally requested any assistance on the ground. Rather, the offer to bolster Turkey's defences is seen as more symbolic than real: the country already has a £12 billion defence budget and almost half a million active military personnel, giving it the ninth biggest army in the world. "Turkey can take care of itself," one official said.
Nonetheless, diplomats say Turkish forces would be within its rights to shoot down a Russian plane that entered its airspace, as they had done with a Syrian plane in March.
There are also fears that Russia's air campaign could lead to accidental contact with coalitions forces: Pentagon officials said they recently had to carry out at least one "safe separation" manoeuvre to avoid a US jet too close to a Russian aircraft over Syria.
Meanwhile Britain, one of the most vocal critics of Mr Putin's military actions, announced it would bolster Nato's eastern borders by stationing 100 troops in Estonia, Latvia and Lithuania, as well as Poland. Defence Secretary Michael Fallon said the deployment would deter Russian aggression beyond Ukraine and support Nato's eastern European members. "This is further reassurance for our allies on the eastern flank of Nato," he said. "That is part of our more persistent presence on the eastern side of Nato to respond to any further provocation and aggression."
Mr Fallon warned that Russia's actions in Syria could be part of a strategy to distract the European Union as it reviews sanctions on Moscow over its Ukraine incursions. "The Russian deployment in Syria is designed to prop up a client state," he said. "It is unhelpful and dangerous, and may well be a way to divert us from Ukraine and the Baltics."
Syria's army Chief of Staff, General Ali Abdullah Ayoub, said new fighting units, including the Fourth Assault Corps, had been set up to wage the campaign and the army now held the military initiative. "After the Russian air strikes, which reduced the fighting ability of Daesh [Isis] and other terrorist groups, the Arab Syrian armed forces kept the military initiative," he said.
Though the targets of the Russian attacks and Syrian fightback remain disputed, the civilian casualties mount. Targets hit, according to the Violations Documentation Centre, a Syrian rights group, included homes and a bread distribution centre.
Join our commenting forum
Join thought-provoking conversations, follow other Independent readers and see their replies