Syria conflict: The illicit art trade that is a major source of income for today's terror groups is nothing new
Exclusive: While posing as a buyer's agent in a Turkish border town, Isabel Hunter is offered looted antiquities which look destined for Europe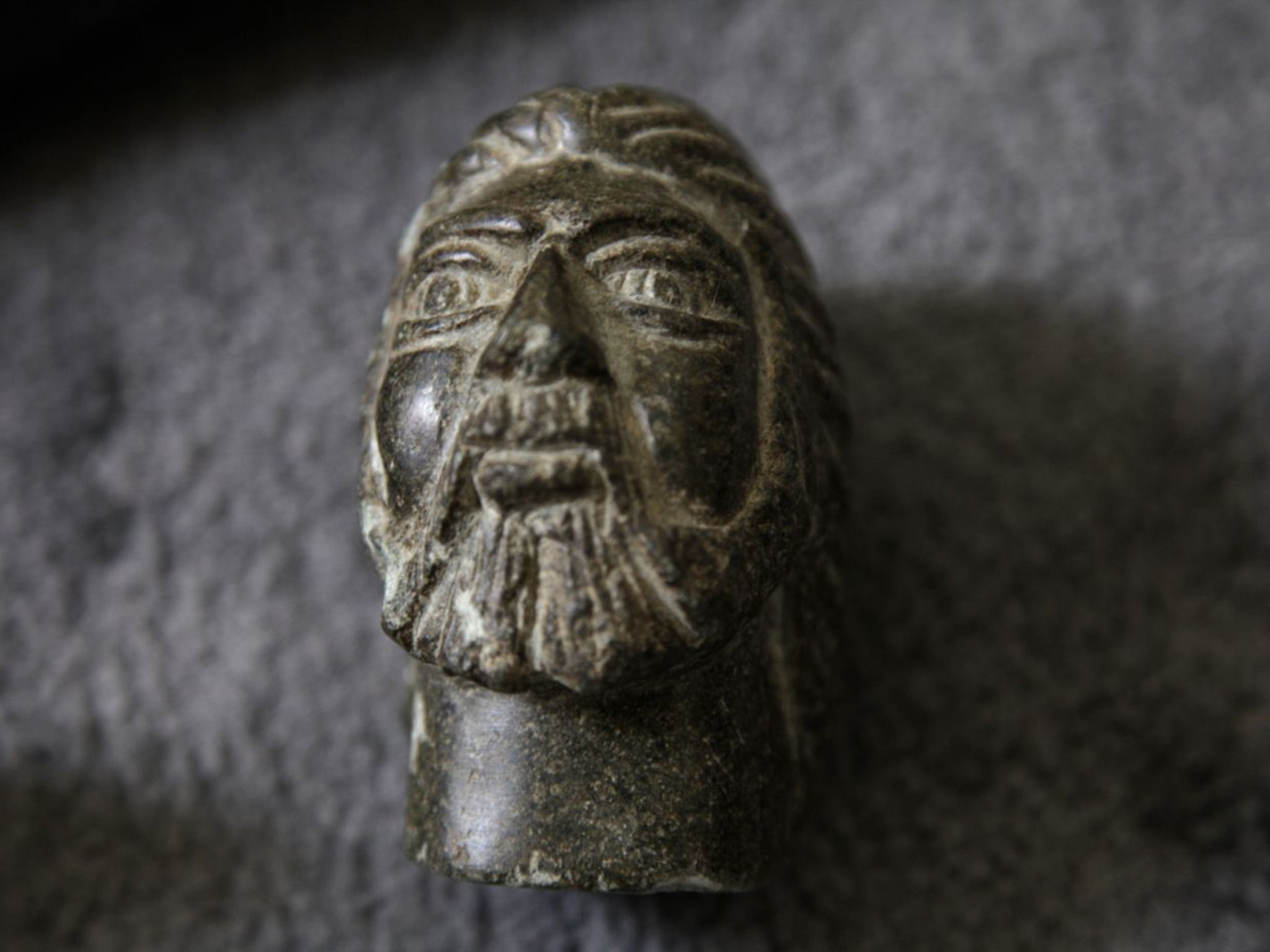 "I've taken this out so many times," said Hani, as he deftly unzips a black laptop case. From two side pockets the Syrian remove a statue, some beads and an assortment of stones and arrange them for viewing.
Nestled in the bag is an intricately carved 4,000-year-old limestone tablet covered in hieroglyphics. The markings record the success of two Mesopotamian kings, and were carved a stone's throw from Babylon, the cradle of civilisation.
An inspection of the tablet, gingerly touching the rough stone, is paused as a fresh break becomes evident – a crack splitting the plaque in two. Sheepishly, Hani and his colleague admit that they broke it last year. The handle of the laptop case wasn't strong enough, they explain, and had sent thousands of years of history – an object of huge value – crashing to the floor.
The meeting with the pair occurs on the outskirts of Gaziantep, the main hub on the Turkish-Syrian border for antiquity dealing. With a grey sky overhead and spots of rain falling, we were picked up from a side street lined with half-built apartment blocks and a few drab shops.
A cluster of children's shoes lined the front door of the apartment in which the meeting took place, and the muffled shrieks of kids playing next door punctuated the conversation. Sweet Syrian tea was offered; the room was sparsely furnished with thin foam mattresses and a tired chest of drawers full of treasure.
Unlike the vast majority of traders, these men are Syrian, not Turkish, and eager to show their wares to a foreigner. Turkish buyers are their staple, the two say, but they don't pay top prices, and so sales were down.
The men believe that I am there merely to look at the goods, and would travel to London later that week to report back to my "boss".
No specifics are exchanged although it is very clear that I'm no expert archaeologist. The cover story was assumed as it had been made clear that the two would not show their wares to a journalist; but my contact was keen that I expose what is being stolen from his country.
As Syria's violent war drags on, such trade is a major source of income for many of the armed groups from Islamic State (Isis) to Syrian opposition groups, and is nothing new – al-Qaeda and the Taliban were well-known contributors to the illicit art trade.
Now Syria and Iraq are being looted on an unprecedented scale – in tandem with the destruction of cultural history which has been shown in Isis videos from the Iraqi towns of Mosul and Nimrud.
A mixture of dedicated diggers and hopeful amateurs is unearthing all sorts of priceless gems; the looters are desperate for an income and keen to sell what they can, usually through Beirut or, increasingly, on the Turkish border.
Timeline: The emergence of Isis
Show all 40
I was first shown pictures of smuggled artefacts from Syria a year ago. Laid out on discarded Turkish newspapers and documented by camera-phone was a series of 13th-century Christian manuscripts and a book marked with what was claimed to be Freemason iconography.
The manuscripts are now in Germany, according to the two men – the dealers' entrepreneurial colleague is attempting to set up business there, and the Masonic book is also "on tour" and currently in Sweden. The rest of their wares are also catalogued on their mobile phones. To avoid detection and to keep risk low, the antiquities are stashed in various locations across Turkey and inside Syria.
"It's like a business," they reassure me, albeit one that's replete with a network of diggers, smugglers and dealers. "Anything you want, we can get for you. Just look at the pictures and tell us what you like."
They flick through screeds of browned, leather-bound manuscripts; Christian documents inscribed in Aramaic and Greek; Jewish artefacts adorned with the star of David; perfume from ancient Egypt accompanied by claims of its aphrodisiac properties.
After some time we are joined by Tarek, fresh from a dig across the border. Excitedly he produces a polythene bag full of coins, jewels and small carvings. His pièce de résistance is an Athenian dekadrachm coin – of which only 30 verified examples exist. They are typically valued at around $300,000 (£198,000) and he is convinced he's found one.
"It has been my dream for 17 years to hold this," he says. Before the war, archaeological digs took place across the country and local labourers like Tarek were often employed at the sites.
It's a fake – at least according to the experts who are later consulted, who point to inconsistencies in the colouring. The coin has a green tinge, possibly due to copper in the alloy.
The relief, however – the one in the laptop bag – is a different matter. A number of archaeologists have confirmed to The Independent on Sunday that they believe it to be genuine. And while experts are wary of talking about its value, in order not to encourage potential trade, it could be worth hundreds of thousands of dollars.
It has been identified as a Sumerian relief or wall plaque from the 3rd century BC city-state of Lagash, located in the south-east of modern Iraq. Specialists are aware of just a handful in existence, with one carefully kept in the Louvre Museum in Paris.
Though the vast majority of the loot shown by the men is likely to have come from Syria, experts guess that the plaque was excavated by Iraqi Shia groups in around 2006, and then gradually trafficked on via Iran or Syria.
The videos released by Isis, showing the destruction of Nimrud and other sites, as part of what it calls "a war on false idols", have caused an international outcry, but the extremist force has also been cashing in on the illegal export of the region's cultural heritage.
In Isis-controlled areas where rich pickings can be found (Raqqa and northern Aleppo in particular), the self-proclaimed caliphate has implemented a system based on the taxation of war spoils, according to US academics and anecdotes verified by the dealers – although it is difficult to ascertain how many times they have dealt directly with Isis members .
"If we find jewellery or gold, Isis charge us 20 per cent of the value and it's official. Once you get permission you can tell everyone you're going to the land and dig. You apply to Isis to get permission to dig," the dealer says. "If we find a statue, IS will destroy it because it's an idol, so we hide them."
Once in Turkey, the onward sale is their responsibility; they say that they can arrange to transport the artefacts as far as Greece or Bulgaria.
The Syrian Heritage Initiative (SHI), supported by the US Department of State and the American School of Oriental Research, is lobbying for greater controls to stop this multimillion-dollar industry that funds terror. Black-market art and antiquities – either stolen from private collections, or looted from national museums – forms the third largest illicit market in the world after drugs and arms.
And the trade routes are well known, according to Michael Danti a co-director of SHI, who leads a team of US and Syrian scholars and archaeologists. Once brought to Turkey, Syrian artefacts travel out of Turkey's big coastal ports – Mersin, Antalya or Izmir – alongside smuggled Syrian refugees desperate to reach European shores. Once they arrive in Europe, usually via Cyprus, Italy, Greece or Portugal, a dealer will concoct false papers for the artefact.
"Once they're in the EU, they try to build a legal import status and create false accreditation that says this stuff has been here for a long time with a European family and from an old collection, to make the stuff easier to export," Dr Danti says. "They go from there and build false paperwork."
It then becomes much harder to track both the smugglers and their goods, despite international efforts. Soren Pedersen, chief of media and PR at Europol – the EU's law enforcement agency – says that any illegal trade would require the "right networks"; there is the potential for things to get through.
"There are many entry points [to Europe] – just look at shipping," he says. "Many container ships carry 15,000 boxes… there are big possibilities for artefacts to enter illegally – you can't have a customs officer checking every box, and that's why when it comes to dealing with organised crime, intelligence is very important."
The burden is mostly falling on Turkey however, which is under continuing pressure to tighten its long and porous border. It's not only foreign jihadis that are taking advantage of lax border spots to join Isis, but artefacts are just as easily smuggled into the country to be picked up by organised crime gangs, as well as amateurs.
According to Edouard Planche, an expert in the illicit trafficking of cultural property for Unesco, the main culprits are traditional organised crime groups, linked to drugs and weapons networks, although smaller players are now becoming involved in a desperate bid to make money.
"People are trying to make a living," Dr Danti says. "The biggest culprits in all of this have to be the refugee crisis, the humanitarian crisis and the issue of poverty – right now that's really contributing to property crime.
"Locals will go out and excavate for antiquities and bring this stuff to Isis and get paid, or they're willing to traffic this stuff and pay Isis a tax to smuggle it into Turkey."
There are problems with the Sumerian relief, however: it's too big to transport covertly and too unique for a fabricated history.
This could be why, Dr Danti believes, the dealers have had to hold on to it for so long – it's simply too difficult to sell on the open market and needs a direct buyer.
And the authorities hope it will not get any easier, with international agencies now lining up to tackle the flood of items washing into the EU and beyond.
In February, the UN Security Council adopted resolution 2199, part of which formally recognises the link between the traffic of antiquities and terrorism funding, and has banned the trade of Iraqi and Syrian artefacts.
Irina Bokova, Unesco's director general, refers to the problem as a "cultural genocide" and is establishing a crack team including Interpol – the international police organisation – and a number of international cultural agencies.
Interpol for its part, says it is too early to have firmly established information on any well-worn routes for the smuggling of artefacts, and is also still compiling information on those suspected of smuggling. The agency also relies on the police force of each country to flag cross-border crime.
A spokeswoman told The IoS: "Interpol is following up on anecdotal evidence of potential trafficking of Syrian/Iraqi items from select destination markets, and cross-checking information from our works of art, counter-terrorism and fugitives units to identify individuals of possible interest."
But while efforts are being made on an international level, it's individual countries that are responsible for stepping up searches and seizures of antiquities at ports of entry, a job made harder when officials are also dealing with forged replicas.
A traditional point of entry to the EU from Turkey for all sorts of contraband is Bulgaria, which is itself facing a long battle with looters (and forgers) of its own cultural heritage, as well as Syrian and Iraqi artefacts. In March, another suspected Sumerian relief was seized in a police raid among a haul of coins and other antiquities in the north of the country and three men were arrested, one of whom was a Turkish national.
The authorities told The IoS that the seizure is still being authenticated and the investigation is ongoing. From initial pictures however, some experts have deemed the relief a fake, further confusing matters.
What is clear however, is that tackling antiquity smuggling is key for counterterrorism efforts targeting Isis's and al-Qaeda affiliate Jabhat al-Nusra's funding streams, although it is much more subtle than the US air-strikes on oil facilities, which are the Islamists' main revenue generator.
While the Sumerian relief seen in the laptop bag might be too bulky to slip into a pocket, other artefacts are much easier to conceal, and are worth many barrels of oil, Dr Danti says. Once removed from its original geographical location, an artefact can lose much of its context and even if recovered, archaeologists would struggle to provide its full history and its cultural importance.
For Dr Danti, this loss of context is one of his biggest concerns. "It's still a very interesting example of Lagash Sumerian art, and it has an inscription that points to where it's from," he said of the relief the dealers had shown me. "But we don't know the exact time period or how it was used exactly… Eighty per cent of the information content, from an archeological standpoint, has been lost."
Names in Gaziantep have been changed
Join our commenting forum
Join thought-provoking conversations, follow other Independent readers and see their replies