Syria conflict: UN report accuses Assad regime of massacres and crimes against humanity
The report called war-torn Syria the 'world's worst humanitarian catastrophe'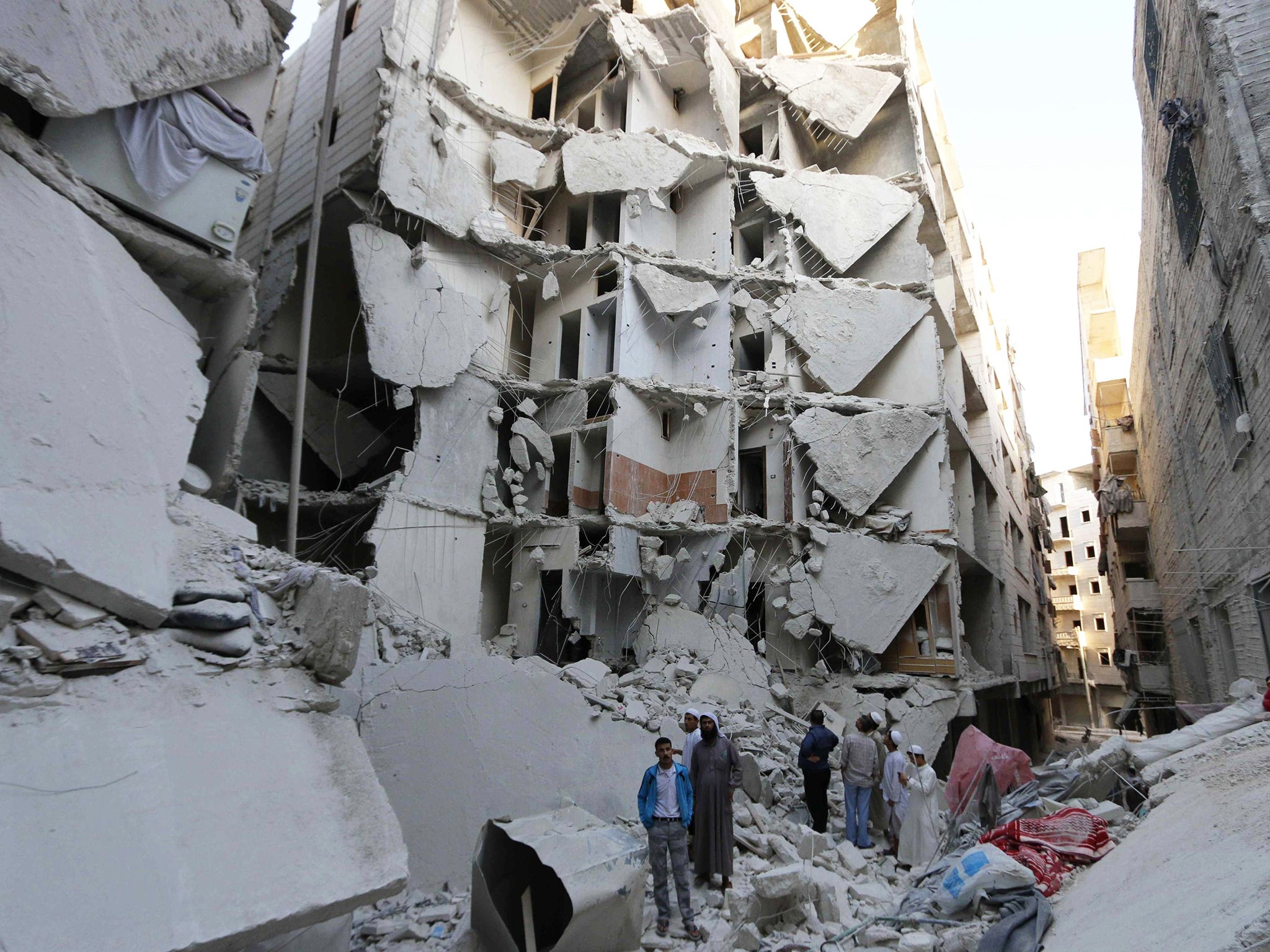 The Syrian Government has launched chemical attacks on civilians as the Islamic State (Isis) and other armed groups have terrorised the population with their brutality, according to a UN report on the Syrian war.
Investigators from the Office of the High Commissioner for Human Rights (OHCHR) called the country the "world's worst humanitarian catastrophe", with an estimated 2.9 million refugees.
The report, released on Wednesday, contained a lengthy catalogue of unimaginable violence and atrocities committed by all parties in the continuing civil war that has killed more than 190,000 people.
"The Government continues to commit violations, including war crimes and crimes against humanity, with impunity," the report said, listing 29 massacres by forces loyal to Assad this year alone.
Chemical weapons, thought to be chlorine gas, have allegedly been used eight times in Idlib and Hama provinces and illegal barrel and "vacuum" bombs have been dropped on highly populated areas including hospitals and schools, killing and horrifically wounding countless civilians.
"Government forces have systematically targeted civilians and civilian infrastructure, demonstrating the intent to kill, wound and maim," the report states.
"The apparent objective of the Government's military operations is to render life unbearable in areas out of its control."
Anti-Assad groups including Jabhat Al-Nusra have also shelled civilians in state-controlled areas of Aleppo and Damascus and launched car bombs and suicide attacks.
Fighting has engulfed residential areas, destroying the barest possibility of normal life, and the impact has been particularly grave for women and children, whose most basic rights are being infringed daily.
"Hundreds of civilians are dying each day as the fighting goes on with no regard to law or to conscience," said Paulo Pinheiro, chairman of the Commission.
Isis controls large areas of the country's north and north-east near the border with Iraq, where the Islamist group's bloody rampage is well-documented.
Militants have set up a ruthless and barbaric "justice" system, using Fridays for regular executions, amputations and lashings in public squares.
Examples cited in the report include women lashed for not adhering to Isis' strict dress code, a man having his hand amputated for theft.
Civilians are encouraged to attend and passers-by, including children, are frequently forced to watch and the bodies of those killed are placed on display on spikes and crosses for several days.
In pictures: Syria conflict
Show all 40
In Minbij, a 15-year-old boy was beheaded in February, while children were forced to watch. Isis said he had committed rape but locals believe he was targeted for joining a rival militia.
Isis is using the brutal executions to instil terror among the population, the report said, ensuring submission to its authority.
In its stronghold of Raqqa, children as young as 10 are being recruited at Isis training camps and children are increasingly being recruited by armed groups and the Government's Popular Committees to participate in hostilities and provide support.
The breakdown of family and community groups as men are killed has left women and children vulnerable and desperately poor, with sexual violence and child marriage reported even in refugee camps.
Countless men and women have also disappeared at Government checkpoints and horrific accounts of torture, sexual abuse and starvation have emerged from prisons and military hospitals.
In 2013, a 12-year-old boy who had been arrested in Damascus after speaking with a cousin who had joined an armed group was traced by his family to a military facility but his relatives were told by a judge he was at a "private hospital".
When they arrived there, they were told their son was dead and his body bore marks of "severe torture, including electrocution".
Severe beatings, torture and officers raping and abusing girls as young as 13 in custody were reported and many relatives have been told their loved ones died of "heart attacks" in prison, with the bodies never released.
The report noted the systematic targeting of journalists by armed groups, which came to international attention when Isis militants beheaded the American photojournalist James Foley earlier this month.
The murder turned attention back to Syria but Britain has ruled out any alliance with the Assad regime to battle Isis.
The Syrian Civil War was sparked by the regime's crackdown on protests against the autocratic President during the 2011 Arab Spring.
David Cameron had pushed for intervention following a chemical attack on civilians in Damascus last year but lost a vote in the House of Commons.
The report was critical of the reluctance of "influential states" to undertake work towards a political solution and called for an arms embargo to stop the flow of weapons to all parties in the conflict.
"The international community's failure in its most elemental duties – to protect civilians, halt and prevent atrocities and create a path toward accountability – has been matched on the ground by an abandonment of even the pretence of an adherence to norms of international law," it said.
"As can be seen today, this has grave implications for the entire region," the report adds.
UN inspectors have not been allowed to enter Syria by the Government and used more than 480 interviews and a wealth of documentary evidence for the research.
The report is scheduled to be presented on 16 September during the 27th session of the Human Rights Council.
Join our commenting forum
Join thought-provoking conversations, follow other Independent readers and see their replies