Syria crisis: Bashar al-Assad's use of rockets 'amounts to war crimes'
Indiscriminate use of Scud missiles has killed hundreds of civilians, say activists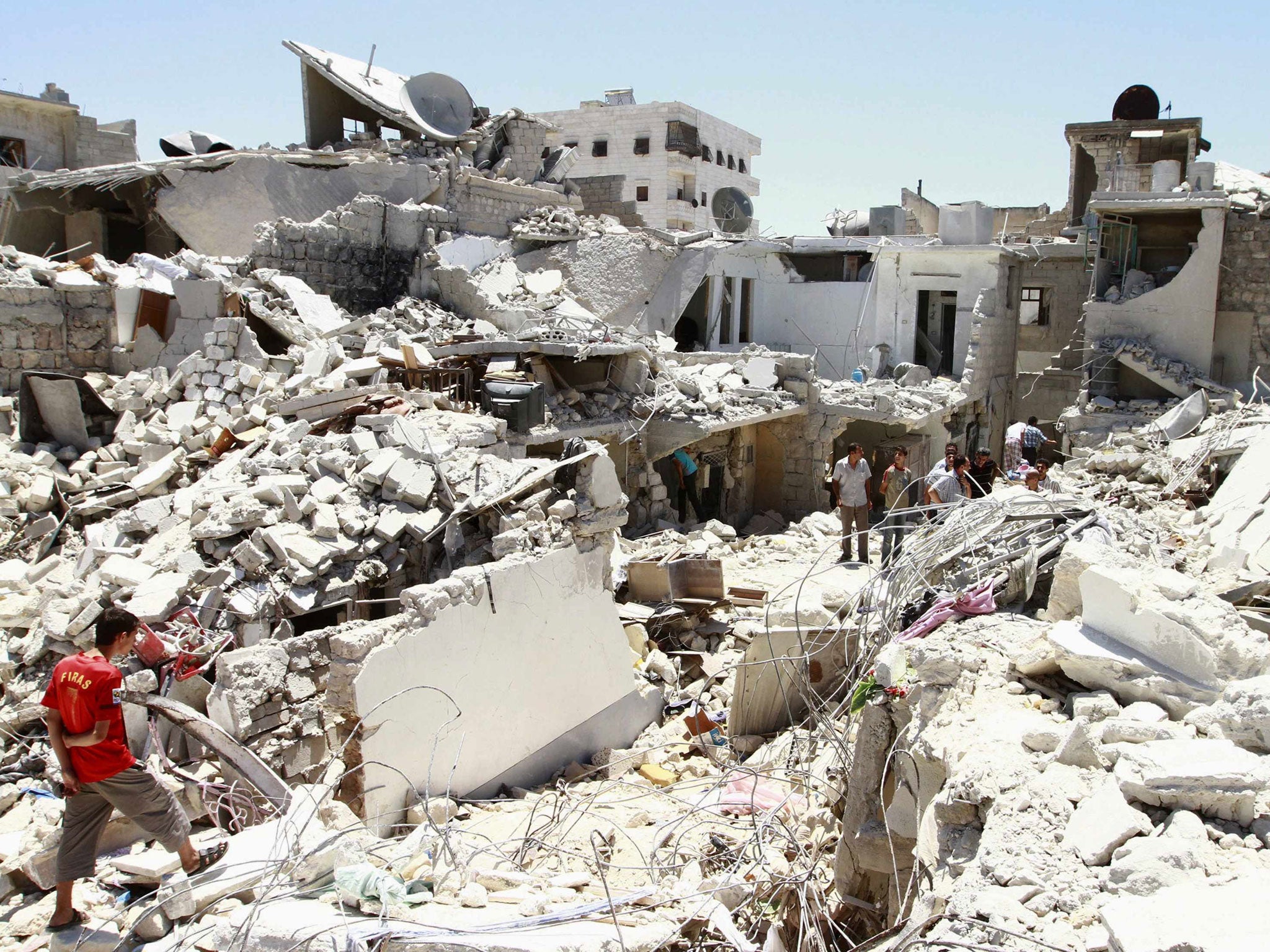 The Syrian government is conducting a campaign of indiscriminate missile attacks on populated areas that have resulted in hundreds of civilian deaths in the past few months, including more than a hundred children, Human Rights Watch have claimed.
The watchdog has investigated nine ballistic missile attacks on populated areas, which killed at least 215 civilians, including 100 children, between February and July. It said that the use of such tactics constituted a war crime.
"When these weapons have fallen in populated areas, it has had devastating effects on the civilian population. In the cases that we have documented, the use of ballistic missiles in an indiscriminate way on populated areas, it is a war crime," the group's Syria researcher Lama Fakih told The Independent.
While using ballistic missiles in an armed conflict is not prohibited, their use is subject to the laws of war, which stipulate the use of force should distinguish between civilians and combatants and minimise civilian harm. Yet the area of destruction caused by ballistic missiles is so wide that it is impossible to distinguish between civilians and fighters in populated areas. In visits to seven of the sites, HRW found no apparent military targets in the vicinity of the attacks.
Syria stockpiles several types of ballistic missiles and is known to be in possession of Scud missiles, SS-21 Tochka missiles, and Luna-M missiles. Syria's missile inventory was one of the justifications for the US installing the Patriot interception missiles on the border in Jordan and Turkey. Radars there regularly show the use of Scud missiles within Syria. With a range of up to 150 km, the missiles are a more economical option than bombing from the air. They are also sturdy; missiles purchased decades ago are still operable although their accuracy decreases with time. Various types of Scuds, SS-21 Tochka and Luna – M missiles were been used against civilians in the attacks investigated by HRW.
The Syrian government has repeatedly denied using Scud missiles against civilians.
Video footage of missiles being launched, as well as unexploded missiles of various types from across Syria, can be found on YouTube. The Syrian Network for Human Rights (SNHR), a UK based human rights groups, alleges the government has fired at least 131 long range surface-to-surface missiles between December 2012 and early July. More than half of the attacks targeted Aleppo governorate. Twenty of the attacks, some using multiple missiles, killed approximately 257 civilians, the group said, and injured almost 1000.
Many of these missiles appear to have been launched by the 155th Brigade, based in al-Qutayfah in the Qalamoun region in the countryside of Damascus.
The most recent attack, on the town of Bab Nairab in Aleppo on July 26, 2013, killed at least 33 civilians, half of them children. Ten houses were completely destroyed and the damage extended across two neighbourhoods. During a previous visit, HRW had identified several buildings used as opposition bases about 300 metres from the site. But these were not damaged in the strike according to local residents. The attack killed at least 33 civilians, half of them children.
Children have been particularly affected by the ballistic missile attacks; almost half of the victims are minors. This is partially due to their small body size as the blast and fragmentation from explosive weapons can cause more serious injuries to them, says Kimberly Brown at Save the Children, who are working with Human Rights Watch within the Network on Explosive Weapons to enforce stricter international regulation.
"Syrian children are killed or injured in indiscriminate bombings, shot by snipers, used as human shields or victims of terror tactics," said the UN's special envoy for Children and armed conflict, Leila Zerrougui in June. The UN estimates that at least 5000 children under the age of 16 have died in the conflict, activists estimate the real death toll to be a least twice as high.
Over 100,000 people have died in the 28-month conflict, according to the United Nations.
Join our commenting forum
Join thought-provoking conversations, follow other Independent readers and see their replies